This Breakfast Strata Is Great For Brunches, Holidays, Or A Yummy Family Breakfast!! With Buttery Layers Of Bread, Ham, Cheese, And Egg, This Strata Recipe Is Guaranteed To Please Any Crowd!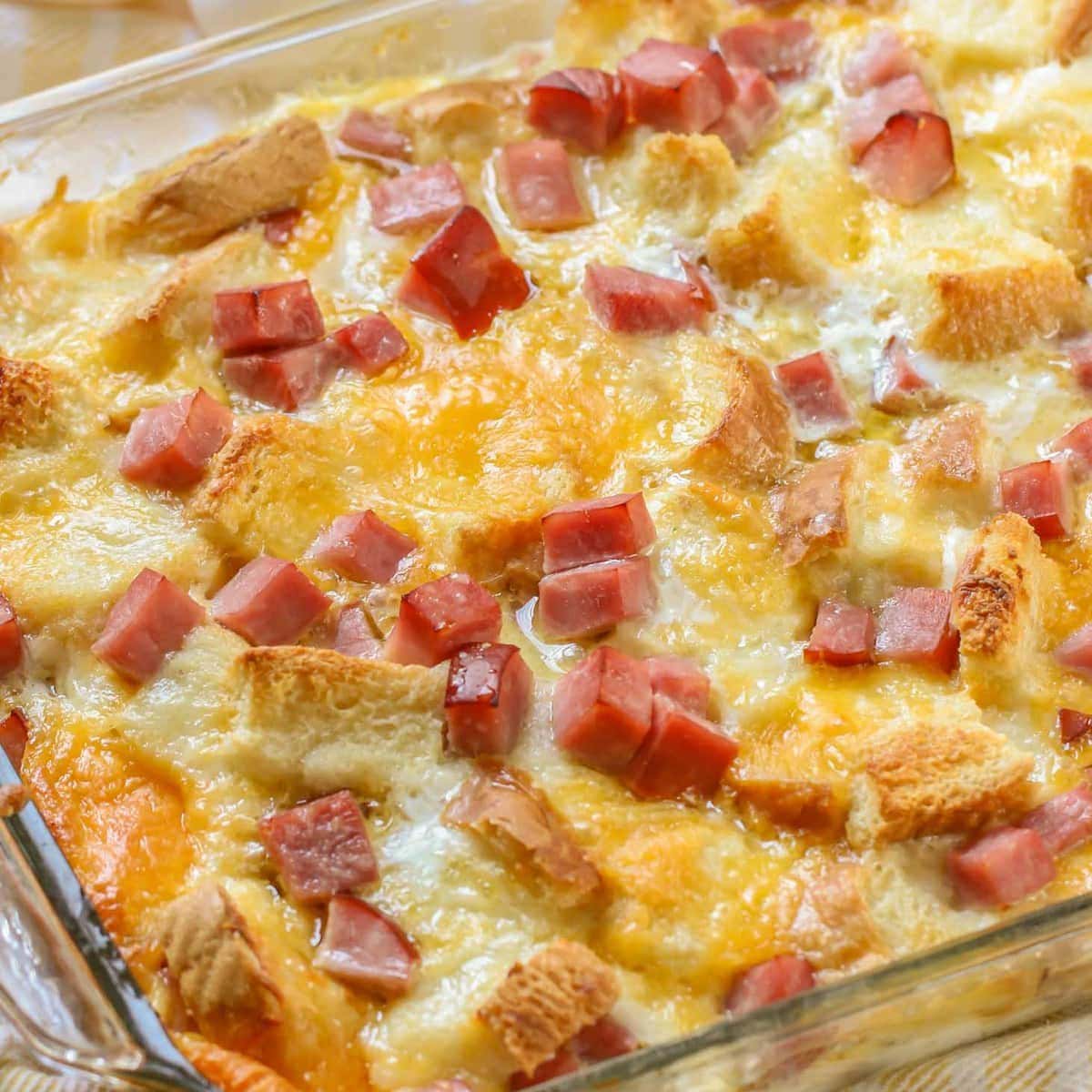 WHAT IS STRATA?
Today's recipe comes from a family friend. I tried it and instantly fell in love. I knew I needed this breakfast recipe for Ham and Cheese Strata because it was so cheesy, buttery, and delicious! But, what is strata?
The dish gets the name "strata" because it is made up of layers that oftentimes consist of bread, eggs, and cheese. Meats and even vegetables are sometimes included. The egg mixture is poured over the layers of other ingredients, and then has to sit for a time, usually overnight, before it can be baked – in other words it's a layered casserole.
HOW TO MAKE EGG STRATA:
Let me just tell you right now, this is one of the easiest breakfast casserole dishes to assemble. Layer bread, cheese, and ham, combine ingredients for egg mixture, pour over layers, let it sit, and then bake. That's it! Seriously, see for yourself:
In a greased 9×13 pan, layer half the bread, half the cheese and then the ham. Repeat these layers once more.
Mix the eggs, milk, and melted butter in a bowl then pour over the layers in the pan. (TIP: The milk should be about room temperature before adding the melted butter. Otherwise, the butter will harden up into little flakes or droplets instead of mixing with the other two ingredients – we definitely don't want that!)
Refrigerate overnight for best results. If you're on a time crunch, you can refrigerate it for at least for 2 hours.
When you're ready, bake the strata at 350° for 45-50 minutes. Let set for 10 minutes before serving.
SO many layers of butter-y, cheesy goodness!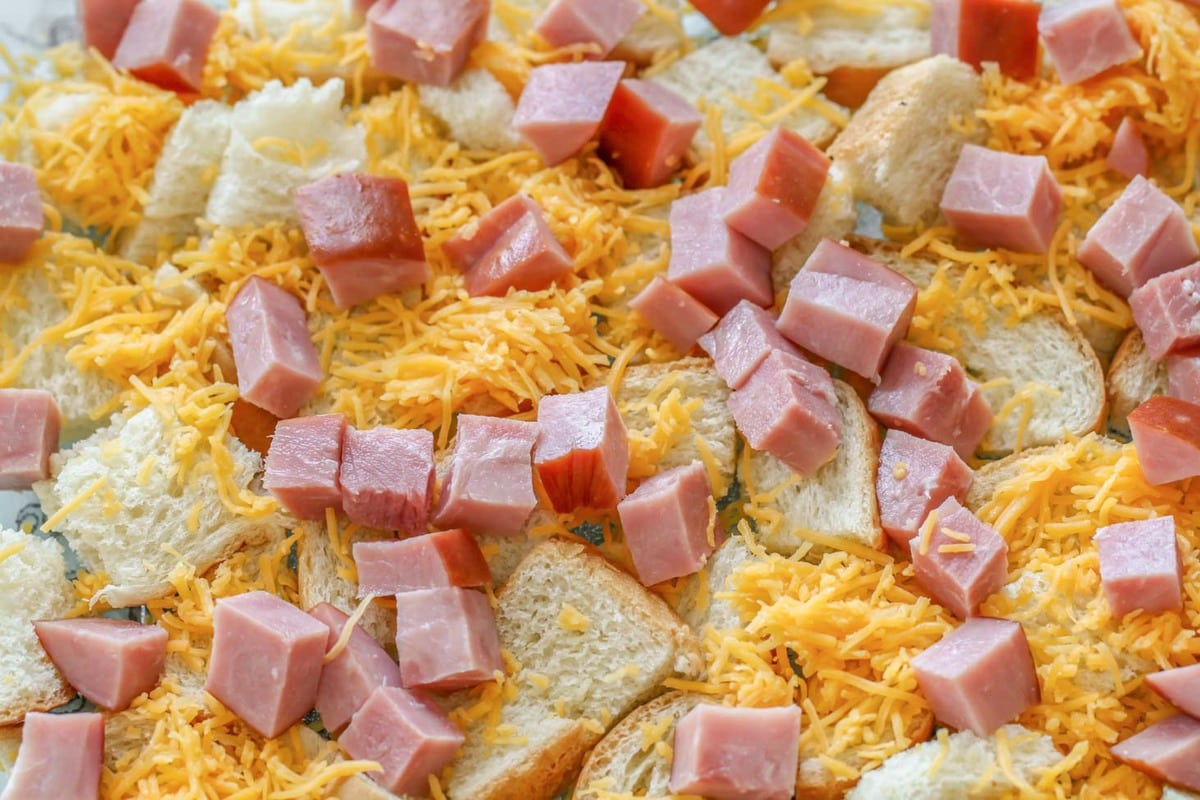 This Ham and Cheese Breakfast Strata is definitely my family's favorite breakfast casserole! Last time I made this, we couldn't get enough of it and ate the whole dish in the first day. Horrible, I know, but it was just SO good!!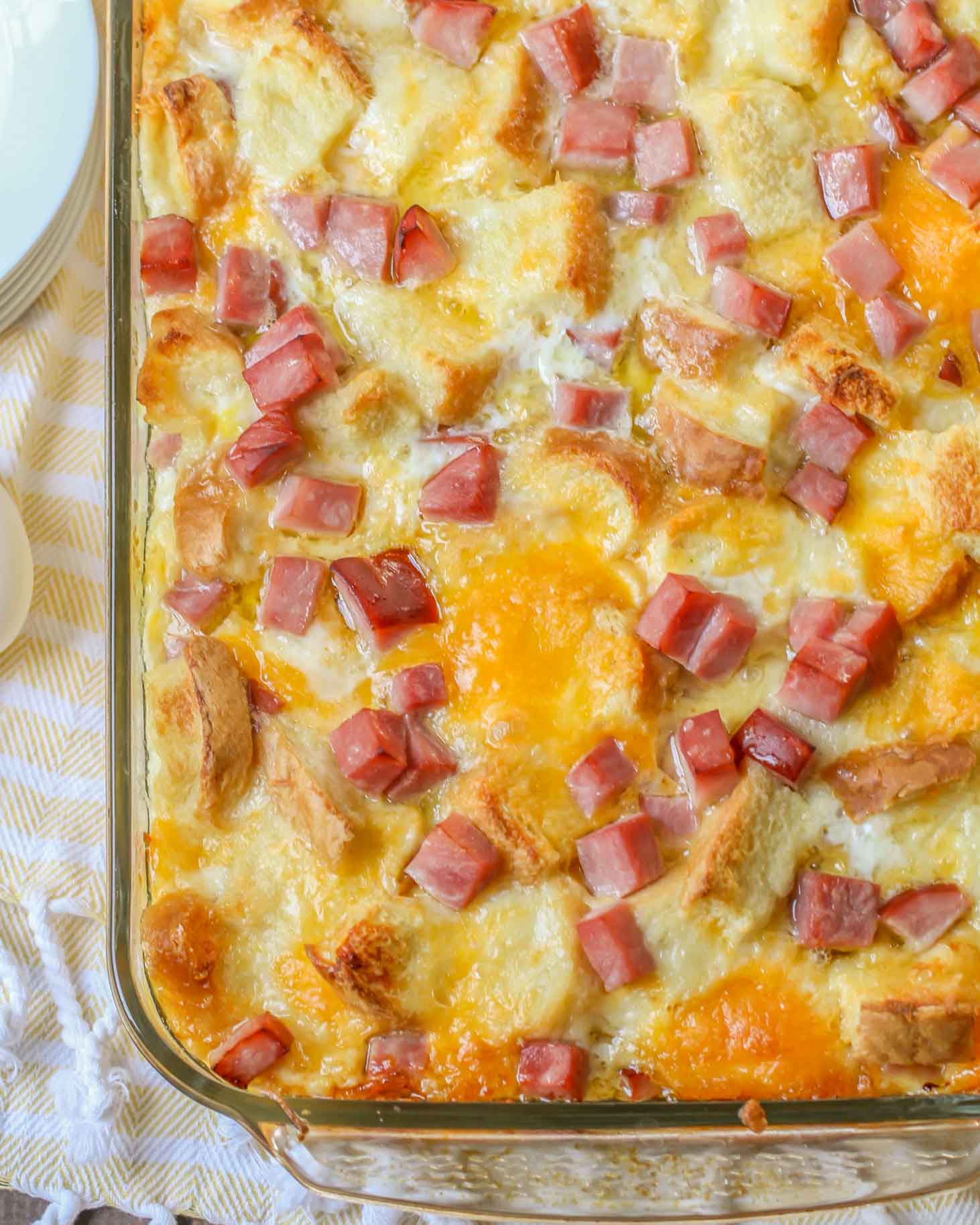 BREAKFAST STRATA RECIPE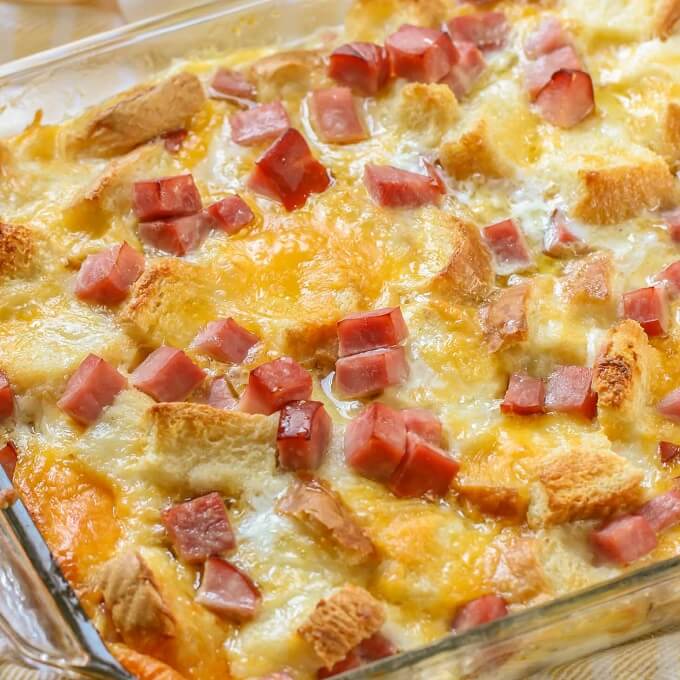 This breakfast strata is great for brunches, holidays, or a yummy family breakfast!! With buttery layers of bread, ham, cheese, and egg, this Ham and Cheese Strata is guaranteed to please any crowd! Better yet, it only takes a short time to prepare.
12 slices white bread broken up – I cut mine into 12 squares each
1 lb ham cooked and cubed
2 c shredded Monterrey Jack cheese
2 c shredded cheddar cheese
6 eggs
1/2 c butter melted
3 c milk
Grease 9×13 pan.
Layer half the bread, half the cheese and then the ham into your pan. Repeat layers.
Mix eggs, milk and melted butter in a bowl. Pour over layers.
Refrigerate over night or at least for 2 hours.
Bake at 350 for 45-50 minutes.