Lemon Herb Mediterranean Pasta Salad
a pasta salad made with fresh mediterranean salad ingredients and drizzled with an incredible lemon herb dressing!
Loaded with so much flavour and perfect for any occasion, everyone goes crazy over this pasta salad! My Grilled Lemon Herb Mediterranean CHICKEN Salad has been a HIT with readers around the world, but many have been asking how to turn it into a vegetarian pasta salad version.
Here it is!
Lemon Herb Mediterranean Pasta Salad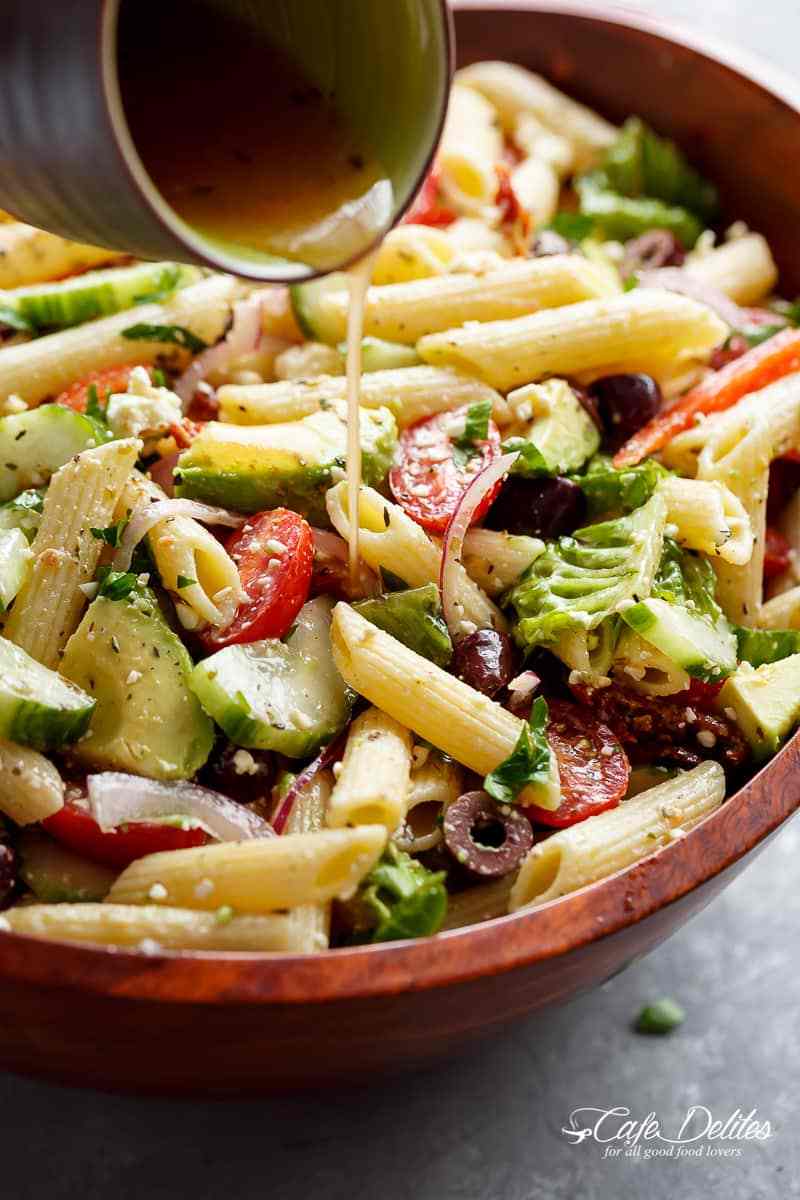 Lemon Herb Mediterranean Pasta Salad is loaded with so many Mediterranean salad ingredients, and drizzled an incredible Lemon Herb dressing!
Ingredients
12 ounces | 350 grams dry pasta (Penne)
FOR LEMON HERB DRESSING:
1/3 cup olive oil
2 tablespoons fresh squeezed lemon juice
2 tablespoons red wine vinegar
2 tablespoons water
2 tablespoons finely chopped fresh parsley
2 teaspoons garlic (minced)
2 teaspoons dried oregano (minced)
1 teaspoon dried basil
1/2 teaspoon salt
Cracked pepper (to taste)
FOR SALAD:
4 cups Romaine (or cos lettuce leaves, washed and dried)
1 large cucumber (diced)
1 avocado (peeled, pitted and chopped)
1/2 of a large red pepper (or capsicum, deseeded and cut into thin strips)
9 ounces 250 grams grape or cherry tomatoes, halved
1/2 a red onion (thinly sliced)
½ cup pitted kalamata olives (sliced)
1/3 cup sun-dried tomatoes packed in oil (drained)
5-6 tablespoons crumbled feta cheese
1. Boil the pasta in a large pot of salted water until al dente. Drain in a colander or strainer, then rinse under cold water to take the heat out. Transfer the pasta to a large mixing bowl.

2. While pasta is boiling, prepare your dressing. Whisk together all of the marinade/dressing ingredients in a large jug.

3. Add all of the salad ingredients into the salad bowl along with the pasta, and drizzle with the dressing. Toss all of the ingredients together until everything is coated evenly in dressing. Season with extra salt and pepper, if desired.

4. Serve immediately.