3 Absolutely Delicious Meals On A Budget While Waiting For Pay-Day
Meals on a budget are not something too difficult to prepare. These recipes will help you to eat healthily even when you are broke. Therefore, there is no excuse for cheating your diet plan! 
The key is to choose inexpensive ingredients such as ground beef, pork, chicken and affordable vegetables and fruits. It's too simple to start even you are running on a budget.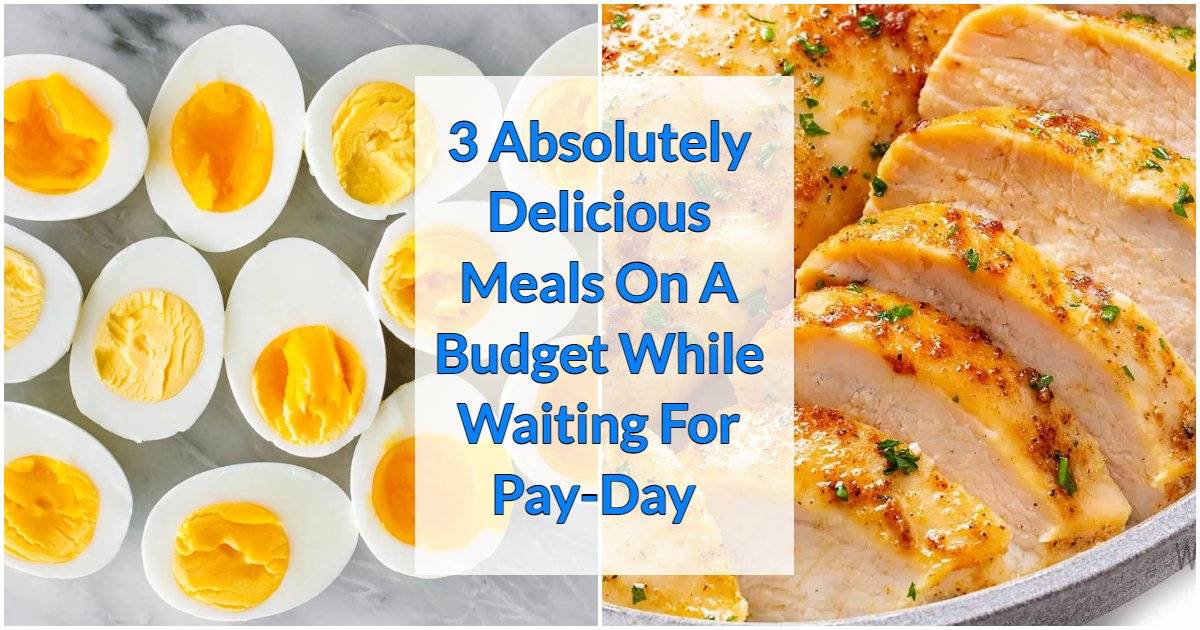 1. Egg Salad 
Source: Substain My Cooking Habit
Can you name the cheapest and healthiest protein in the whole world? Yes, the answer is definitely egg. A tiny little small egg contains everything a keto dieter needs: proteins, healthy fat, vitamins and several other nutrients. Moreover, they are extremely easy to cook and to eat. You can make every single meal with eggs including frying, scrambling, boiling, poaching or even baking! In the first one in meals of a budget recipe, let's make a ketogenic egg salad with the most budget-friendly ingredients.   
Ingredients: 
4 hard boiled eggs (sliced)

1 sweet onion (sliced)

2 stems fresh basil leaves

2 tablespoons olive oil

¼ teaspoon salt

¼ teaspoon pepper
Instructions:
Put all ingredients into a mixing bowl. 

Mix well till ingredients soak the seasoning.

Transfer to a place and enjoy. You might eat this for breakfast, lunch or even dinner. 
2. Fried Cabbage With Bacon 
Source: Bensa Bacon Lovers
Another one in this list of meals of budget includes 2 low-cost ingredients only: cabbage and bacon. You can find them all year round, in every market in the city. It's ketogenic, healthy and contains zero carbs. 
Ingredients: 
8 strips bacon (low-carb type with no added sugar, cut about half an inch))

½ green cabbage (sliced)

1 teaspoon minced garlic

1 tablespoon melted plain butter

¼ teaspoon salt

⅛ pepper
Instructions:
Heat a pan over medium high then cook bacon until crispy (about 8 minutes).

Remove it from the pan and put over a paper towel to remove remaining fat. 

Remove the remaining bacon fat in the pan. Add butter and wait until it bubbles.

Add cabbage and stir fry for about 3 minutes. Until it's almost cooked add garlic and the seasoning. Cook for another 3 to 5 minutes until it's cooked. 

Place onto a plate to serve. 
3. Baked Chicken Breast  
Source: Serious Eats
It's the number one food for every dieter who is always looking for bulk meals on a budget. This recipe requires little money and little time to make. Moreover, you can always combine with other dishes such as a salad or vegetables to make a whole filling meal with all ketogenic foods. 
Ingredients: 
4 skinless boneless chicken breast halves 

1 teaspoon dried rosemary

1 teaspoon paprika

1 teaspoon garlic powder

½ teaspoon salt

1 ½ tablespoons olive oil 
Instructions:
Preheat the oven over 230 degrees C 

Slice the chicken then pierce with a fork so it can absorb the spices better. 

Mix all spices to create a marinade. Put onto the chicken and give it a nice massage. 

Refrigerate for 15 minutes or longer for better flavors. 

Bake for 13 minutes and let it sit for 5 minutes with a tray covered by baking paper. Cover with aluminium foil.

Put into plates to serve. 
We hope you and your family will enjoy these meals on a budget.
For more delicious and healthy recipes, click here. We update daily with ketogenic and clean eating recipes.