When I was a kid, my mom made this amazing Sausage Gravy. We'd put it on crackers for breakfast, and sometimes she'd cover potatoes with it.
Just thinking about it makes my mouth water.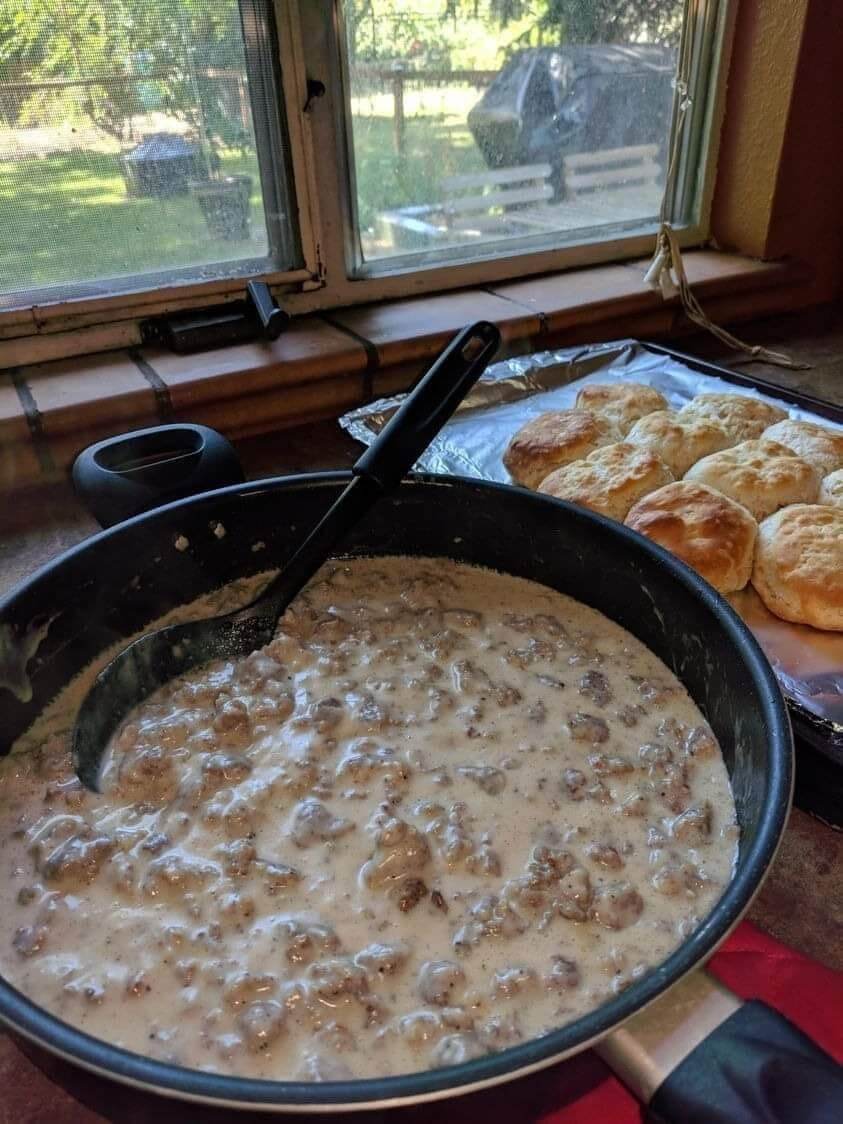 This Sausage Gravy is a really easy and yummy recipe. It's great on crackers, and your family will want it again and again. It's a tasty breakfast that's good any time of year.
You can have it with eggs or a salad for a satisfying lunch! Enjoy!
TO MAKE Sausage Gravy, YOU WILL NEED
Breakfast Sausage: Choose hot or mild breakfast sausage based on your heat preference. Look for quality sausage with good flavor and a balance of fat for a tasty gravy.
All-Purpose Flour: Use fresh all-purpose flour without any lumps or clumps for smooth and consistent gravy.
Whole Milk: Opt for fresh whole milk for a creamier and richer gravy. Adjust the quantity based on your preferred thickness.
Seasoned Salt: Use a quality seasoned salt for enhanced flavor. Adjust the quantity to taste.
Black Pepper: Freshly ground black pepper offers the best flavor. Adjust the amount to your liking, as black pepper's intensity can vary.
Baked Biscuits: You can either make your own biscuits or choose high-quality pre-baked biscuits. Freshly baked or warm biscuits pair wonderfully with sausage gravy.
See the recipe card for full information on ingredients and quantities.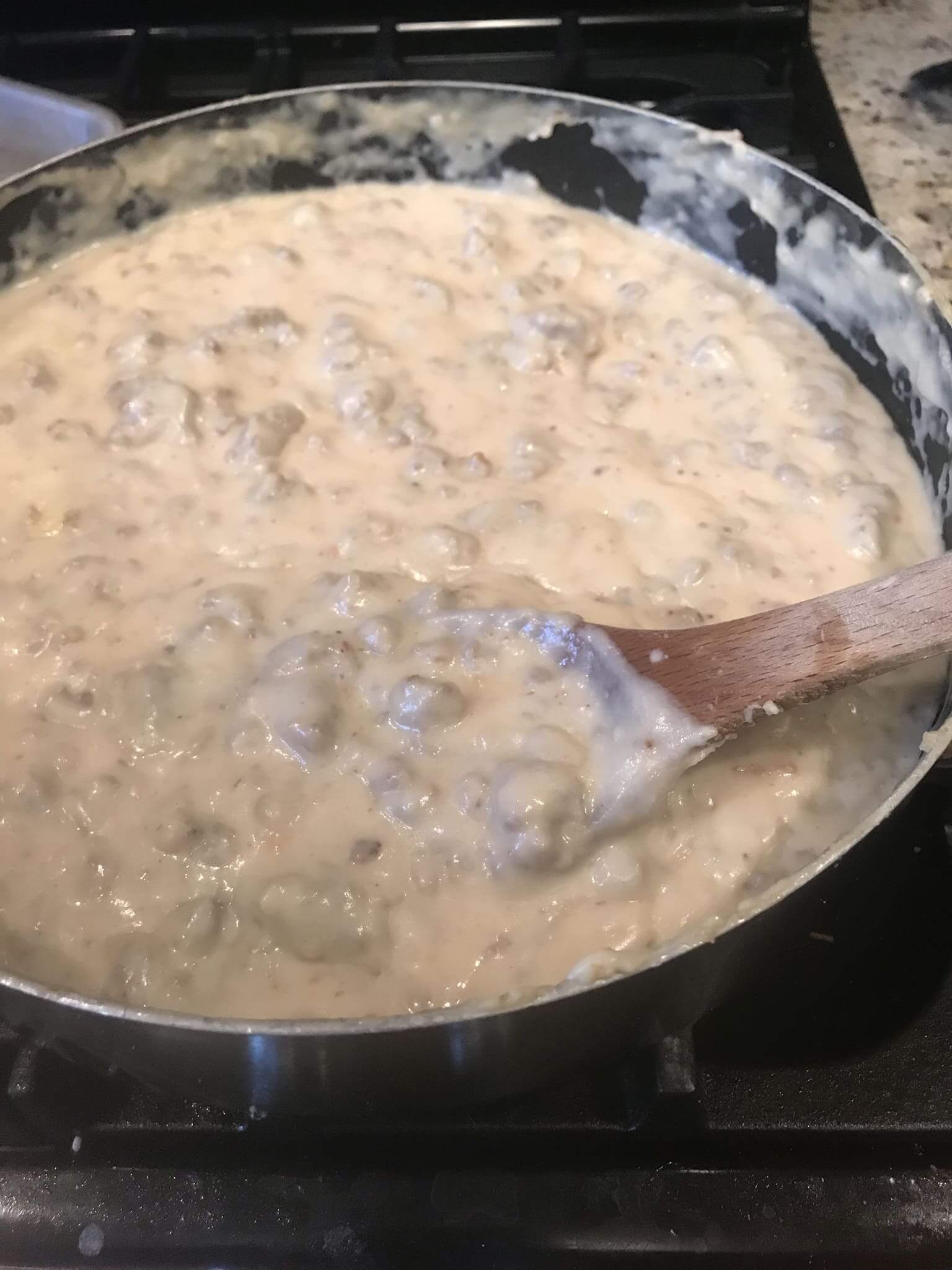 HOW DO YOU MAKE?
Start by cooking small sausages in a large skillet until they turn brown. Then, add flour gradually, stirring until it's absorbed. Pour in milk and cook until it thickens (about 10-12 minutes). Season with salt and pepper to taste.
If it gets too thick, add more milk. Spoon the sausage gravy over warm crackers and serve. Enjoy!
RECIPE NOTES AND HELPFUL TIPS:
Use High-Quality Sausage: Choose a good-quality breakfast sausage, as it forms the base of the gravy's flavor. You can use regular, sage, or hot sausage based on your preference.
Cook the Sausage Properly: Cook the sausage until it's well-browned, breaking it into crumbles as it cooks. This adds texture and flavor to the gravy.
Don't Drain All the Fat: While it's essential to drain excess grease from the sausage, leaving a small amount can help enhance the flavor and richness of the gravy.
Use All-Purpose Flour: For thickening the gravy, use all-purpose flour. This creates a smooth and consistent texture.
Gradually Add Milk: Slowly pour in the milk while constantly stirring to avoid lumps. Gradually adding the liquid helps create a creamy and lump-free gravy.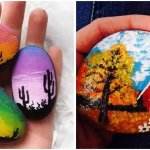 ESTIMATE NUTRITIONAL INFORMATION:
Yield: 6 | Serving size: 1
Calories: 425kcal | Carbohydrates: 18g | Protein: 16g | Fat: 32g | Cholesterol: 84mg | Sodium: 1027mg | Fiber: 0.2g | Sugar: 9.4g
FREQUENTLY ASKED QUESTIONS (FQAs):
1. What's the best type of sausage for sausage gravy?
Breakfast sausage is the most commonly used type for sausage gravy. You can choose regular, sage, or hot sausage based on your flavor preferences.
2. Can I make it in advance?
Yes, you can prepare sausage gravy in advance and reheat it when needed. It's a great option for meal planning or large gatherings.
3. What can I use this dish for?
Sausage gravy is typically served over biscuits, but it can also be used as a topping for mashed potatoes, fried chicken, or even as a dip for fried foods.
4. How do I avoid lumps in the gravy?
Gradually add the milk while stirring constantly, and make sure to thoroughly whisk the flour and sausage to create a smooth base before adding the milk.
5. Can I use a dairy-free milk alternative for sausage gravy?
Yes, you can use dairy-free milk alternatives like almond milk, soy milk, or oat milk to make a dairy-free version of sausage gravy.
6. How long can I store leftover sausage gravy?
Leftover sausage gravy can be stored in the refrigerator for up to 3-4 days. Reheat it on the stovetop or in the microwave when ready to use.
7. What sides go well with sausage gravy?
Sausage gravy is traditionally served over biscuits, but it also pairs well with scrambled eggs, hash browns, or even as a topping for chicken-fried steak.
Let's Make This Delicious Homemade Sausage Gravy!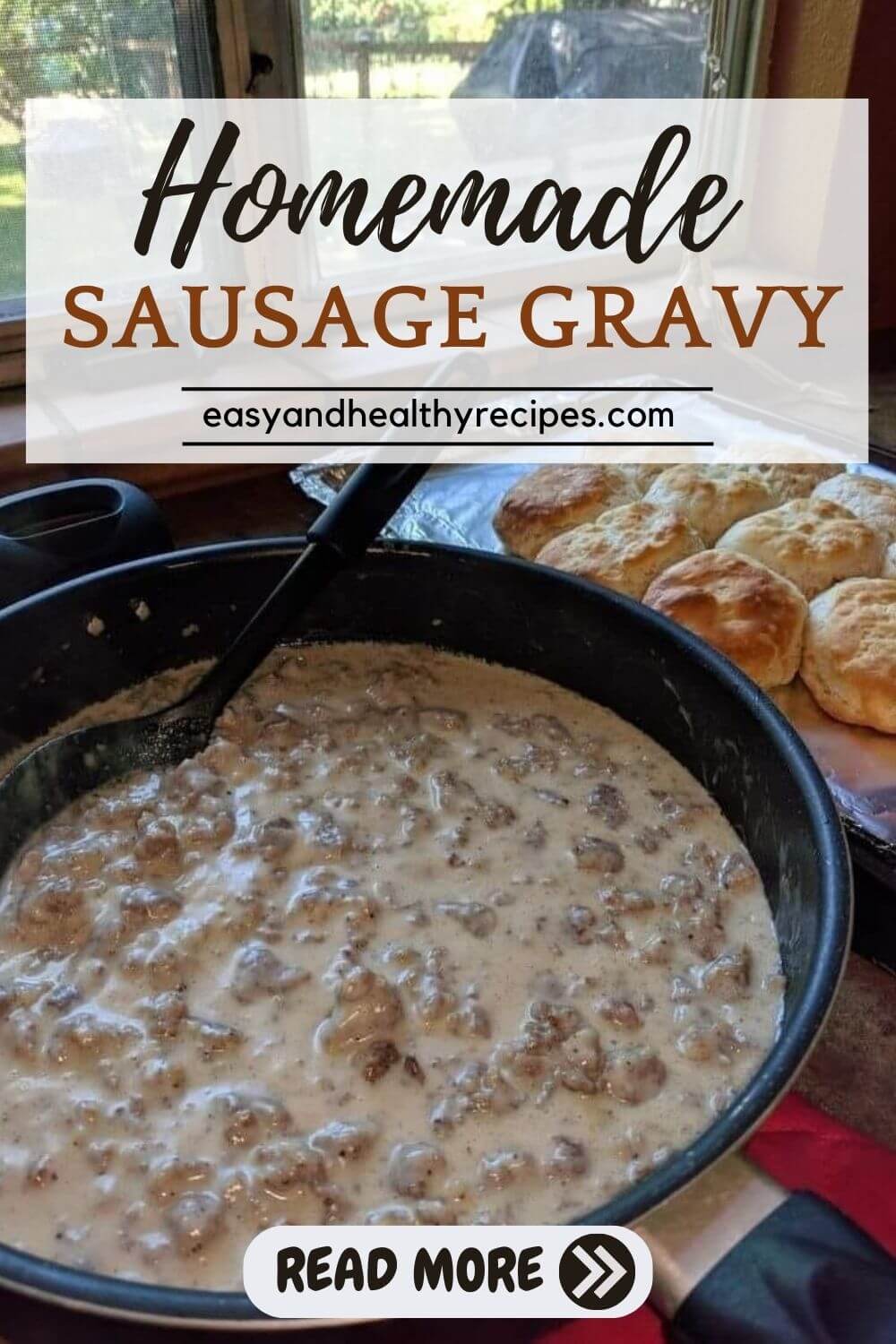 And there you have it – this easy, creamy Sausage Gravy is ready to take its place on your table. If you decide to give it a shot, make sure to snap a photo and share it with us on Facebook and Pinterest.
Be sure to follow us for more yummy recipes in the future. Until next time, happy cooking!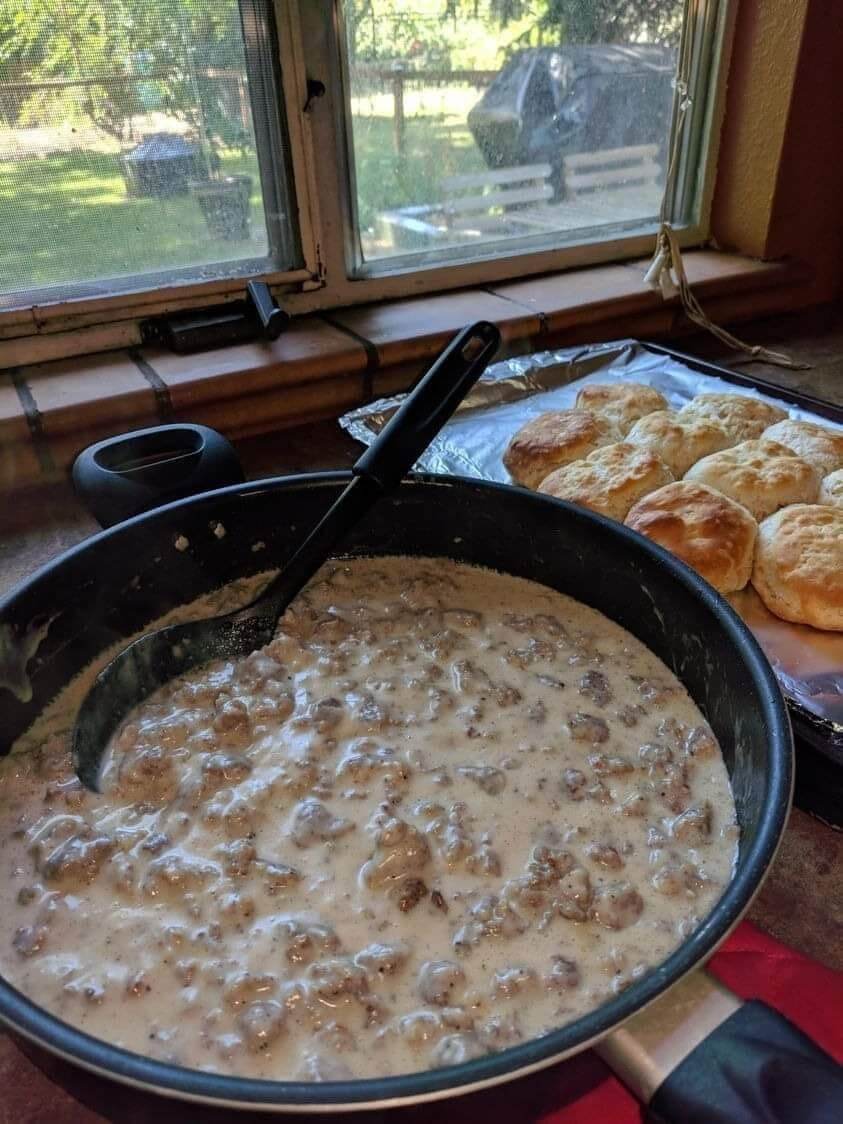 Ingredients
1 lbs breakfast sausage, hot or mild

⅓ cup all-purpose flour

3 to 4 cups whole milk, to taste

½ tsp seasoned salt

2 tsp freshly ground black pepper, to taste

12 baked biscuits, to serve warm

(This recipe can easily be doubled to serve 24.)
Instructions
Step 1: Cut small sausages with your finger and add them in a single layer to a large, heavy skillet. Fry the sausage over medium heat until the pink color disappears.
Step 2: Reduce the heat to medium-low. Sprinkle with half of the flour and stir until the sausage soaks everything up, then add more little by little. Stir and cook for another minute or so, then pour in the milk, stirring constantly.
Step 3: Cook the broth, stirring frequently, until it thickens (this may take 10 to 12 minutes). Sprinkle with seasoned salt and pepper and continue cooking until thick and luscious. If it gets too thick too soon, just drizzle in another 1/2 cup of milk, or more if needed. Taste and adjust seasoning.
Step 4: Spoon the sausage gravy over the warm crackers and serve immediately. Enjoy your freshly made Sausage Gravy!