Apple Fritters are like heavenly, deep-fried donuts with apple and cinnamon goodness.
Drizzle a simple three-ingredient glaze on them, and you'll have warm, delightful Apple Fritters ready in under 30 minutes. Just a heads up, make sure to grab a few for yourself because they tend to disappear in no time.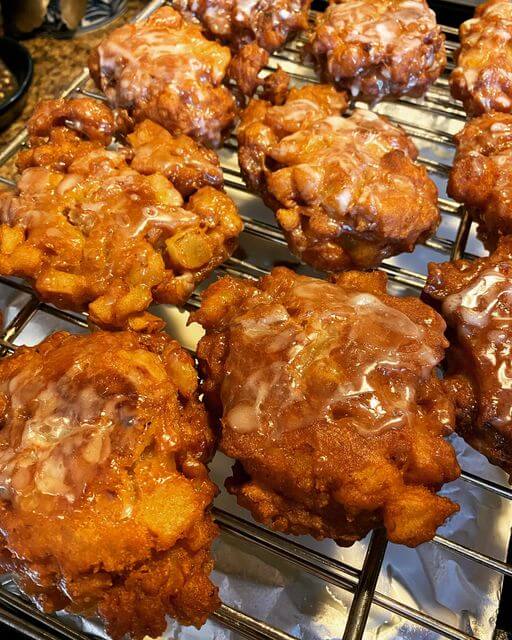 We're big fans of apple recipes around here. I mean, who isn't? With all those scrumptious apple varieties, it's hard not to be.
Can you picture how awesome these fritters would be with a nice, hot cup of coffee? These delectable Apple Fritters are quick and easy. You can have a batch ready in about 30 minutes. Now let's get cooking!
TO MAKE THESE APPLE FRITTERS, YOU WILL NEED
Apples – Honeycrisp are a favorite (mainly because they are just an overall favorite apple) but Granny Smith is also great in this recipe. An apple that's more crisp and tart will work best.
Lemon Juice – This helps to keep the apples from browning after they've been diced, but also helps highlight the acidity.
Flour, Baking Soda, and Sugar– You can use all purpose or a gluten free flour or nut flour. We have not made these with whole wheat flour.
Eggs, Milk, Butter – We usually use 2% milk but you can absolutely use whatever you have. Almond milk works great, too!
Cinnamon and Nutmeg – Just a pinch of nutmeg adds a great flavor. But you could also use a touch of apple pie spice!
Ground Ginger – Totally optional but a fun touch! I love the flavor ground ginger brings to sweet treats, I always use it in our homemade granolas.
See the recipe card for full information on ingredients and quantities.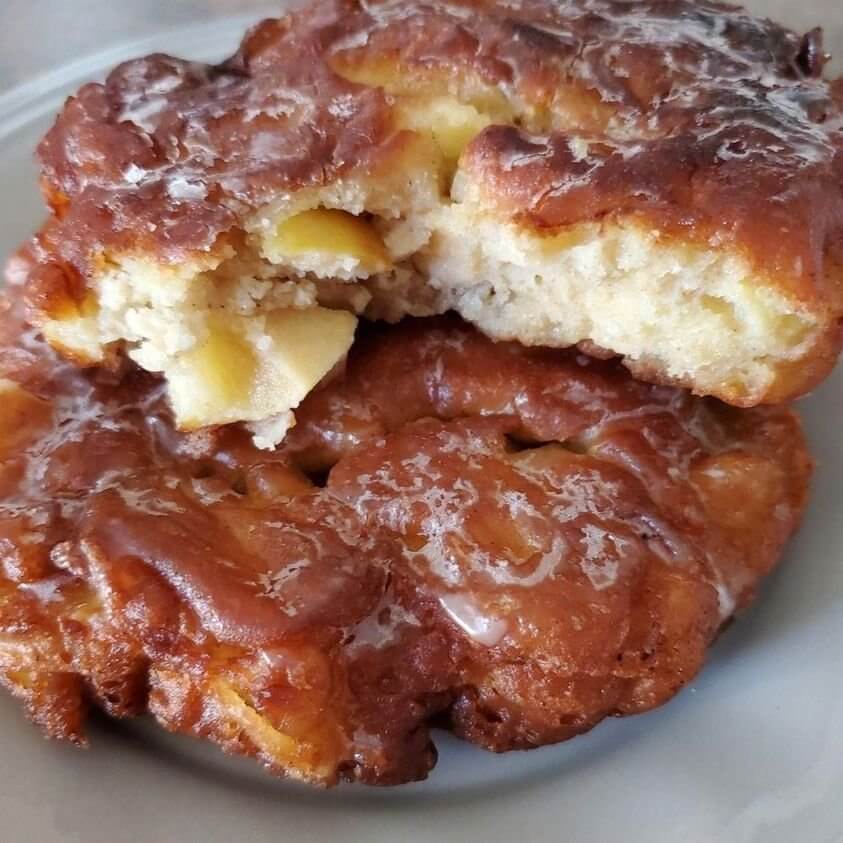 HOW DO YOU MAKE THESE APPLE FRITTERS?
First peel, core, and dice apples (1/4-1/2 inch pieces). In a large bowl, combine flour, sugar, baking powder, salt, and cinnamon. Make a well and add milk, egg, and applesauce; stir until combined.
Next, heat 1 1/2 inches of canola oil in a Dutch oven to 375 degrees. Pour 1/4 cup of batter into the hot oil, spread it a bit for even cooking, and fry for about 2 minutes per side. Drain on paper towels.
For the glaze, mix milk, powdered sugar, and vanilla. Dip fritters in the glaze, place on wire racks to dry then enjoy your freshly made Apple Fritters.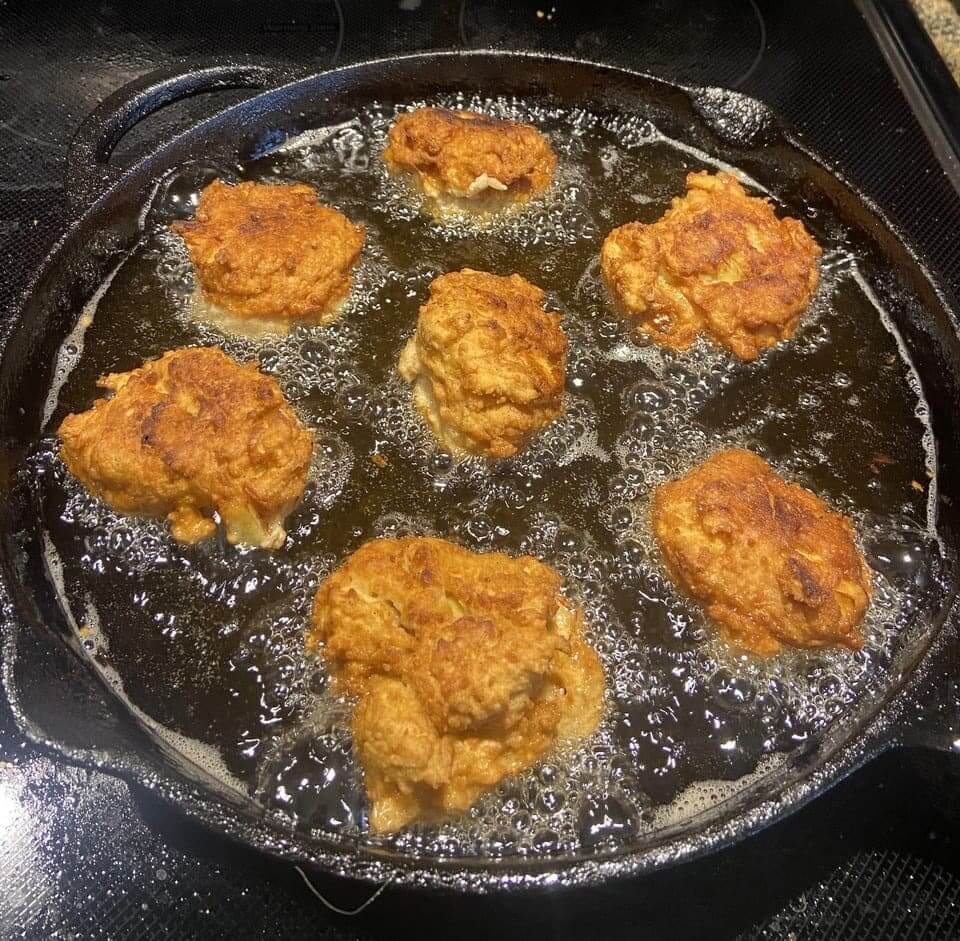 RECIPE NOTES AND HELPFUL TIPS:
Don't over-mix the batter, as it may make the fritters tough.
Don't overcrowd the pan when frying so the donuts cook better, and the oil temperature is easier to maintain.
Use a candy thermometer to track the temperature of the oil.
A Dutch oven or heavy pot helps the oil hold its temperature.
Try to maintain a constant temperature of 375 degrees. When you add the batter, the temperature will drop, so you must increase the heat a tad. Likewise, when you remove the fritters from the oil, the temperature will increase, so you need to turn the heat down a tad.
Remove the fried fritters to paper towels to drain.
Store the cooled cooked fritters wrapped loosely in paper towels in a brown paper bag.
ESTIMATE NUTRITIONAL INFORMATION:
Yield: 10 | Serving size: approx. 2 fritters
Calories: 286kcal | Total Fat: 10.3g | Cholesterol: 39.3mg | Sodium:  143.5mg | Total Carbohydrates: 46g | Sugar: 28.8g | Protein: 4g | Vitamin A: 289IU | Vitamin C: 10mg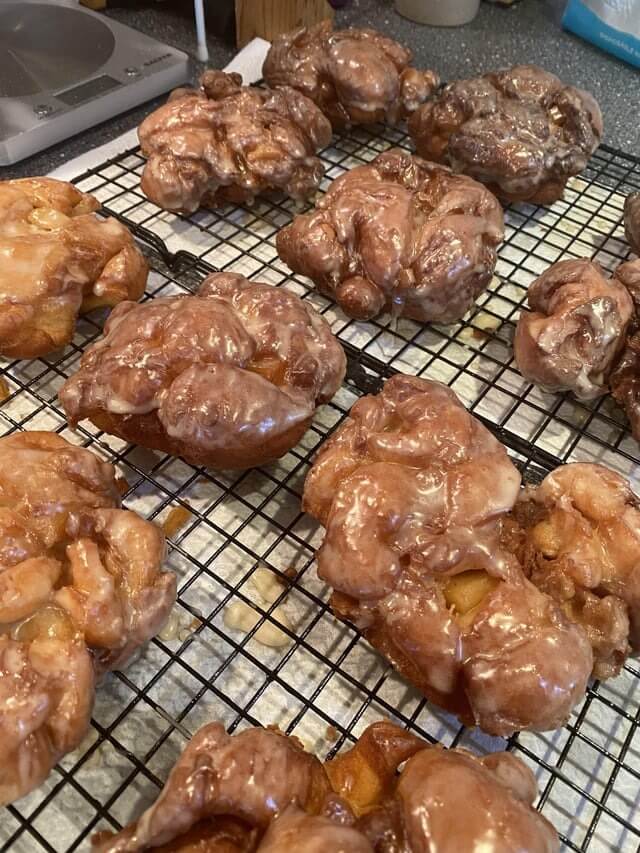 FREQUENTLY ASKED QUESTIONS (FQAs):
1. Can I make Apple Fritters without frying them?
While traditional Apple Fritters are deep-fried, you can make a baked version by spooning the batter into muffin tins and baking until they're cooked through. They won't have the same crispy texture, but they can be a healthier alternative.
2. How should I store Apple Fritters?
Store leftover Apple Fritters in an airtight container at room temperature for a day or two. To extend their freshness, you can refrigerate them, but they may lose some of their texture.
3. Can I freeze Apple Fritters?
Yes, you can freeze Apple Fritters. Place them in an airtight container or freezer bag, separating layers with parchment paper to prevent sticking. They can be frozen for up to 2-3 months. Thaw and reheat in the oven or microwave.
4. How do I keep Apple Fritters from getting soggy?
To prevent Apple Fritters from getting soggy, it's essential to drain them on paper towels after frying. Make sure they are not overcrowded in the oil, and let them cool before applying the glaze to maintain their crispiness.
5. Can I add other ingredients to this recipe, like nuts or raisins?
Yes, you can customize your Apple Fritters by adding ingredients like chopped nuts, raisins, or even a sprinkle of cinnamon sugar to the batter for extra flavor and texture.
6. What's the best way to reheat apple fritters?
Reheat Apple Fritters in the oven at a low temperature (around 250°F or 120°C) for a few minutes to restore their crispiness. You can also warm them in the microwave for a short time, but they may lose some of their texture.
Let's Make These Scrumptious Apple Fritters!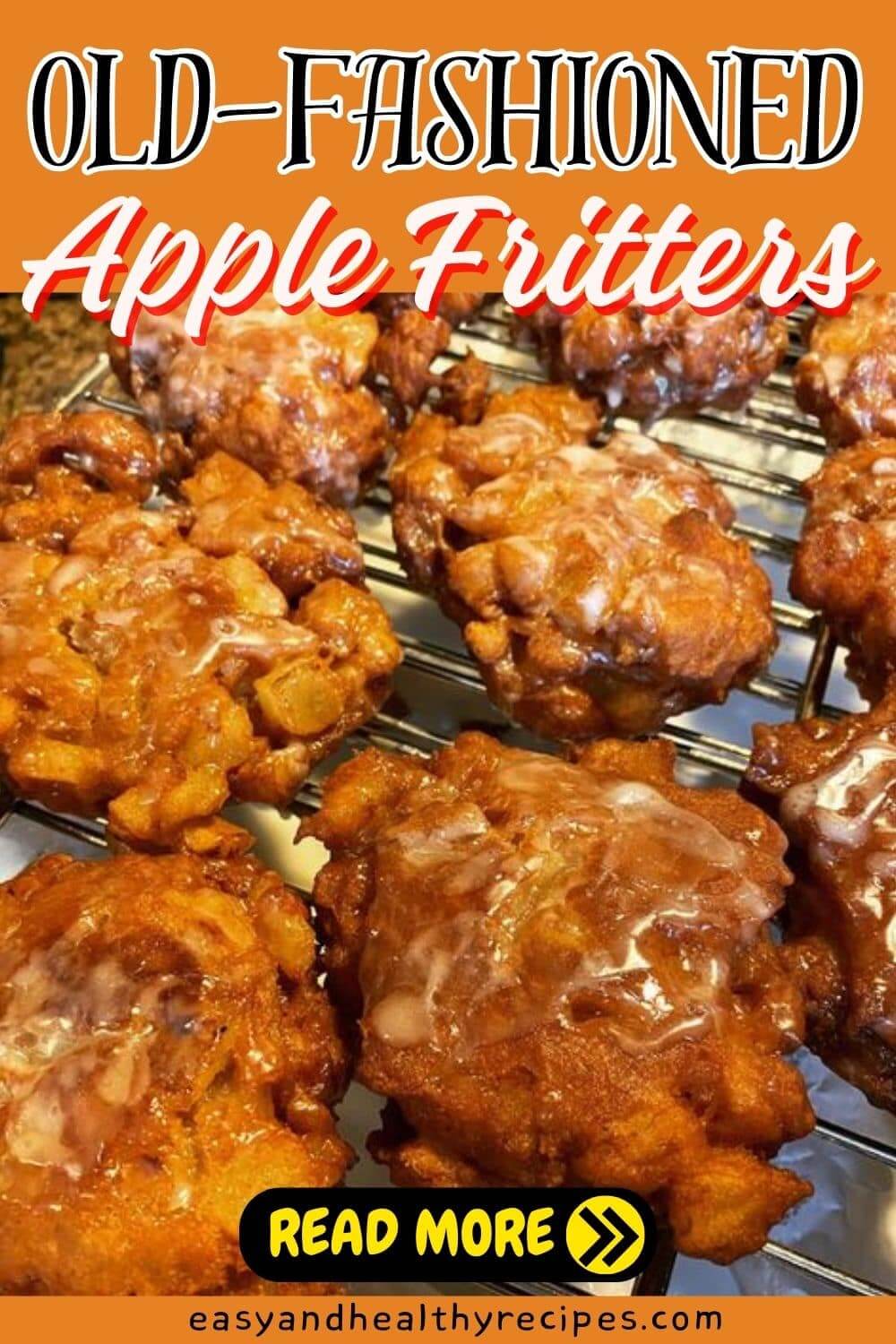 And there you have it – these easy, yummy, luscious deep-fried Apple Fritters are ready to take their place on your table. If you decide to give it a shot, make sure to snap a photo and share it with us on Facebook and Pinterest.
Be sure to follow us for more yummy recipes in the future. Until next time, happy cooking!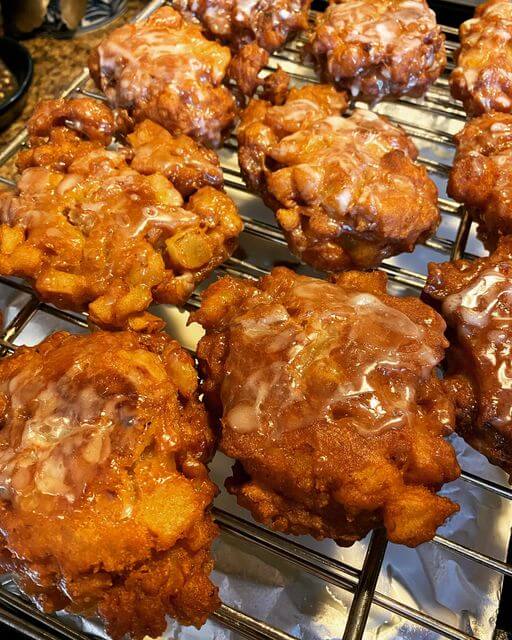 Ingredients
1 1/2 cups all purpose flour

1/4 cup sugar

2 teaspoons baking powder

1/2 teaspoon salt

1 1/2 teaspoons cinnamon

1/3 cup milk

2 eggs

3 tablespoons applesauce

2 large Granny Smith apples or Honey Crisp apples peeled, cored and diced

canola oil or vegetable oil for frying
Instructions
Step 1: Whisk together flour, sugar, baking powder, salt, and cinnamon in medium bowl. Make a well in the center and add 1/3 cup milk, eggs and applesauce. Stir just to combine. Fold in apples.
Step 2: Heat 1 1/2 inches of oil in heavy skillet, dutch oven or deep fryer to 375 degrees. Drop about 1/4 cup of batter per fritter into hot oil; spreading it out as you drop. Cook each side until golden brown; approximately 2 minutes per side. Use a slotted spoon to remove to paper towels to drain.
Step 3: Whisk together 1/4 cup milk, powdered sugar and vanilla. Dunk each fritters in the glaze turning over to make sure both sides coated. Place on wire racks to air dry and drip.
Step 4: Serve and enjoy!