Christmas isn't always about holiday decorations and present giftings. A lot of the time it's about gathering around the dinner table to enjoy your favorite dishes with friends and families. However, anyone who has ever wallowed in the kitchen during the holiday season would know that it is not an easy undertaking. The Xmas dinners must be planned. It must be delectable, and at least a few festive and filling sides must be served alongside it.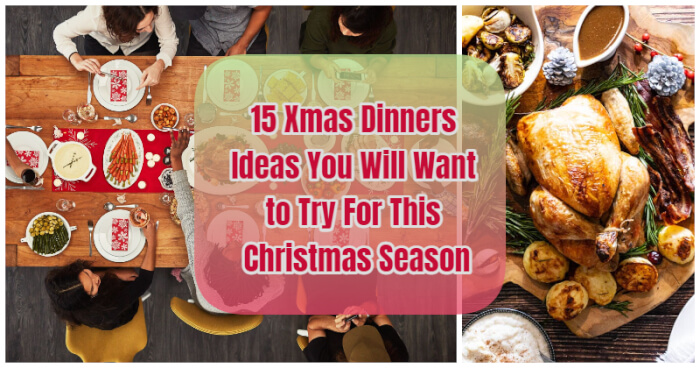 Here at Easy and Healthy Recipe, we have plenty of suggestions for Xmas dinners. All of our beloved, five-star Christmas dinner recipes have been gathered in one place by our family. Do you desire a customary holiday meal? You may prepare a feast using turkey or ham using these tried-and-true recipes. Do you feel like trying something new? We have appetizers, vegetarian selections, and even vegan options, everything to offer you to plan for the holiday season. So read on and enjoy.
15 Xmas Dinners Ideas You Will Want to Try For This Christmas Season
1. Holiday Crostini Trio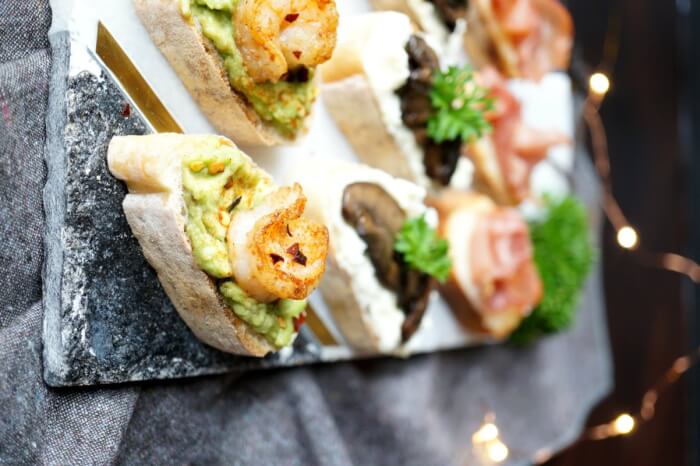 Source: thebakingfairy
At your holiday party, get toasted baguette slices and smeared them all over with avocado, mascarpone, and provolone spread on top for three adaptable food ideas that will please everyone's palates.
2. Bagel and Lox Board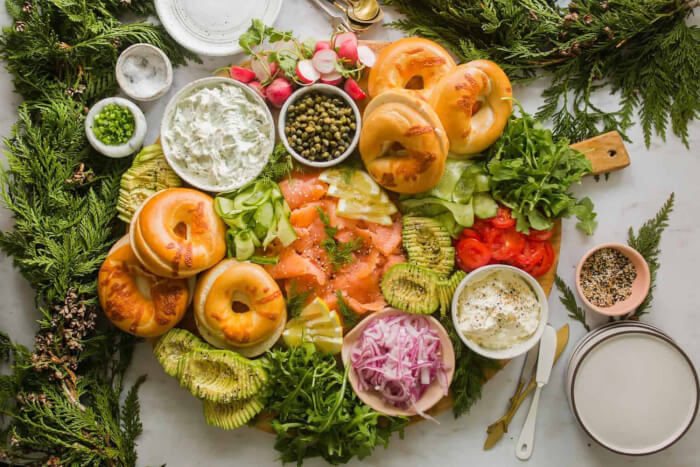 Source: lenaskichenblog
Use this tutorial below to dress up your typical bagel breakfast on Christmas. It will show you how to set out the entire spread—bagels, smoked salmon, onions, cucumbers, the works!—into a beautiful presentation.
3. Orange Bourbon Glazed Christmas Ham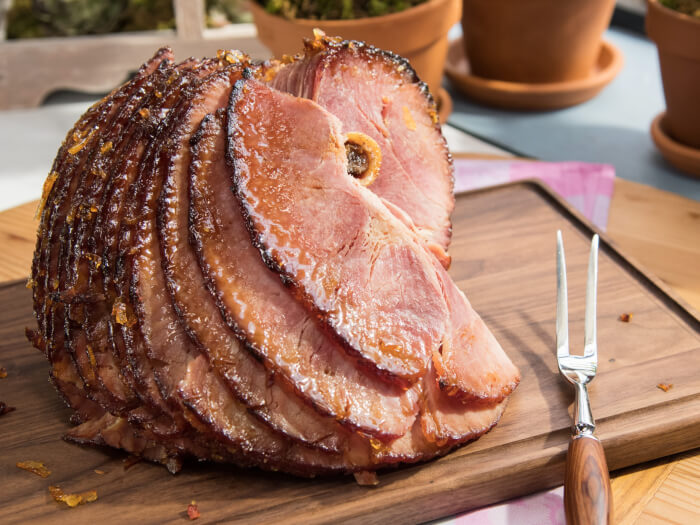 Source: foodnetwork
Nothing is more Christmas than an old-fashioned piece of ham. However, we can always do better than that with a little bit of glazing. This sweet, smoky, and flavorful glazed Christmas ham is perfect for the season. Everyone at the dinner table will end up asking for more.
4. Drunken Beef Stew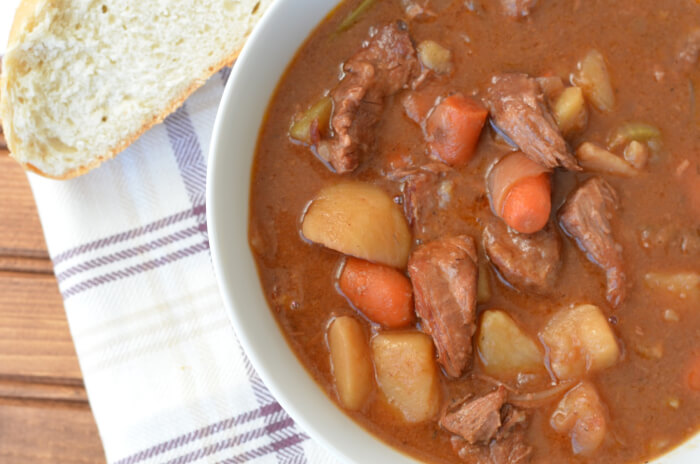 Source: thesavvykitchen
Drunken Beef Stew is a delicate piece of beef surrounded by a rich, thick wine sauce. You're going to need some crusty bread to eat with it to enhance the experience manifold.
5. Beef Tenderloin with Roasted Cauliflower Salad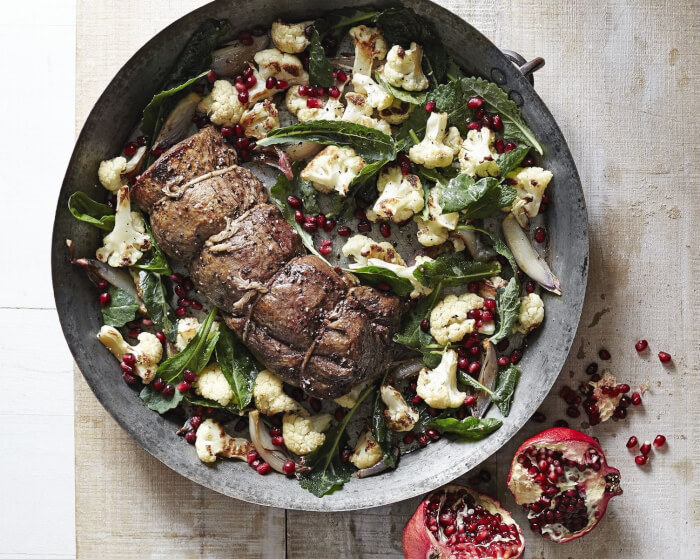 Source: countryliving
This dish is guaranteed to be a surefire hit at Xmas dinners. The juicy and succulent taste of the beef tenderloin always works wonders on party guests, and a classic tart cauliflower-pomegranate salad gives the dish a dash of freshness and brightens the tenderloin.
6. Turkey Florentine Meatballs with Pesto Spaghetti Squash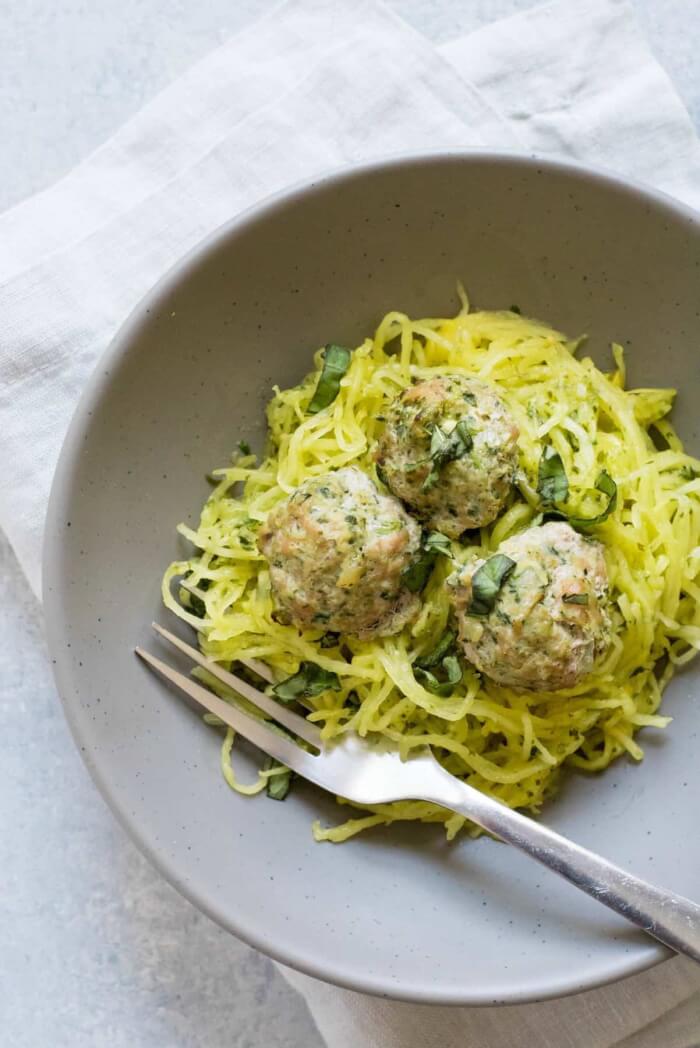 Source: wholefully
Even though these Turkey Florentine Meatballs with Pesto Spaghetti Squash don't contain grains, dairy, and nuts (including the pesto), they are most certainly not flavorless! You'll adore the taste combination of the meaty, garlicky meatballs with the creamy, silky spaghetti squash noodles.
7. Pork Chops With Bourbon-Molasses Glaze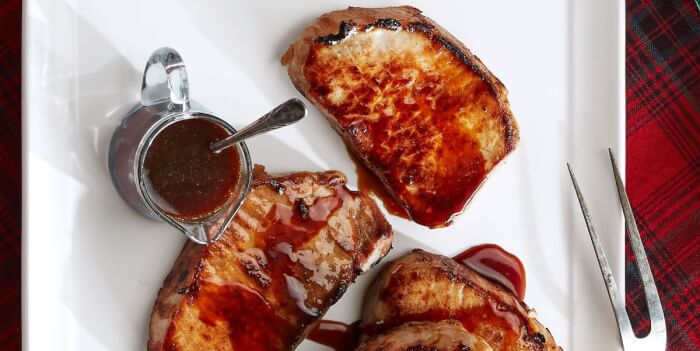 Source: countryliving
These delicious pork chops covered in a buttery bourbon-molasses sauce are a wonderful alternative for hosts looking to stray from the standard ham and turkey.
8. Instant Pot Swedish Meatballs with Mushroom Gravy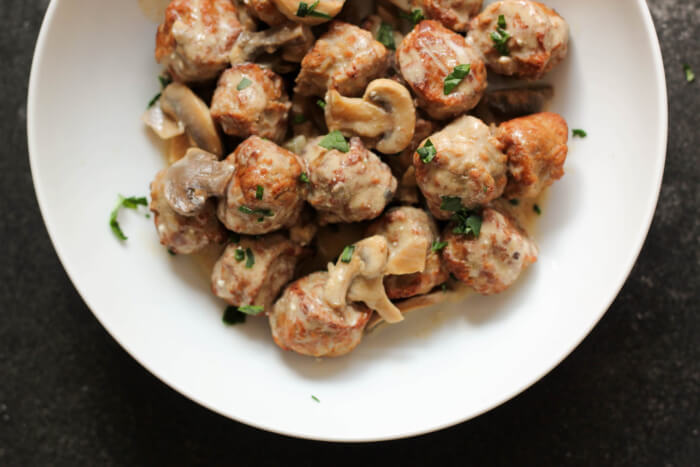 Source: sixsistersstuff
These hearty Instant Pot Swedish Meatballs with Mushroom Gravy are sure to please the entire family. It's also extremely effortless and time-saving to prepare as it'd only take 40 minutes inside an instant pot
9. Slow Cooker Lasagna Soup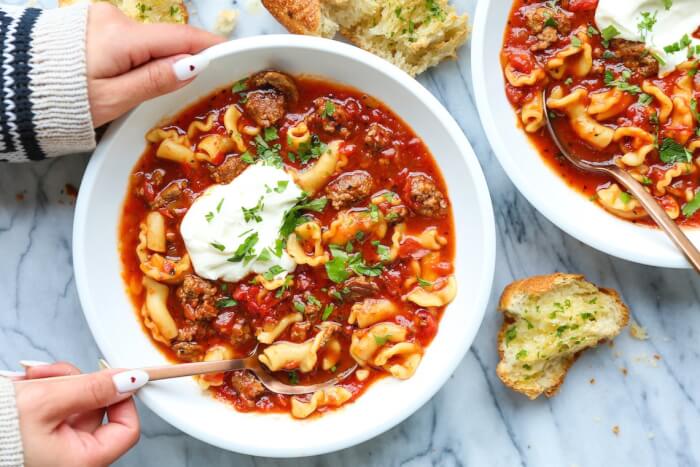 Source: damndelicious
In case you're craving lasagna but don't want to go out of your way to prepare it, try to make use of the slow cooker instead. With a fraction of the effort, this Slow Cooker Lasagna Soup has all the flavor of a lasagna.
10. Fresh Herb Stuffing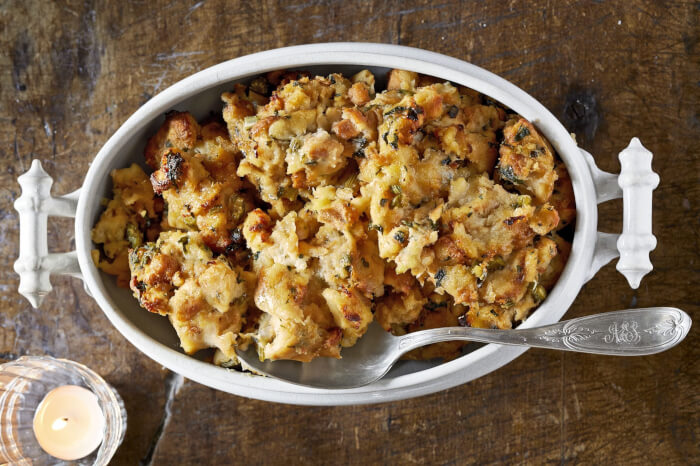 Source: countryliving
This stuffing is a wonderful option if you're short on time and can't prepare something fancier. The whole process takes less than an hour to create from start to end, so you can relish it even sooner.
11. Christmas Brie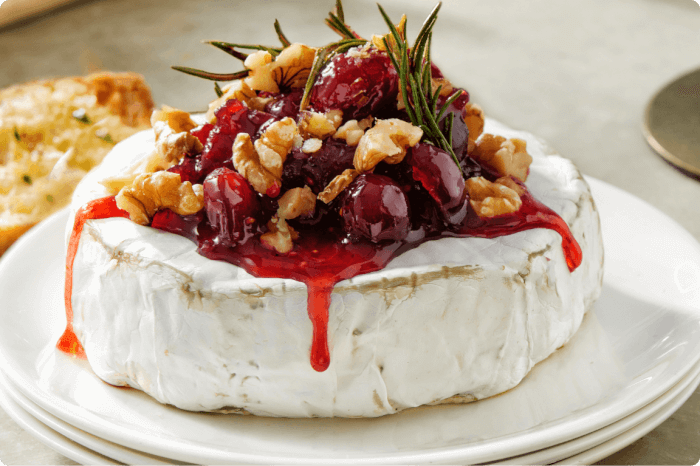 Source: iga
Do just put a storebought Brie round on a platter and call it a day. Put in some effort and decorate it with some delicious garnishes such as pomegranate seeds, pistachios, and a rosemary stem. All are put ingeniously together, working wonders for aesthetics.
12. Hummus Wreath
Source: twohealthykitchens
Another themed appetizer that is quite simple to put together yet will visually impress everyone at the tab;e. Simply put hummus into a crudite bowl, then sprinkle tomatoes, feta, and herbs on top.
13. Orange and Cumin Leg of Lamb with Roasted Tomatoes and Garlic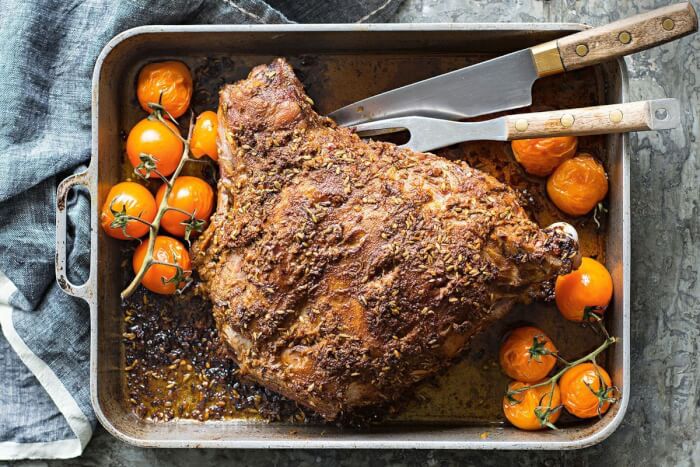 Source: womansday
This roast combines grape tomatoes, garlic, cumin, and orange wonderfully together to create a subtle Mediterranean sense. The recipe might appears insignificant at first due to its straightforward nature, but the sum of these ingredients here is absolutely better than its part. Furthermore, you can utilize any leftovers to make fantastic sandwiches.
14. Sweet Potato Casserole with Homemade Marshmallow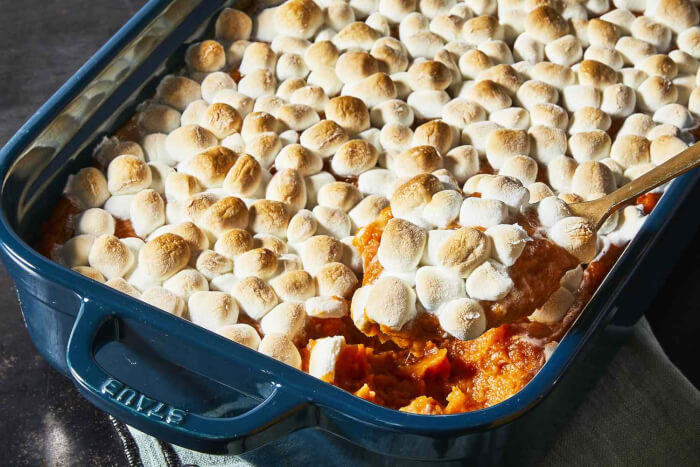 Source: allrecipes
This recipe is a must-have at every Xmas dinner table as it has been a tradition to serve up some delicious Casserole for your holiday dinner party. However, you can always go a little bit extra by integrating some marshmallows in it. You can then broil the dish before serving to get that beautifully browned top.
15. Pumpkin Curry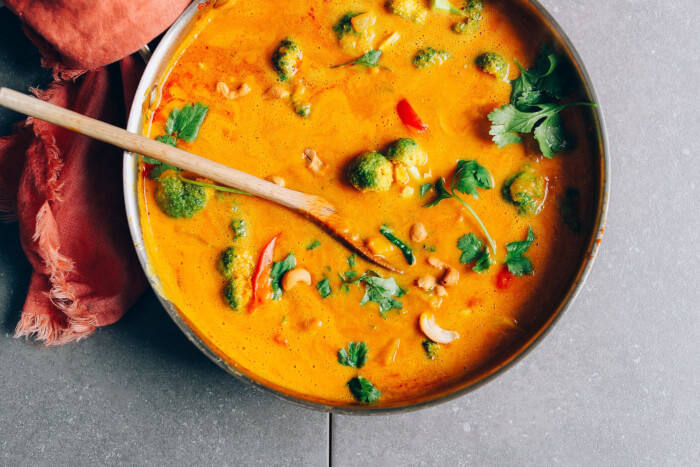 Source: minimalistbaker
If you're looking for a vegan alternative for your Xmas dinners, look no further than this recipe. This heartwarming, ridiculously delicious, and seasonally appropriate pumpkin curry is the perfect option if you. Simply omit the fish sauce from the regular recipe to make it entirely vegetarian
Easy and healthy recipes is a website that provides you with all creative cooking ideas and useful kitchen tips. Don't hesitate to visit our site to explore more easy cooking recipes designed for your perfect meal.