There are numerous recipes using pesto that people usually give credit to. Lay it, smudge it, spatter it, pour it, or even use it as a dip for chips and small snacks. There are also other varieties of ingredients to choose from, including traditional basil, rocket, watercress, wild garlic, sun-dried tomato, and avocado. Use your preferred pesto sauce in one of these delectable recipe ideas, whether you prefer the store-bought or homemade kind. Here Easy and Healthy Recipes have presented some incredibly tasty recipes using pesto especially for your choosing.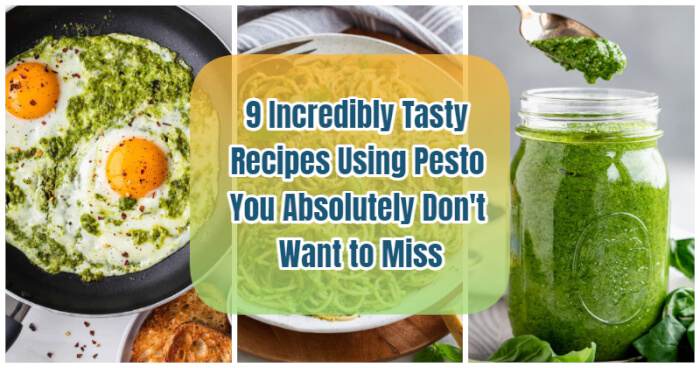 9 Incredibly Tasty Recipes Using Pesto
1. Simple Pesto Pasta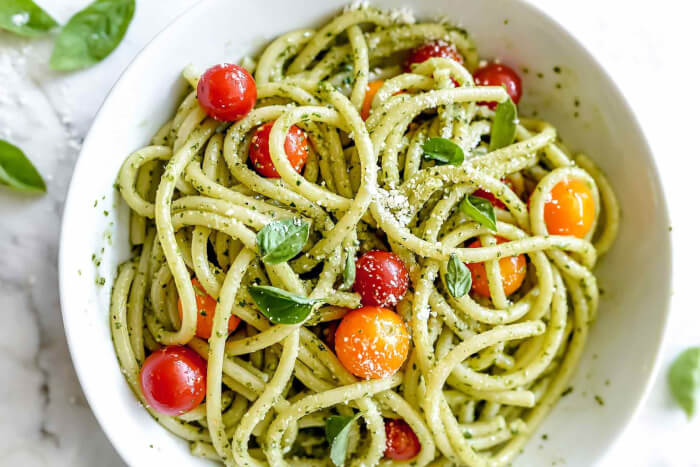 Source: foodiecrush
Pesto pasta is a straightforward dish that always guarantees to be a surefire hit. Richly basil-flavored thick pesto sauce with supple pasta noodles goes together as heavenly as peanut butter and chocolate. However, don't just toss some pesto on your pasta and call it a day! Instead, add some arugula, a squeeze of lemon, some parmesan, and a dash of chili flakes to the dish to improve the flavor. It only takes one extra step, yet it makes a huge impact.
2. Linguine with shrimp and artichoke pesto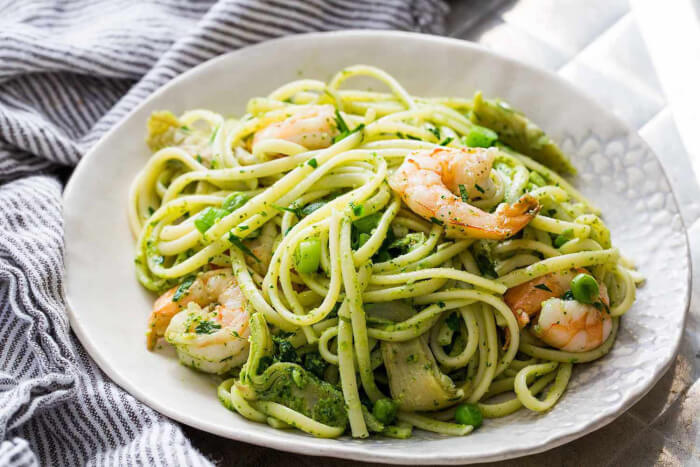 Source: simplyrecipes
Pesto shrimp is the ultimate Christmas pleasure. It's a perfect meal to serve for brunch on Easter and Christmas Eve or really any holiday. Additionally, it tastes well as an appetizer before a prime rib feast. Some added diced red pepper briefly sautéed for color can also help to enhance the dish both visually and taste-wise.
3. Sandwich made with Caprese Grilled Cheese and Arugula Pesto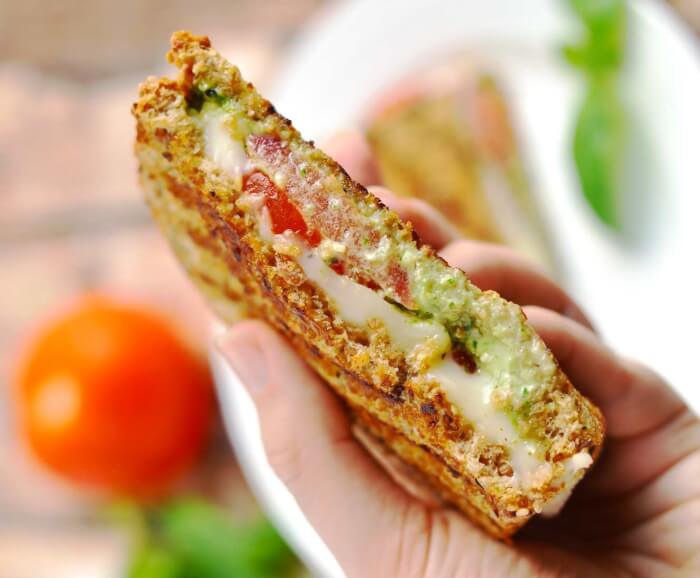 Source: apinchofhealthy
Ripe tomatoes, mozzarella, and an intriguing handmade arugula pesto sandwiched between two slices of sourdough bread. Sink your teeth into some golden-brown buttery bread. You can thank me for it later.
4. Pesto, prosciutto and artichoke tart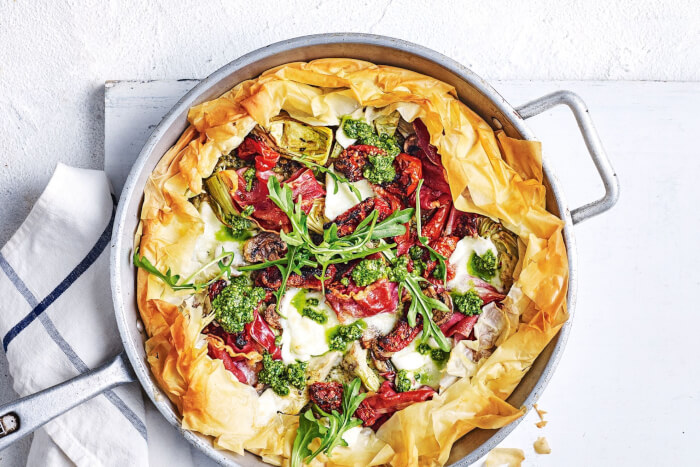 Source: taste
For a great alternative to pastries made with tomato paste, spread a thin layer of pesto over the foundation of savory tarts like this filo and artichoke version.
5. Crispy potatoes with mayo and wild garlic pesto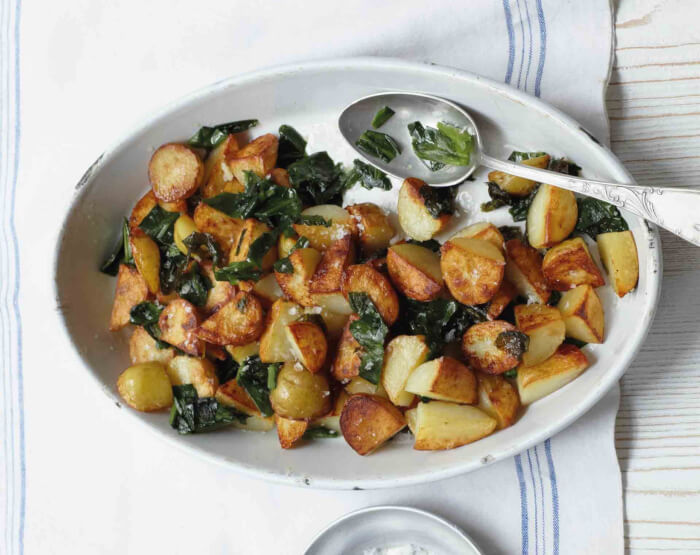 Source: greatbritishfoodawards
This meal is perhaps one of the most delicious recipes using pesto. Potatoes and pesto as a dip is just such a heavenly combination for any occasion. Add pesto to mayonnaise and serve it with potatoes or chips. Any pesto will do, but homemade wild garlic pesto is especially wonderful with aioli.
6. Tilapia with Spinach Pesto and Pecans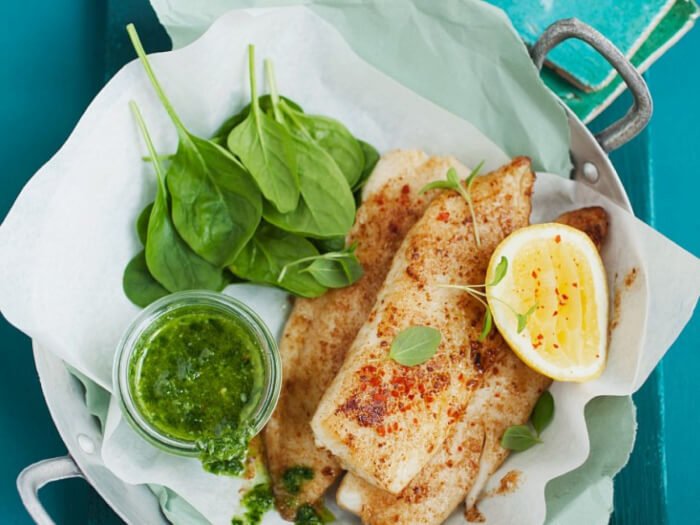 Source: eastsmarter
Here is a recipe for a lovely fish dinner that takes only 30 minutes to prepare. It's easy to prepare for your fortunate family on weeknight evenings, yet elegant enough to take center stage at dinner parties.
Slices of tilapia, a mild African whitefish with a high protein content and a delicate flavor, are topped with a simple, fresh handmade spinach pesto.
7. Pizza With Vegetarian Pesto And Feta Cheese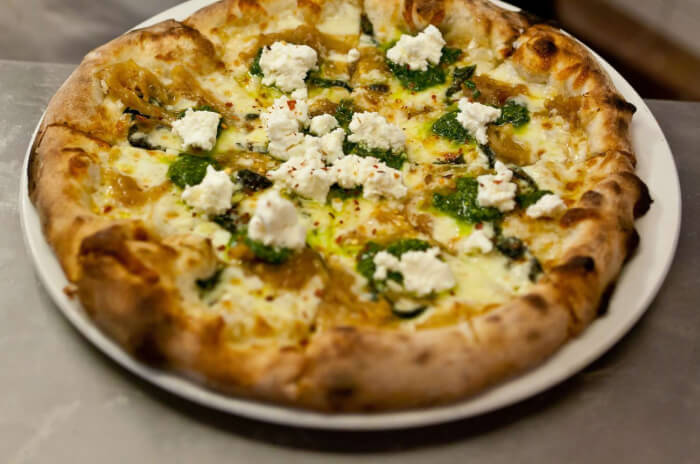 Source: thespruceeat
Pesto is used in place of tomato sauce in this vegetarian pesto pizza dish. This vegetarian pizza, topped with salty feta cheese, tart artichokes, and salty Kalamata olives, offers a mouthful of Mediterranean and Greek flavors that combine well with baked pizza dough. Enjoy it for a delicious lunch or dinner along with a side of green salad!
8. Pull-Apart Bread with Pesto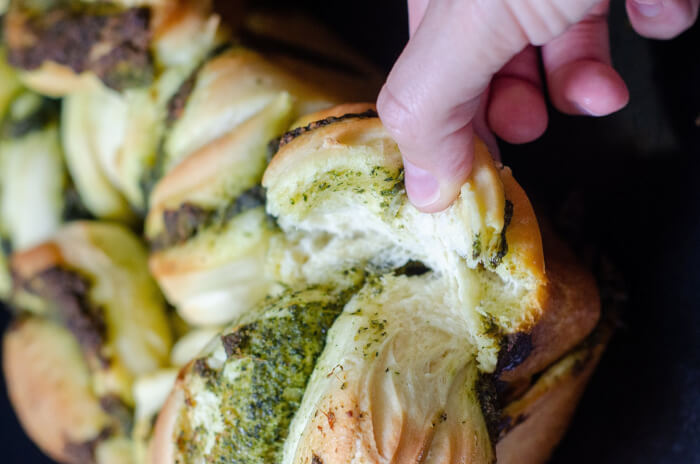 Source: freshaprilflours
This easy Italian-style pull-apart bread recipe is so easy to do it only takes 30 minutes to do. Store-bought versions of the pesto, oven-dried tomatoes, and roasted red peppers would do the job. Combine olive oil and pesto, coat your favorite pieces of cut bread biscuit pieces into the pesto mixture until coated, spread the topping across, and just bake in the oven for 20 minutes.
9. Crostini with sweet pea pesto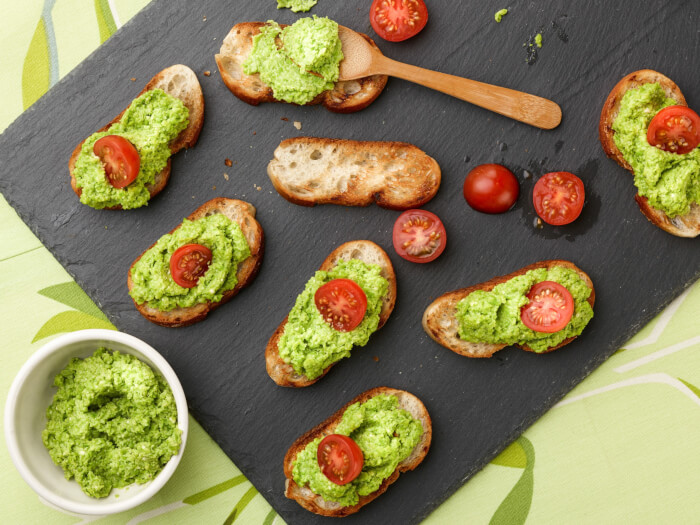 Source: foodnetwork
Crostini traditionally used a lot of oil. However, by replacing it with vegetable broth and cutting back on the cheese, you got the perfect healthy alternative to the dish. Use this recipe to make a paste-like pesto to top crostini. Add more broth to create a sauce-like consistency for use with spaghetti.
Easy and healthy recipes is a website that provides you with all creative cooking ideas and useful kitchen tips. Don't hesitate to visit our site to explore more easy cooking recipes designed for your perfect meal.