4 Recipes With Kimchi Which Are Amazingly Good For Your Health 
Korean cuisine is extremely healthy because it does not use much fat, instead, a lot of vegetables and healthy ingredients such as tofu, beef, chicken and grains. Also, there are several recipes with kimchi which are suitable for keto dieters. 
In this post, let's find out the ingredients and instructions for these recipes with kimchi. Kimchi is also known as Korean pickled napa cabbage. It is made by fermenting this vegetable with chili powder, fish sauce and several other spices. This pickle is high in vitamins, fiber and low in calories. It's very healthy and could be used in many dishes including soup, stir-fried dishes and stew.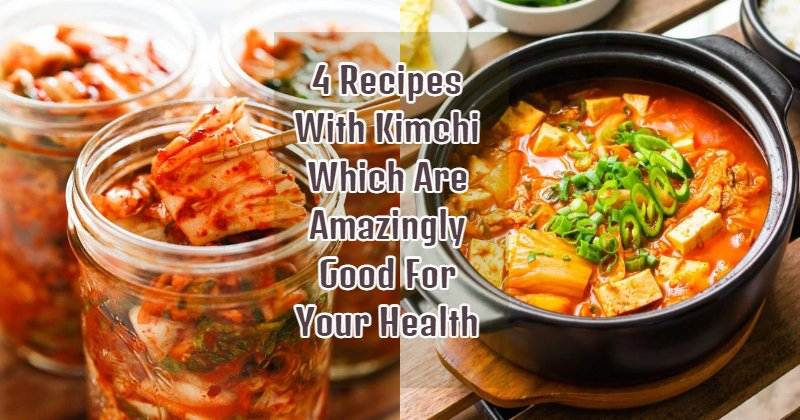 1. Kimchi Stew (Kimchi-Jjigae) 
Source: Eating Well
This is one of the most popular Korean foods that you might have seen in several Korean TV shows and drama series. It tastes best in winter because kimchi stew is spicy, hot and full of flavors from its combining ingredients. For protein, you can choose between pork, beef, sausages, chicken and tofu. Any type of these meats might all go well with kimchi. The spiciness and sourness of this fermented vegetable will belance any kind of ingredients. You could also add mushrooms, leeks, onions for more sweetness. This soup is very easy to cook and it is surprisingly tastier than it might seem. 
Click here for the full recipe.
2. Tofu Kimchi (Dubu Kimchi) 
Source: My Korean Kitchen
Among recipes with kimchi and tofu, this is definitely a "chef's kiss". Different from kimchi stew which is actually a soup, this dish is a stir-fried dish which is more interesting to chew and to taste. The main ingredients are only kimchi, pork belly and tofu, the most inexpensive and healthiest food ever. This recipe is also keto-friendly because there are only a few carbs in this dish. It's savory, sour, spicy from the stir-fried pork and kimchi and tofu is in charge of balancing all the flavors. 
Click here for the full recipe. 
3. Korean Style BBQ Beef With Kimchi (Bulgogi) 
Source: Pinch Of Yum
Korean Style BBQ beef is made of grilled thinly sliced beef. It's extremely delicious when served with kimchi and a soft boiled egg. This recipe includes white rice, however, to make it keto-friendly, you might just leave it out or replace it with keto rice (the recipe for cauliflower rice is right here). It's among the best recipes with kimchi because of its flavors and texture. Moreover, beef and kimchi are perfectly matched together in most recipes. 
Click here for the full recipe.
4. Kimchi Salad 
Source: Wool Worths
The above recipes are all Korean. Kimchi could be also included in a salad bowl with several fresh and nutritious ingredients such as cucumber, red radish, carrot and lettuce. Sesame oil will combine and connect all these veggies together and balance the flavors. Again, this recipe includes quinoa which is very high in carbs. So it's important to exclude it in your salad if you are on a strict diet. This salad is great for lunch, dinner or even supper. You might also add some chicken breast or beef steak to get more protein. 
Click here for the full recipe.
For more healthy keto recipes, remember to visit this category daily.