Every Saturday morning, my kitchen transforms into a hub of laughter and togetherness as my kids eagerly anticipate these Banana Oat Pancakes. It's become a weekend tradition we cherish!
Banana Oat Pancakes Are Like A Warm, Cozy Hug On Your Plate!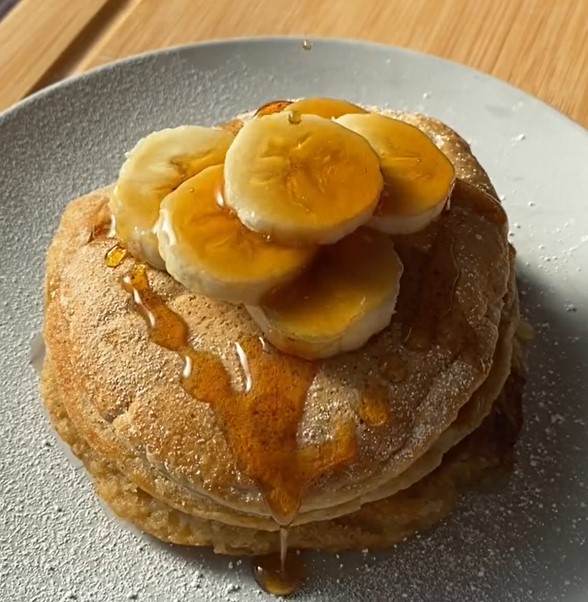 I remember the first time I made them – the sweet aroma wafting through the house, the sizzle of batter in the pan, and the kids' faces lighting up as they devoured each bite.
With ripe bananas and oats at the heart of the recipe, you're in for a treat that's easy to make and even easier to devour. So, stick around as we dig into the world of these delightful Banana Oat Pancakes that'll start off your day with a smile! 😄🍌🥞
To Make These Vegan Banana Oat Pancakes, You Will Need:
(Full measurements listed below)
Rolled oats: Opt for old-fashioned rolled oats for the best texture in your pancakes.
Plant milk: Choose your preferred plant-based milk, such as almond, soy, or oat milk, for a dairy-free option.
Baking powder: Ensure it's fresh to help the pancakes rise and become fluffy.
Salt: A pinch of salt enhances the overall flavor of the pancakes.
Bananas: Use ripe bananas for natural sweetness and a smoother batter. Mash them well to avoid lumps.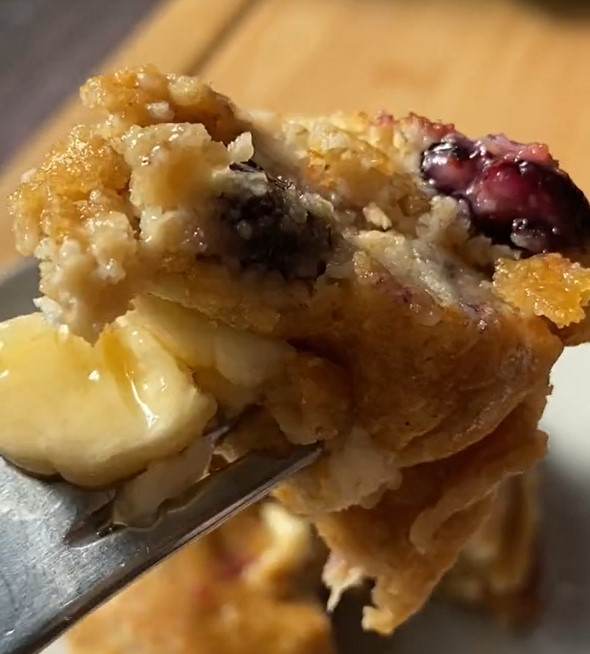 Blueberries: You can use fresh or frozen blueberries; if using frozen, don't thaw them before adding to the batter.
Butter or oil (for cooking): Use a non-stick pan and a small amount of oil or butter to prevent sticking and give the pancakes a nice, golden crust.
Vanilla extract (optional; can substitute with syrup or another sweetener): Vanilla extract adds a delightful flavor, but you can replace it with your preferred sweetener like syrup or honey.
How To Make Vegan Banana Oat Pancakes, Step-By-Step:
Step 1: Blend the oats into flour and mix in a bowl with the vanilla extract, baking powder, salt, milk, and half the banana (mashed.)
Step 2: Lightly grease a hot pan and add a scoop of batter, then drop in a few blueberries.
Step 3: Cook on a medium-low heat until one side is cooked, then flip.
Step 4: Slice up the rest of the banana and serve these freshly made Banana Oat Pancakes with some syrup.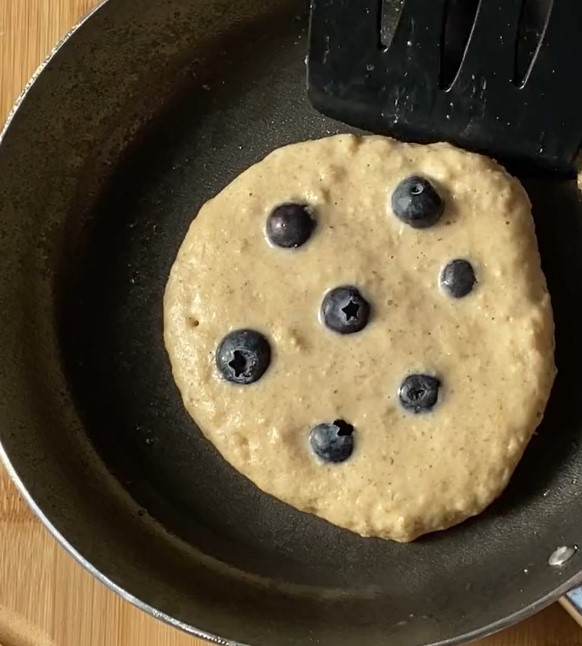 Estimate Nutritional Information:
Serving: 1 serving
Calories: 101kcal | Carbohydrates: 8g | Protein: 2.3g | Fat: 5.9g | Cholesterol: 23mg | Sodium: 42mg | Potassium: 90mg | Dietary Fiber: 1g | Sugar: 3g | Vitamin C: 0.7mg | Calcium: 30mg | Iron: 0.8mg
Banana Oat Pancakes Cooking Tips:
Preparation:
Mash your ripe bananas well to ensure a smooth batter. A few small lumps are okay, but you don't want large chunks.
Adjust the consistency of the batter by adding more milk if it's too thick or more oats if it's too thin. It should be thick enough to scoop, but not too runny.
Let the pancake batter rest for a few minutes before cooking to allow the oats to absorb the liquid, resulting in fluffier pancakes.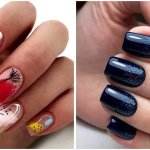 Cook and serve:
Cook the pancakes on medium-low heat to avoid burning and ensure they cook through evenly.
Feel free to get creative with toppings, like sliced bananas, more blueberries, a drizzle of maple syrup, or a dollop of yogurt for extra deliciousness.
Frequently Asked Questions:
1. Can I Use Gluten-Free Oats For This Recipe?
Yes, you can use certified gluten-free oats to make these pancakes suitable for a gluten-free diet.
2. What's A Good Substitute For Plant Milk?
You can use any dairy-free milk you prefer, such as almond, soy, oat, coconut, or rice milk. Just make sure it's unsweetened for this recipe.
3.  Do I Have To Use Blueberries, Or Can I Use Other Fruits?
Blueberries are just one option. You can use other fruits like strawberries, raspberries, diced apples, or even chocolate chips for a different flavor twist.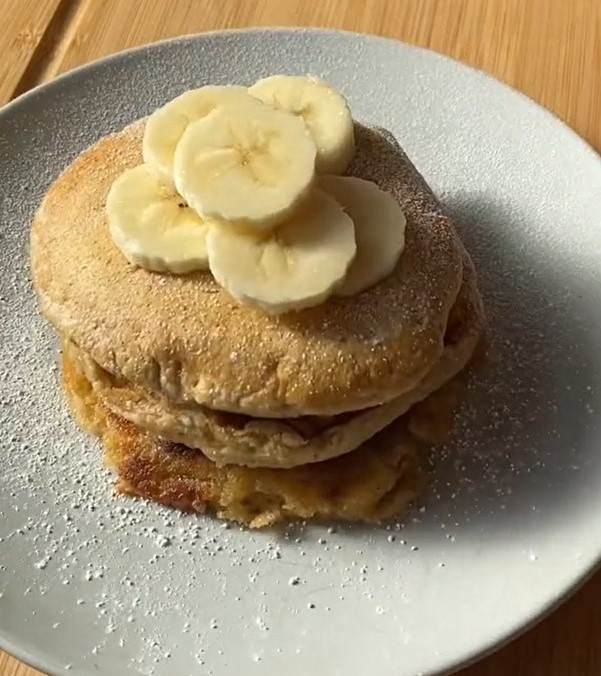 4. Can I Make The Batter Ahead Of Time?
While you can prepare the dry and wet ingredients separately in advance, it's best to combine them just before cooking for the freshest results. The batter may thicken as it sits, so adjust the consistency if needed before cooking.
5. How Do I Know When To Flip The Pancakes?
Look for small bubbles forming on the surface of the pancakes, which is a sign that they're ready to flip. Cook for another 1-2 minutes on the other side until golden brown.
6. How Do I Know When To Flip The Pancakes?
Yes, you can freeze leftover Banana Oat Pancakes. Allow them to cool, then stack them with parchment paper in between, place them in an airtight container or zip-top bag, and store them in the freezer for up to 2-3 months. Reheat in a toaster or microwave.
Let's Make These Delicious Banana Oat Pancakes!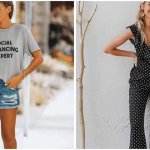 And there you have it, this fluffy Banana Oat Pancakes are ready to grace your dinner table. If you give it a try, don't forget to capture a photo and share us on Facebook and Pinterest.
Follow us for more mouthwatering recipes to add to your collection. Until next time, happy cooking! 😄🍌🥞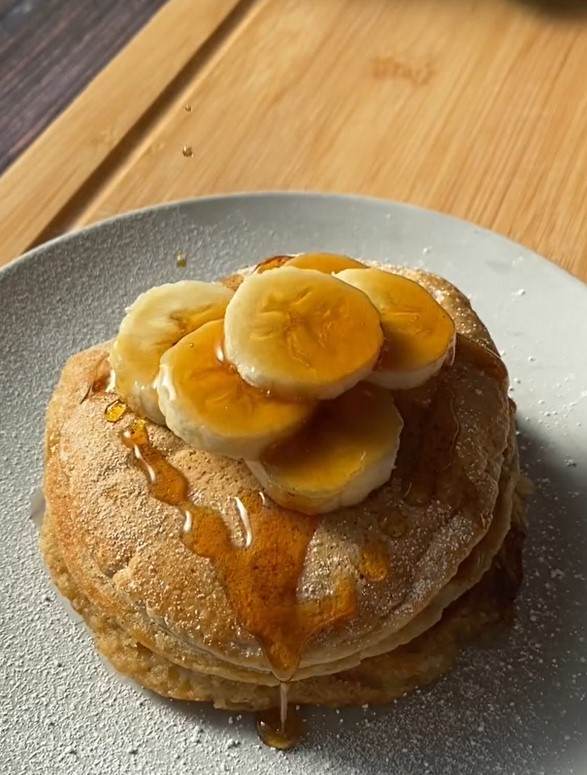 Ingredients
3/4 cup rolled oats

1/3 cup plant milk

1/2 tsp baking powder

Pinch of salt

1/2 tsp vanilla paste

1 banana

Handful blueberries

Butter/oil
Instructions
Step 1: Preparing the batter
Place the oats in a blender and process them until they become fine flour.
In a mixing bowl, add the oat flour, milk,  baking powder, salt,  and vanilla extract.
Mash half of a ripe banana and incorporate it into the batter.
Thoroughly mix all these ingredients together until you have a smooth batter.
Step 2: Cooking the pancakes
Heat a non-stick pan or skillet over medium-low heat. Lightly grease it with a small amount of oil or vegan butter.
Use a ladle or measuring cup, and pour the batter onto the hot pan. Decide the size of your pancakes according to your preference.
Drop a handful of fresh blueberries onto each pancake while it's cooking.
Allow the pancakes to cook undisturbed until you start seeing bubbles forming on the surface.
Step 3: Flipping and cooking the other side
Once the bubbles have formed and the edges of the pancakes are set, it's time to flip them.
Carefully slide a spatula under each pancake and flip it over to cook the other side.
Cook the second side until it turns a beautiful golden brown, which should take about 1-2 minutes.
Step 4: Serving the pancakes
While the pancakes are cooking, slice up the remaining half of the banana.
Once the pancakes are ready, transfer them to a serving plate.
Top your freshly made Banana Oat Pancakes with the banana slices and syrup. Enjoy!