Let me tell you about my new go-to quick and easy breakfast recipe – Everything Bagel Bites!
These are a game-changer that requires no yeast, no boiling – and you can have a bunch of those bagels ready in less than an hour!
Little Cream Cheese-Stuffed Bagel Balls Soft, Chewy, And Incredibly Tasty.
I stumbled upon this viral 2-ingredient bagel dough, made with Greek yogurt and flour, which is a healthier twist on the traditional boiled and baked bagel. I had to give it a go.
So, I did. But then, I had a brilliant idea. What if we made them bite-sized, coated in everything seasoning, and filled with creamy cream cheese? And that's how Everything Bagel Bites with cream cheese filling came to life! 🥯🧀😋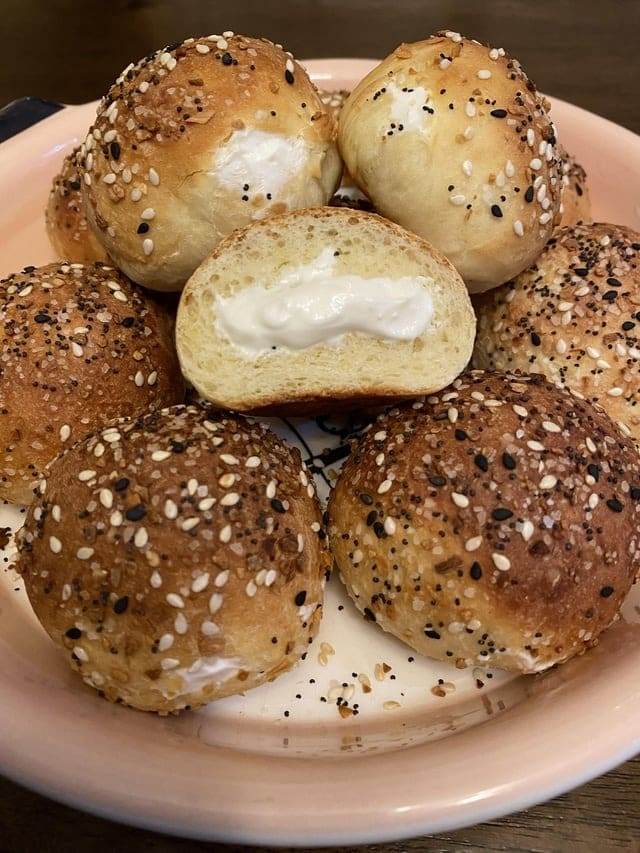 To Make This Everything Bagel Bites You Will Need:
Flour: The base of this wonderfully chewy bagel bite recipe is all-purpose flour.
Greek yogurt: You'll need equal parts yogurt and flour for this recipe and the non-fat yogurt will work best!
Baking powder: Since this recipe doesn't require any yeast, you have to replace it with a different leavening agent. Baking powder does the trick! Add them to give these little bagel bites the perfect rise.
Salt: Add salt to the bagel dough for an extra oomph of flavor.
Cream cheese: Stuffing these bite-sized bagels with a little bit of ooey-gooey, melty cream cheese takes this popular breakfast to a whole new level. It is incredible!
Everything seasoning: Last, but most certainly not least you'll need some everything bagel seasoning blend.
See the recipe card for full information on ingredients and quantities.
How To Make The Best Everything Bagel Bites?
To whip up the best Everything Bagel Bites, start by preheating your oven to 375°F and lining a baking sheet with parchment paper.
Now, it's time to work that dough magic. In a mixing bowl, blend together all-purpose flour, Greek yogurt, two baking powder, and salt.
Once your dough comes together, transfer it to a floured surface and give it a good knead until it's smooth and elastic. Then, divide it into small portions, roughly the size of a golf ball.
The fun part? Add a cube of cream cheese to each portion, wrapping the dough around it to form little cream cheese-stuffed bagel balls.
After giving them an egg wash and a roll in everything bagel seasoning, arrange them on the baking sheet.
Pop them in the oven for about 20-25 minutes until they turn a lovely golden brown. Let them cool for a moment, and then get ready to savor your freshly made golden Everything Bagel Bites!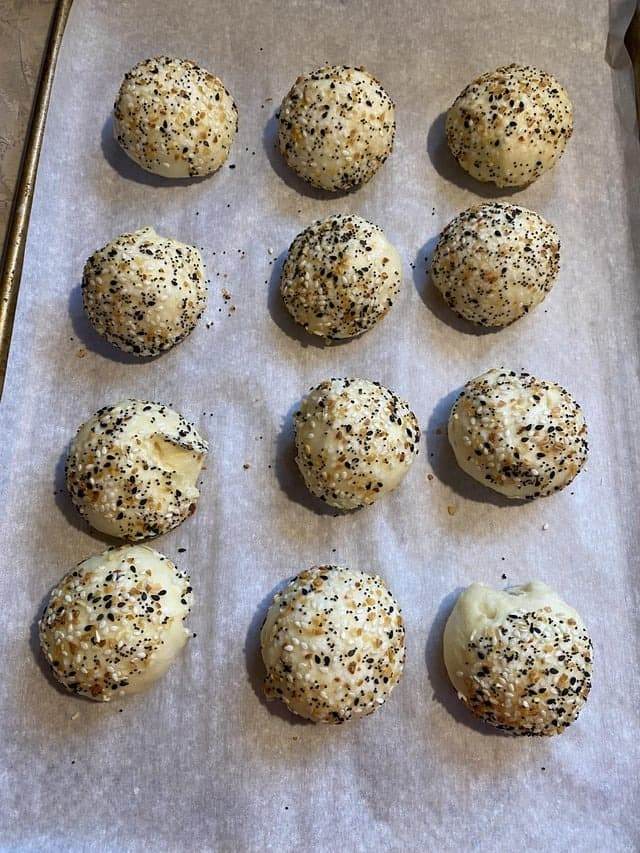 Estimate Nutritional Information:
Serving: 1 serving (approx. 2-3 Everything Bagel Bites)
Calories: 665kcal | Carbohydrates: 60g | Protein: 24g | Fat: 38g | Saturated Fat: 19g | Polyunsaturated Fat: 3g | Monounsaturated Fat: 11g | Trans Fat: 0.1g | Cholesterol: 100mg | Sodium: 537mg | Potassium: 1508mg | Fiber: 5g | Sugar: 8g | Vitamin A: 7060IU | Vitamin C: 18mg | Calcium: 422mg | Iron: 3mg
Recipe Notes And Helpful Tips:
In order to get soft, fluffy, and tender Everything Bagel Bites make sure your baking powder is not expired. I find that this is an ingredient that sometimes sits in people's pantries (mine included) for years and could expire without them knowing!
I have tried spreading both just an egg white wash and a full egg wash on top of these bagels. The yellow yolk in a whole egg wash is what helps achieve that beautiful golden brown top. I highly recommend you do not skip it!
When kneading the dough and rolling into balls, flour your hands and the clean work surface that you will be using. This will help prevent sticking!
Do not add too much cream cheese to the center of each bagel bite. If you add too much you will have difficulty closing the dough around it. Stick to the instructed 2 tsp ish!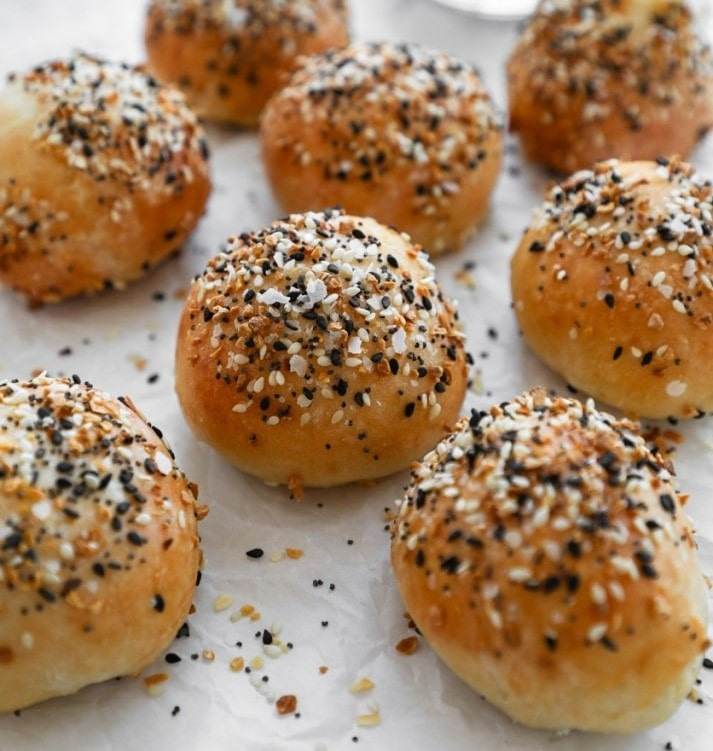 Frequently Asked Questions (FQAs):
1. Where Can I Get Everything Bagel Seasoning?
You can buy everything bagel seasoning in most grocery stores! It will be in the aisle with all other spices and seasoning mixes.
2. Can I Make My Own Homemade Everything Seasoning?
Yes, you absolutely can. Everything seasoning is simply a combination of poppy seeds, sesame seeds, dried garlic, dried onion, and salt.
3. Which Type Of Greek Yogurt Should I Use In These Bagel Bites?
I recommend using Fage 0% Milkfat Plain Greek Yogurt! It is what I use and have gotten great results every single time.
4. How To Store This Recipe?
Although these little bagel balls are best enjoyed hot and fresh out of the oven, as any bagels are, you can store leftovers in an airtight container in the refrigerator. Then to reheat pop in the oven, air fryer, or microwave for 5-10 minutes until warmed throughout.
5. Can I Freeze These Stuffed Bagel Bites?
Yes, you can! Transfer the bites to a freezer-safe container or bag and place them in the freezer. They will keep it for a couple of months. Then you can follow the re-heating instructions above when you'd like to enjoy!
Let's Make These Delicious Everything Bagel Bites With Cream Cheese Filling!
And there you have it – this easy, yummy is ready to take its place on your table. If you decide to give it a shot, make sure to snap a photo and share it with us on Facebook and Pinterest.
Be sure to follow us for more yummy recipes in the future. Until next time, happy cooking!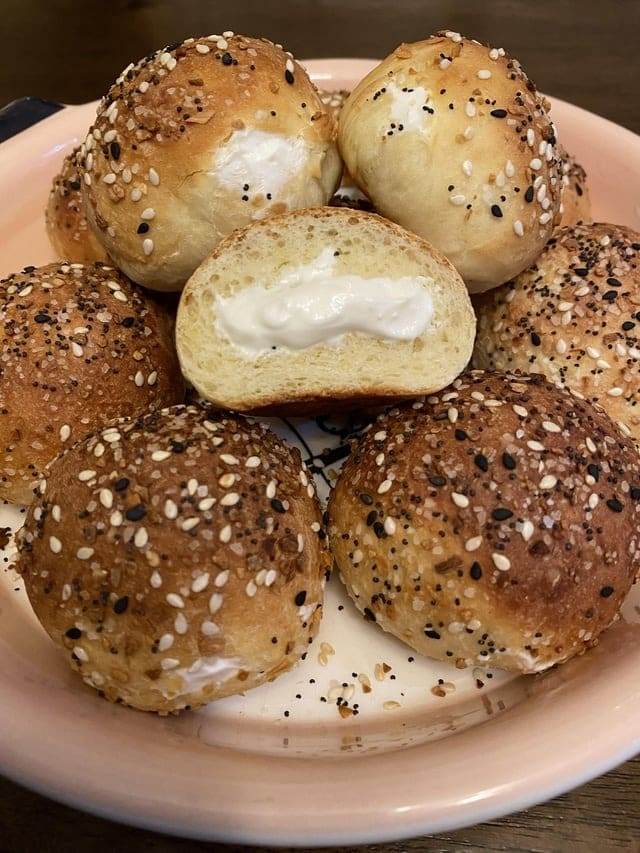 Ingredients
1 cup plain greek yogurt

1 cup all purpose flour

2 tsp baking powder

½ tsp salt

5 tbsp cream cheese, about 2 tsp in each bagel bite

1 egg, beaten for egg wash

Everything bagel seasoning
Instructions
Step 1: Set the oven to 375 degrees.
Step 2: Add the all-purpose flour, baking powder, and salt to a large mixing bowl. Whisk to combine thoroughly.
Add in the Greek yogurt. Use a spatula to combine the ingredients until a dough forms.
Step 3: Remove the dough ball from the large bowl and transfer it to a lightly floured surface. Knead the dough by hand for about 1-2 minutes.
Next, separate the dough into 8 equal portions. I first divide the dough into quarters and then split those quarters in half.
Step 4: Line a baking sheet with parchment paper and add nonstick cooking spray. Take each dough ball and flatten it into a circle, then place it on the parchment paper. Once all the dough balls are added, divide the cream cheese among them. Add about 2 tsp of cream cheese to the center of each dough circle. See the full post for photos.
Step 5: Next wrap the dough around the cream cheese filling for each bagel bite. I recommend taking the edges of the dough folding them into the center and then pinching them closed. Place the pinched side down on the baking sheet.
Step 6: Once all the bagel bite dough balls are formed, top them with the egg wash. Sprinkle as much everything bagel seasoning as you'd like on each one.
Step 7: Bake for 25 – 27 minutes, until golden brown. Remove the bagel balls from the oven and let cool slightly. Serve and enjoy your freshly baked Everything Bagel Bites!