5 Healthy & Protein-Packed Meals With Ground Turkey
Turkey is one of the healthy proteins with less fat than any type of meat. In this post, we introduce 5 meals with ground turkey. There is a plus point because ground turkey is easier to cook because it won't be dry too quickly. 
It goes well with other ingredients such as keto rice, lettuce, bacon and so much more.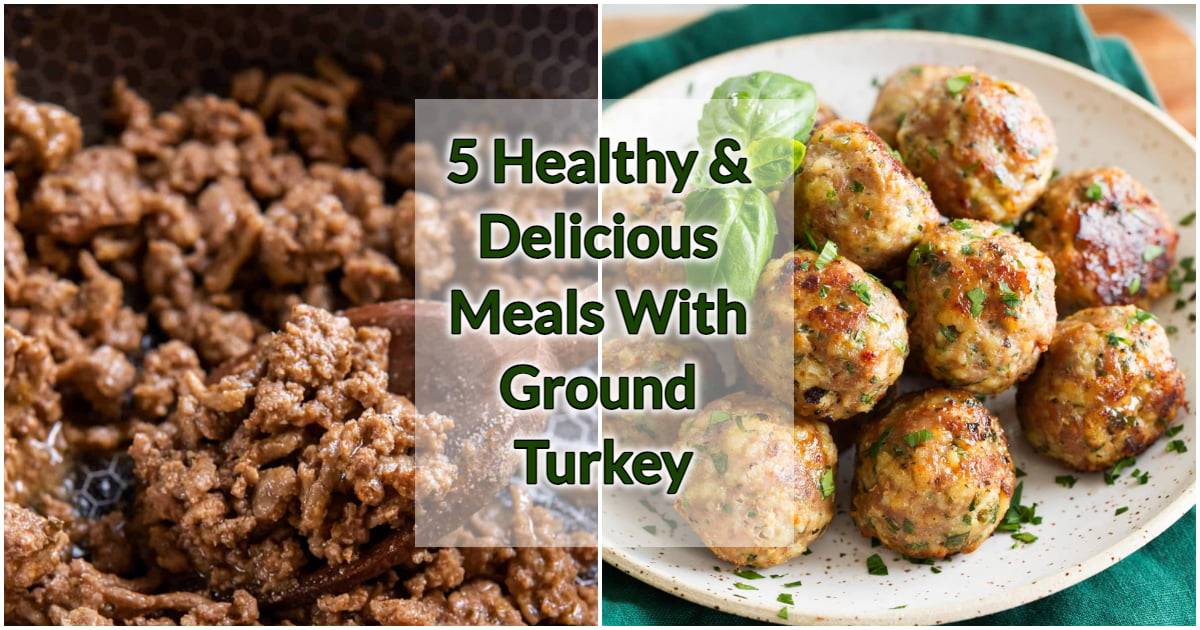 1. Teriyaki Turkey Bowl 
Source: It's Cheat Day Everyday
Peko bowls are healthy and easy to make. All you need to do is to prepare all the ingredients then to mix them all together. With a teriyaki sauce, it has an Asian flavor. When everything is combined, we are merry to go. It's also a great choice to add some more vegetables to give yourself more vitamins and fiber. This recipe in these meals with ground turkey also takes less than 30 minutes to complete and serve. It's even quicker to prepare if you already have your homemade keto rice. 
2. Turkey Meatloaf 
Source: Simply Made Recipes
This dish is amazing for a dinner party or family gathering. It's packed with proteins and fat and absolutely zero carb. Normally, this recipe is made with ground beef. However, a ground turkey meatloaf tastes a little lighter and less… beefy obviously. To make this dish, you will need some eggs, bacon, garlic, tomato sauce and some other spices. The recipe takes a little longer however, the result is amazing.
3. Stir-fried Thai-style Ground Turkey 
Source: Kalyn's Kitchen
Even though this recipe is not authentic Thai style, it is mostly influenced by Thai cuisine. While mentioning this country's foods, they all have a special taste with red chilli pepper and some sourness. Ground turkey is combined with onions, red bell peppers and several other Asian spices. It also goes very well with vegetables, keto rice and a salad. It only takes you less than 30 minutes to prepare and cook. 
4. Turkey Taco Lettuce Wraps 
Source: Delish
It's fresh, full of vegetables and is interesting to eat. It's a great appetizer, a side fish or a finger food at a party. The avocados, tomatoes and Mexican cheese make it more Mexican-authentic. However, ground turkey is the star of this recipe. The main ingredient is stir-fired and seasoned with salt and other Mexican spices. 
5. Baked Turkey Meatballs 
Source: Kitchn
Meals with ground turkey might be salads, side dishes and main courses. This recipe is perfectly suitable for parties and dinners. With ricotta and Parmesan, these meatballs are definitely moist, cheesy and they help it hold together. For the sauce, tomatoes can totally do the magic by giving it a natural sweetness and sourness. This keto-friendly recipe also goes well with keto rice, salads and baked and stir-fried vegetables. 
These are the 5 easy meals with ground turkey that you should definitely try now. Ground turkey is high in calories, protein and low in fat which fits completely with a ketogenic diet plan. However, it's high in calories so you should not have too much of it, especially for dinner.