3 Recipes Japanese Eggplant Will Taste Beyond Phenomenal 
It is among the healthiest fruits and vegetables which contains minimum calories. There are 3 recipes Japanese eggplant is going to taste great with them. 
Normally, they are used to grill, stir-fry or even deep-fry.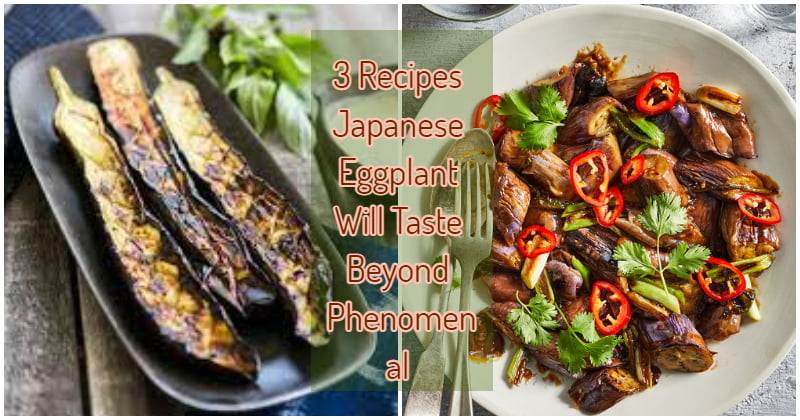 1. Broiled Eggplant 
Source: Low Carb Simplified
This dish is soft, juicy and moist which is perfectly for an appetizer and side dish. With a spicy soy glaze, it brings much more flavors to the eggplants and balances all the ingredients. It only contains under 130 calories and takes less than 20 minutes to finish. 
Ingredients: 
2 Japanese eggplants (rinsed and sliced)

2 cloves garlic

1 ½ tablespoon tamari or soy sauce 

1 tablespoon olive oil

1 tablespoon avocado oil

2 teaspoons hot sauce

¼ teaspoon salt
Instructions:
Preheat the broiler to high heat.

Place the eggplant onto a tray covered with baking paper. Spread avocado oil and put some salt on it.

Put the tray into the broiler in 5 minutes. Do not let it be overcooked. 

For the sauce, mix garlic, tamari/soy sauce, olive oil and hot sauce in a small saucepan. Stir it well.

When the eggplant is cooked, place onto a plate and put in the sauce. 

Serve while hot.
2. Eggplant Fries 
Source: Keto Cooking Christian
Among other chip recipes Japanese eggplant fries are much healthier and completely low-carb. It is perfect for movie nights and gatherings as a comfort food. Thanks to the cheese, it is as appealing and as tasty as potato fries.
Ingredients:
1 large Japanese eggplant (cut into chip size)

1 eggs (beaten)

 ½ cup Almond Flour

½ cup grated parmesan cheese

½ cup ground pork rinds

1 teaspoon dried parsley

½ teaspoon dried basil

¼ teaspoon dried oregano

Cooking oil (almond, sunflower seed and rice oil might all work)

Garlic Salt, pepper and chilli powder
Instructions:
Mix the almond flour, parmesan cheese, pork rinds, dried oregano, parsley, garlic salt and dried basil in a bowl.

Whisk the egg.

Dip the eggplant into the egg and the coating mixture. Place on a plate. 

Heat a pan over medium-high heat. Pour over the cooking oil. 

When the oil is hot, fry the eggplant until golden and crispy. 

Remove extract oil by a paper towel then put on a plate. 

Serve with hot sauce and sprinkle some pepper on top for more flavors. 
3. Stir-fried Beef With Eggplant 
Source: Beyond Kimchee
The third one in this list of recipes, Japanese eggplant is combined with beef to be turned into a Korean dish. It's savoury, wet and tasty. 
Ingredients: 
2 Japanese eggplants (cut into strips)

120 grams beef sirloin (cut into matchsticks)

2 sesame leaves (chopped)

1 teaspoon sesame seeds

1 tablespoon chopped spring onion

1 teaspoon minced garlic

¼ teaspoon pepper

1 teaspoon sesame oil

1 ½ tablespoons soy sauce

1 teaspoon chopped red chilli 
Intrustions:
Marinade the beef with sesame oil and soy sauce.

Steam the eggplant for 5 to 7 minutes until cooked.

Take the eggplant out and mix with spring onion and red chilli.

Heat a pan over high heat until it smokes. Stir-fry the beef within 2 minutes until brown.

Take it out into a mixing bowl and add the eggplant. 

Add the sesame oil, soy sauce, sesame leaves and sesame seeds. Toss it nicely by hand until ingredients are soaked with the seasoning. 

Serve with kimchi. 
For more keto-friendly and healthy recipes Japanese eggplants could also work with pork and tofu.