2 Poke Bowl Recipes: The Most Delicious & Healthiest Meals With Rice 
Poke bowls (or Buddah bowls) are simply packed meals with rice and several other healthy, nutritious ingredients such as chicken breast, beef, fish, shrimps and vegetables. They are suitable for dieters who would like a filling meal with little fat and calories, high in proteins, fiber and vitamins. 
Scroll down to find out the details of these amazing recipes. These ingredients are not ketogenic, however, you might choose keto rice (cauliflower rice) instead of brown rice and quinoa and it will work as well.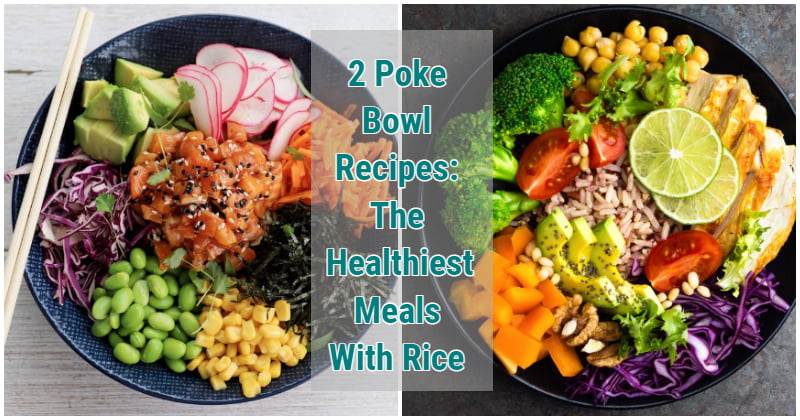 1. Vegan Poke Bowl 
Source: Simple Veganista
This recipe is one of meals with rice and vegetables. There is no meat for this recipe and the main protein would be tofu. A vegan poke bowl is low in calories and fat, meanwhile there are enough nutrients to provide as a full meal during the day like a brunch or dinner. 
Ingredients (for 3 servings):
1 ½ cup cooked brown rice (or black rice and quinoa)

 ½ sliced cucumber

3 thinly sliced radishes 

¼ thinly sliced small red cabbage

½ sliced avocado

Herbs: cilantro and chopped spring onion

½ cup tamari (or soy sauce)

1 tablespoon rice vinegar (or lime juice)

1 teaspoon sesame oil

2 blocks tofu (cut into small cubes)

1 teaspoon minced ginger

1 teaspoon minced garlic
Instructions: 
Marinate the tofu with tamari, vinegar, minced ginger and garlic. Set aside so let it get all the flavors for about 15 minutes. 

Use rice as the base. Place vegetables and tofu on top of the rice bowl. 

Sprinkle some sesame seeds on top. Add some soy sauce if you want it to be more savoury. 
2. Asian Ginger Chicken Poke Bowl 
Source: EatingWell
The second recipe in these meals with rice and chicken includes some crunchy and fresh vegetables and chicken breast fillet. It got the heat from ginger, red pepper and soy sauce. It's extremely healthy and full of protein and is a great treat for lunch and dinner post-workout. 
Ingredients (2 servings):
1 cup cooked brown rice (or black rice and quinoa)

2 cups asparagus (cut into 1-inch pieces)

2 cups carrots or baby carrots (julienne-cut)

200 grams skinless boneless chicken breast 

2 teaspoons grated ginger

½ teaspoon minced red pepper

¼ teaspoon salt

¼ teaspoon pepper

2 teaspoons olive oil

1 tablespoon soy sauce
Instructions:
Marinate chicken breast with salt and pepper. Cook for 8 to 12 minutes over medium-high to medium heat until the chicken is cooked and juicy. 

Steam carrots and asparagus in a small pot for 6 minutes until they are cooked and remain crisp-tender.

Use rice as the base. Plate vegetables on top.

Add soy sauce and ginger to the bowl. Top with the chicken.

Sprinkle some red pepper for some spiciness.  
Enjoy these meals with rice and healthy foods. For more clean-eating recipes, check this category daily.