4 Dinners For Weight Loss With 4 Different Types Of Meat
In this post, we introduce to you 4 dinners for weight loss from the most popular types of meat including pork, chicken, salmon and lamp. They are all tasty with different ways to cook, however, a healthy dinner is supposed to be low-calorie and easy to digest. 
Let's take a look at these recipes and you might choose one (or more) to try today!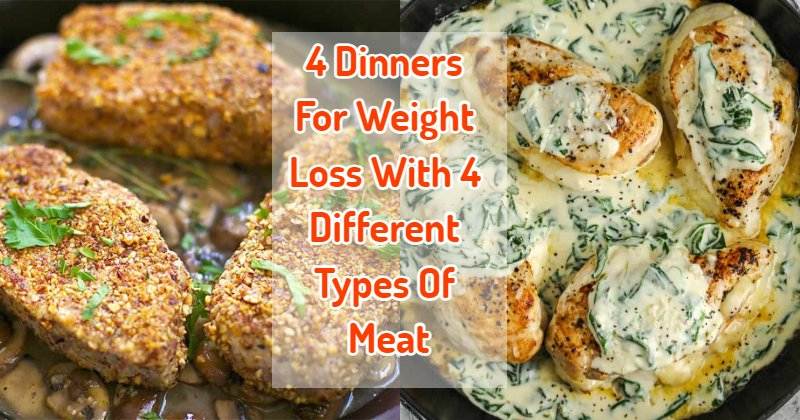 1. Sriracha Almond Crusted Pork Chops With Spicy Honey Mustard Sauce 
Source: Recipe Runner
Pork chops are always a great choice for dinners. They are juicy, full of protein and might be cooked in several ways. However, one of the most delicious ways to perfect this protein is to coat and fry them up! Then, you are able to keep all the moisture without worrying about it getting too dry and too overcooked.
Furthermore, the sauce is also very important for this dish because pork chops usually lack in flavors. The spicy honey mustard sauce is full of flavors: sweetness, savor, spiciness and creaminess. It would definitely go great with this kind of protein. It's very easy to cook and only takes you under 30 minutes. To serve, you might prepare some side vegetables such as rocket, lettuce, spinach or kale. 
For the full recipe, click here.  
2. Creamy Lemon Garlic Salmon Recipe 
Source: Low Carb with Jennifer
Salmon is among the most used fishes, especially for keto dieters because they are rich in fat, omega-3 and proteins. The creamy lemon garlic sauce makes it even better: more flavors, more aroma and extremely tasty. Many people prefer fish over red meats because it helps them digest better, especially after dinner. They do not want something too heavy and filling by night. This dish is around 250 calories and you can add more vegetables such as broccoli, spinach or lettuce. All you have to spend is under 30 minutes and it's ready to be served! 
For the full recipe, click here. 
3. Lamb Sliders With Feta Cheese Dressing 
Source: Diet Doctor
Burger patties are not only made from ground beef or chicken but also ground lamb. It might be a little harder to deal with its distinct smell, however, the result is amazing. Especially when combined with feta cheese, it tastes more than great. The portions of this are rather small, compared to other dinners for weight loss, therefore you might eat as little as you want: one or two patties only. Apart from lamb, there are also vegetables such as lettuce, onions, tomatoes… They help balance all the flavors. 
For the full recipe, click here. 
4. Spinach Stuffed Chicken 
Source: Stay Snatched
It would be a miss without mentioning chicken breast in the list of dinners weight loss. Chicken breast and spinach are among superfoods which are ketogenic and extremely healthy with various beneficial nutrients and low in calories.
With Parmesan cheese, mayonnaise and other species, chicken breast has never tasted so good! Moreover, the recipe requires no sauce therefore it's more time-saving and effortless. However, you won't have to worry about its moisture because the cheese and spinach are already stuffed inside to keep it juicy and tender. 
For the full recipe, click here. 
If you are looking for more amazing recipes like these dinners for weight loss recipes, keep visiting us daily and we will keep you updated!