2 Easy Meals To Make With Chicken Breast For Weight Loss 
There are several meals to make with chicken breast. It is one of the healthiest proteins with no fat and cholesterol, is high in protein and low in calories. It's among the best ingredients for weight loss and muscle gain. 
These three easy meals include a chicken salad, a chicken soup and a stuffed chicken which are all ketogenic and are suitable for any meal during the day: breakfast, lunch and dinner.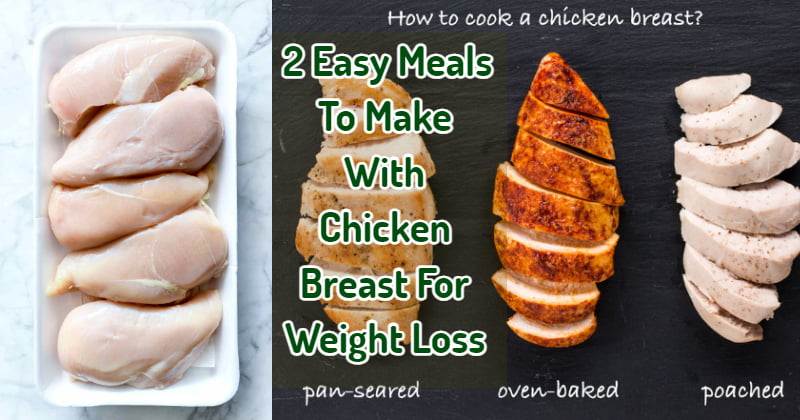 1. Keto Chicken Salad 
Source: Delish
It makes chicken breast no longer tiring to eat because of the freshness from all the vegetables, softness from the avocado and crispiness from bacon. This is among quick meals to make with chicken breast that requires no skill, technique and less than 15 minutes. All you need to do is to prepare the ingredients, the salad dressing and toss them together. 
Ingredients: 
120 grams mayonnaise

1 tablespoon mustard

1 tablespoon red wine vinegar

1 shallot, chopped

1 stalk celery, sliced

1 teaspoon dried oregano

pinch of salt

pinch pepper

pinch chilli flakes

300 grams chicken breast (cooked and shredded)

4 strips bacon (cooked and crumbled)

1 ripe avocado (peeled and diced)

100 grams lettuce
Instructions: 
Put mayonnaise, mustard, red wine vinegar, shallot, and celery in a bowl. Add oregano, salt, pepper, and a pinch of chilli flakes then taste. Adjust the seasonings as of your preference.

Put in chicken, bacon and avocado then toss nicely. Don't let the avocado be smashed. 

Place lettuce on a plate. Then put other ingredients on top. It's ready to be served then. 
2. Keto Chicken Soup 
Source: Healthy Seasonal Recipes
It's light, flavorful and very easy to cook among meals to make with chicken breast strips. You only need basic spices and ingredients to create this appealing soup without difficulties. 
Ingredients: 
1 tablespoon olive oil

1 onion (chopped)

2 carrots (chopped)

2 stalks celery (chopped)

5 cloves garlic (minced)

1 teaspoon salt

1 teaspoon pepper

500 ml chicken broth 

2 bay leaves

150 chicken breast strips

100 gram cauliflower rice (optional)
Instructions:
Sauté all vegetables in a pot for 5 minutes until nearly cooked. Then pour in chicken broth and season with salt and pepper. Bring to a boil.

Turn over to a simmer and add chicken and cauliflower rice. Cook for 30 to 35 minutes until the chicken is tender. If you want the chicken to break apart, cook a little longer but not too long because vegetables will be overcooked and break apart. 

Serve in a bowl. 
We hope you will enjoy these recipes for meals to make with chicken breast after trying. If you are looking for more healthy, delicious and easy keto-friend recipes, click here. We update daily with the best recipes for dieters.