4 Low-carb Food Recipes For Lunch Are Easy For Meal Prep
These are 4 food recipes for lunch which are suitable for a keto diet plan. Keto and low-carb dieters always find it hard to answer what we should eat during the day. Since sugar-free and low-carb lunch options are very limited while eating out, it's essential to prepare your own food so that you can choose any ingredient and spice that you like.
The most important elements are protein, vegetables and fat. You should make sure to include all three main nutrients.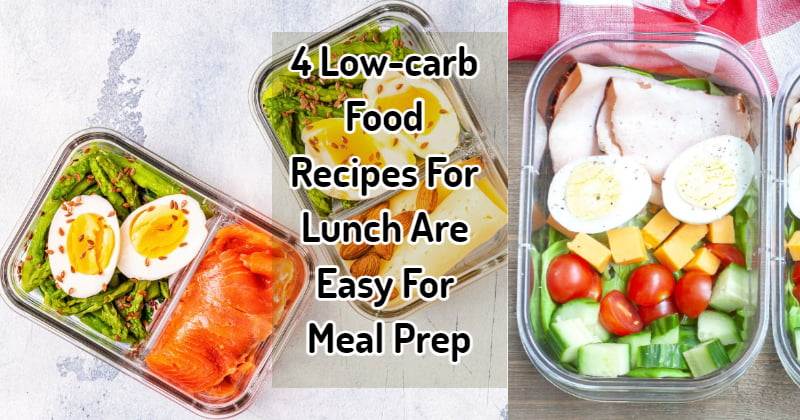 1. Keto Pizza  
Source: Savory Tooth
Pizza is among the best choices for lunch. It's filling, cheesy and full of toppings with various meat and vegetable options. For a keto dieter, regular pizza is obviously prohibited but you might always create an alternative, healthy version with almond flour for the crust. And then, it's ready to go. All other ingredients can be included in this recipe such as tomato, ham, pineapple, seafood (shrimp, salmon, squid…), mushrooms, eggs and cheese. Moreover, you also need keto ketchup if you can make some. Otherwise, the pizza tastes just as great without this ingredient. You can always change the toppings as your own preference. 
For the full recipes, click here.
2. Keto Burger 
Source: Cast Iron Keto
The second recipe in this list of food recipes for lunch would be keto burger without the buns. It's another food which is great for lunch because of its convenience. You can make keto burger from ground turkey, chicken and beef, they all taste super delicious. It comes with several cheese and vegetable options as well so you should be creative. Instead of buns, it might be served with lettuce, keto rice or broccoli. 
For the full recipes, click here. 
3. Teriyaki Salmon With Broccoli 
Source: Taming Of The Spoon
Salmon is an oily fish and contains healthy fat, protein, omega-3, vitamins and other nutrients. It might be cooked and eaten in several ways such as eating raw (sashimi), baking, air frying, pan frying or eating as a soup. However, it goes really well with the Japanese teriyaki sauce which is savory, sweet and full of aroma. You might add cheese, butter or olive oil for flavor. Broccoli could be used as base or you can simply switch to any vegetable you like. 
For the full recipes, click here. 
4. Keto Chicken Nuggets 
Source: Kitchen Cents
The regular chicken nuggets are considered junk foods. They are tasty, mouth-watering however extremely high in sugar, calories and carbs. On the other hand, you can totally create your own version of chicken nuggets. The fourth recipe in this list of food recipes for lunch is favored the most by kids. It's crispy, soft, juicy and flavorful. Instead of breadcrumbs, we recommend you to use parmesan cheese and protein powder which are both ketogenic. After finishing this recipe, you will definitely have another choice for lunch. 
For the full recipes, click here. 
These 4 above recipes are among the great food recipes for lunch on our website. If you are looking for more ketogenic foods, ingredients and recipes, make sure to bookmark our website and visit us daily.