5 Perfectly Yummy Keto Meals For Diabetics
A keto diet plan is great for diabetics because it is sugar-free, low-carb and rich in vitamins, proteins and minerals. In this post, let's find out 5 keto meals for diabetics which are not only healthy but also tasty. 
There is  no need to cut down all delicious foods. The key is to choose what you should eat and what you should not.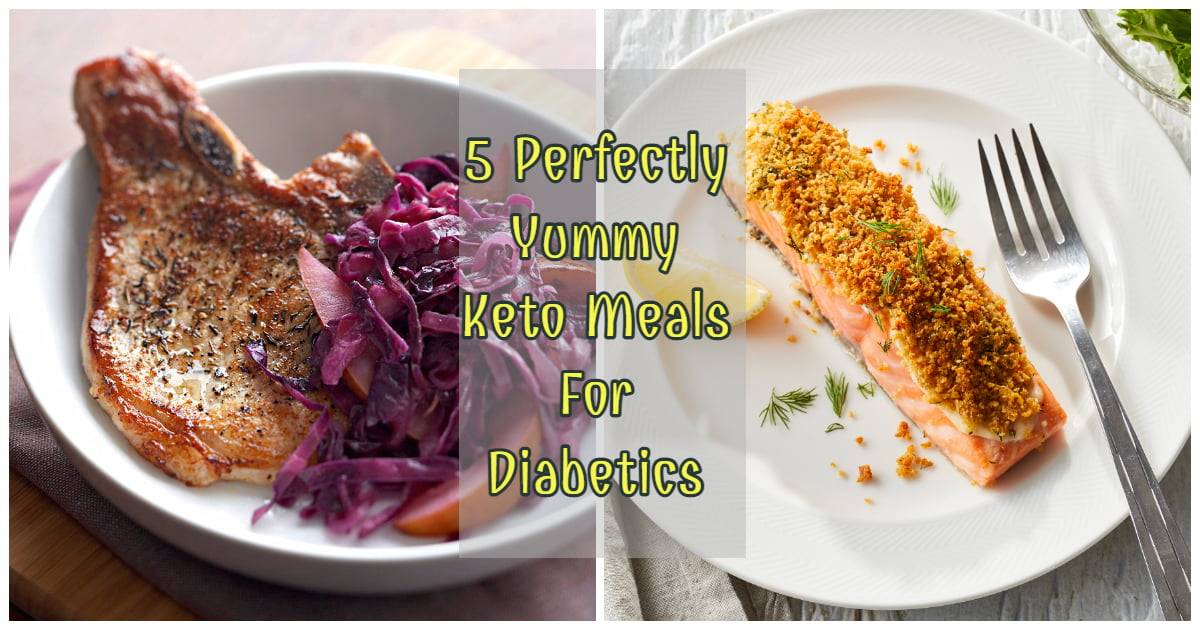 1. Pan-Fried Lemon-Pepper Salmon 
Source: EatingWell
Salmon is always a diabetes appropriate protein. It's healthy, delicious and does not require many techniques and much time to cook. Moreover, it might be served with several other side dishes such as keto rice, salad, stir-fried or baked vegetables. With the seasoning from lemon zest and pepper, this dish tastes balanced with all the flavors and texture. Pan-frying is also among the best ways to cook salmon because it keeps the moisture and flavors of this fish. Significantly, while making one of these meals for diabetics, overcooking is a no because it will make salmon hard and dry. 
For the full recipe, click here. 
2. Pan-Seared Steak With Vegetables 
Source: EatingWell
Seared steak is an easy yet absolutely delicious dinner that you can prepare within only 20 minutes. You might choose different cuts for this recipe such as rib eye, sirloin, T-bone or top blade. They will all taste great. Cooking steak with herbs will help release all the aromas which makes the steak more flavorful and tastier. Moreover, you just have to use one single pan for this dish so that washing dishes is no longer an issue. 
For the full recipe, click here. 
3. Skillet Pork Chops With Cauliflower And Onions 
Source: EatingWell
It's rather similar to steak but instead of beef, this recipe uses pork. Pork chops are the healthiest cuts from a pig. It contains little fat and is juicy, sweet and tender. Moreover, while combined with onions, it adds more sweetness and flavors to the meat. It's also great to include other vegetables such as broccoli and kale. 
For the full recipe, click here. 
4. Chicken Kebabs 
Source: EatingWell
This healthy recipe only uses basic ingredients consisting of chicken breast and several types of vegetables. The seasoning is also simple and requires garlic, salt, pepper and olive oil. There are also potatoes in this recipe, however, you can totally leave them out to cut down on carbs totally. This recipe is ketogenic, sugar-free and also suitable for kids and adults. With all the vegetables, there will be more fiber and vitamins in this dish. 
For the full recipe, click here. 
5. Shrimp & Spinach Fry-Up 
Source: EatingWell
If you get bored of meats such as chicken, beef or pork, shrimp is among great ingredients to create meals for diabetics. Most importantly, it is low in fat, high in protein and delicious. With the combination of spinach, the dish will certainly be more nutritious and watery. There are only two main ingredients which are spinach and shrimp. The equipment is also simple, which is only one single pot. So if you are looking for some meat alternatives, this recipe is recommended. 
For the full recipe, click here. 
Meals for diabetics might be easier with these simple recipes. For more ketogenic recipes, check out this category.