5 Easy-To-Make And Delicious Meals High In Fibre
Fibre is one of the most essential nutrients during a diet plan because of many reasons. It helps our digestive system work better and also comes with several benefits. These are mouthwatering meals high in fibre that are easy to cook and tasty as well that you should try at home. 
In general, green leafy vegetables are high in fibre, protein and multiple vitamins and minerals. These include spinach, broccoli, celery, lettuce, asparagus and several other kinds.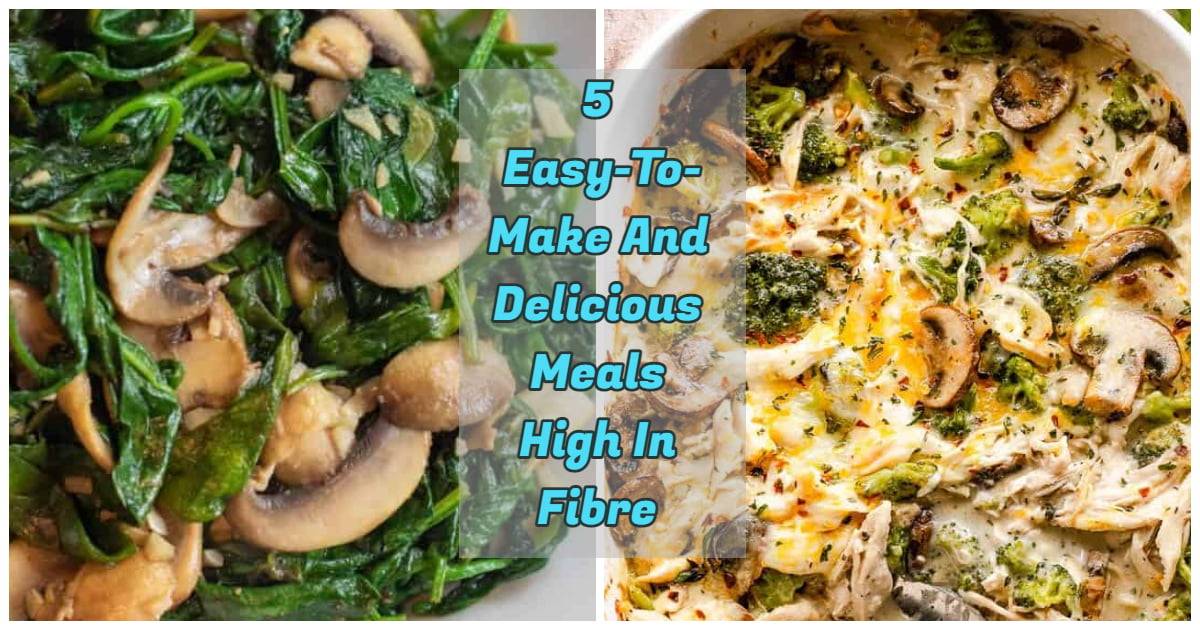 1. Asparagus Cheddar Soup 
Source: Allrecipes
Asparagus is among the best ingredients to create meals high in fibre and protein which are still ketogenic. This vegetable is full of vitamin C, iron, vitamin B6, fibre and contains very few calories and fat. To add more fat to the soup, we will use heavy cream, butter and cheddar cheese with this recipe. It's easy to make within 20 minutes to prepare and to cook. This soup is great to be a starter for brunch or dinner. 
2. Chicken Broccoli Casserole 
Source: All Day I Dream About Food
This dish could be a great substitution when you get bored of boiled or baked chicken and broccoli. It's cheesy, smoky and full of flavors. The recipe is easy for meal prep with the simplest and inexpensive ingredients such as chicken breast, broccoli, mozzarella and parmesan cheese. For 30 minutes to prepare all the ingredients and bake in the oven, you might have a full meal that is filling, delicious and nutritious. If you would like to have more fibre in this dish, it's fine to add more broccoli over chicken. It will taste just as good. 
3. Spinach, Mushroom And Tomato Fry-Up 
Source: Cooked And Loved
Meals high in fibre are meals with a lot of vegetables. Therefore, this could easily be one of the most suitable dishes when you consider taking in more veggies to your diet. This recipe is contented with fresh vegetables and mushrooms and does not take long to cook. For protein options, there are eggs, bacon, chicken or any type of meat that you like. It's also extremely easy to cook with basic ingredients and spices. 
4. Smoked Salmon, Avocado & Rocket Salad 
Source: My Keto Kitchen
There are amazingly healthy meals high in fibre such as this salad recipe. It tastes light, fresh and delicious. Smoked salmon, avocado and rocket are all healthy and ketogenic ingredients which are perfect for a hot summer day. This recipe is also effortless and inexpensive that we might prepare frequently without difficulties. Basically, all you need to do are to rinse the vegetables and slice all ingredients. You might also add other vegetables, nuts or any other ingredient that you like. 
5. Avocado Kale Smoothie 
Source: Sarah Groves
If you are looking for some quick recipes which are both easy to prepare and to eat, this would be exactly what you are looking for. With bananas, baby kale, avocado and coconut water, it would be a perfect supper or booster pre-workout and post-workout. It's among easy meals high in fibre that will energize and give you nutrients that you need. 
We hope you will try and enjoy these meals high in fibre. For more healthy recipes, check out this category.