Bacon, potatoes, and cream. It's as easy as one, two, three! Here comes the quick and simple Bacon-Wrapped Potato Bites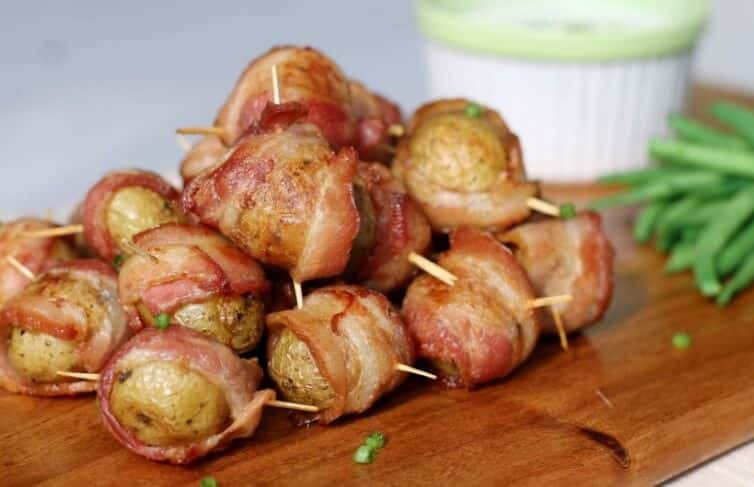 I came across a great recipe last night that I just had to share with you. The best part is, it's really easy to make. The original recipe called for sour cream and hot sauce, but I used spring onions instead since I didn't have hot sauce on hand.
If you want to give it a try, check out the photos and instructions below. I hope you enjoy it as much as I did! Here's to more bacon-wrapped treats in the future!
TO MAKE THESE BACON-WRAPPED POTATO BITES, YOU WILL NEED
Marble Potatoes (or Large Potatoes):
When selecting marble potatoes, look for small, evenly-sized ones without blemishes. They should be firm and free from sprouting.
If using large potatoes, choose ones that are firm, with smooth skin. Avoid potatoes with green spots or sprouts.
Fresh or Dried Rosemary:
Fresh rosemary should have vibrant green leaves and a strong, aromatic scent. Choose sprigs that are not wilted.
If using dried rosemary, ensure it is within its expiration date for the best flavor.
Olive Oil: Opt for extra virgin olive oil for a rich and robust flavor. Look for a reputable brand to ensure quality.
Bacon: Choose high-quality bacon without excessive fat. Look for slices that are consistent in thickness and not overly fatty.
Plain Sour Cream: Check the label for plain sour cream without added flavors or sweeteners. It should have a creamy texture.
Spring Onion: Select fresh spring onions with crisp, green tops. Avoid wilted or yellowing parts.
See the recipe card for full information on ingredients and quantities.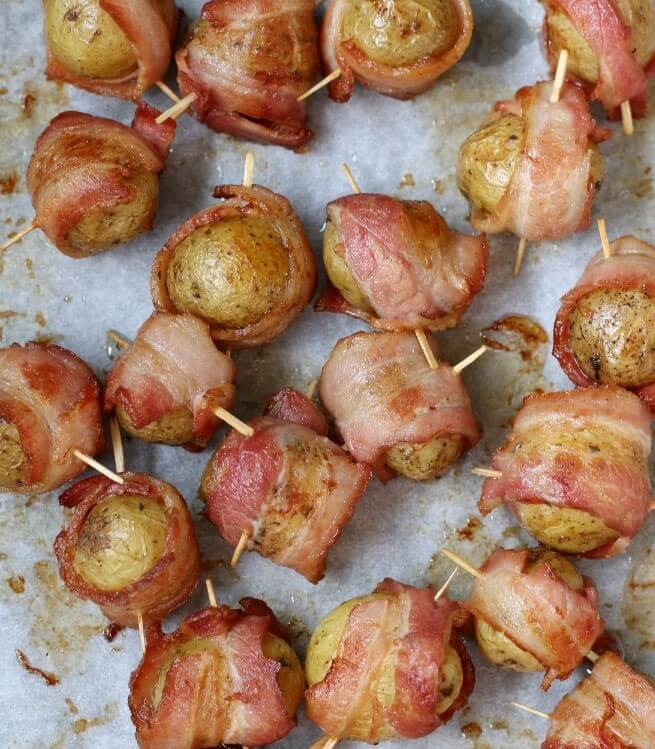 HOW DO YOU MAKE?
Begin by boiling the potatoes for about 15 minutes until they're tender enough to be easily pierced with a fork. You want them perfectly soft.
Once they're cooked, take the potatoes out of the water, and it's time to add some flavor. Season them with a pinch of salt, a dash of pepper, a touch of rosemary, and a drizzle of olive oil.
Now, the fun part—wrapping each potato in bacon. Secure the bacon with a trusty toothpick.
Pop them into the oven at 350 degrees for around 30 minutes. Just remember to flip them over after the first 15 minutes. You'll be greeted by that irresistible sizzle and aroma.
While the potatoes are baking to crispy perfection, let's whip up a zesty dip by mixing some pinches of salt and chopped spring onion into half a cup of sour cream.
As soon as the potatoes are hot and crispy, it's time to serve. Dip your freshly made Bacon-Wrapped Potato Bites into that creamy sauce and enjoy!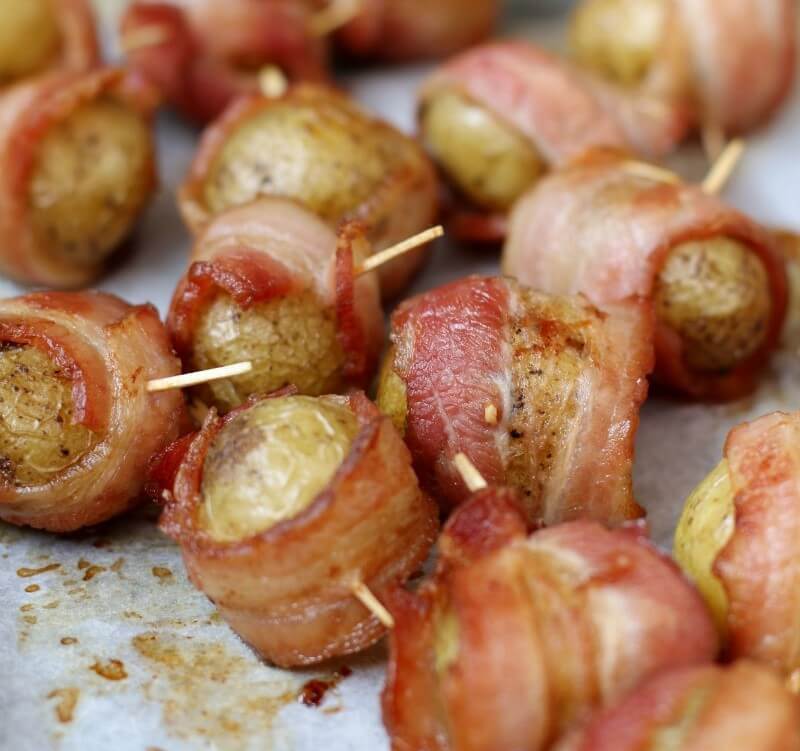 RECIPE NOTES AND HELPFUL TIPS:
Choose the Right Potatoes: Opt for small marble potatoes or large potatoes cut into large cubes. Ensure they are of similar size for even cooking.
Bacon Selection: Select high-quality bacon slices that are consistent in thickness and not overly fatty.
Parboil the Potatoes: Boil the potatoes until they are tender and can be easily pierced with a fork. This step ensures they cook evenly and become soft on the inside.
Season Well: After boiling, season the potatoes with salt, pepper, rosemary, and a drizzle of olive oil. This infuses them with flavor.
Bacon Wrapping: Wrap each seasoned potato with a slice of bacon and secure it with a toothpick. This step adds that delicious bacon essence.
Oven Temperature: Bake the potato bites in a preheated oven at 350 degrees. Remember to turn them over halfway through to ensure even crispiness.
Creamy Dip: Prepare a simple dip with sour cream, salt, and chopped spring onions to complement the potato bites.
Serve Hot: These bites are best enjoyed while hot and fresh from the oven. The creamy dip adds a delightful contrast.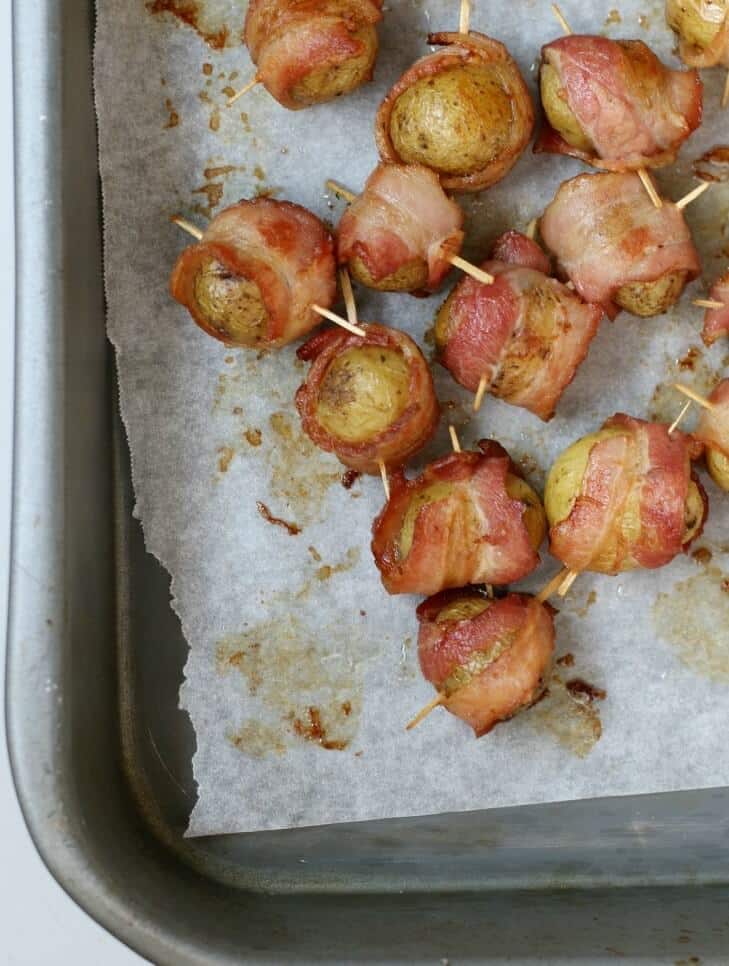 ESTIMATE NUTRITIONAL INFORMATION:
Yield: 20 pieces | Serving size: 1 (approx. 5 pieces)
Calories: 384 kcal | Carbohydrates: 29g | Protein:10g | Fat: 8g | Saturated Fat: 2g | Polyunsaturated Fat: 2g | Monounsaturated Fat: 3g | Trans Fat: 0.01g | Cholesterol: 7mg | Sodium: 445mg | Potassium: 106mg | Fiber: 1g | Sugar: 3g | Vitamin A: 289IU | Vitamin C: 10mg | Calcium: 59mg | Iron: 0.5mg
FREQUENTLY ASKED QUESTIONS (FQAs):
1. Can I use different types of potatoes?
Yes, you can use various types of potatoes, but ensure they are cut into bite-sized pieces for even cooking.
2. Is there a vegetarian version of this recipe?
You can create a vegetarian version by substituting the bacon with vegetarian bacon or omitting it altogether. The flavor will be different, but still delicious.
3. Can I make these potato bites in advance?
While they are best when served fresh, you can prepare them in advance and reheat them in the oven for a few minutes to regain their crispiness.
4. Can I use frozen potatoes?
It's best to use fresh potatoes for this recipe as frozen potatoes may release excess moisture and affect the texture.
5. What can I serve as an alternative dip?
Besides the sour cream dip, you can serve these bites with ketchup, aioli, ranch dressing, or your favorite dip.
Let's Make These Delicious Bacon-Wrapped Potato Bites!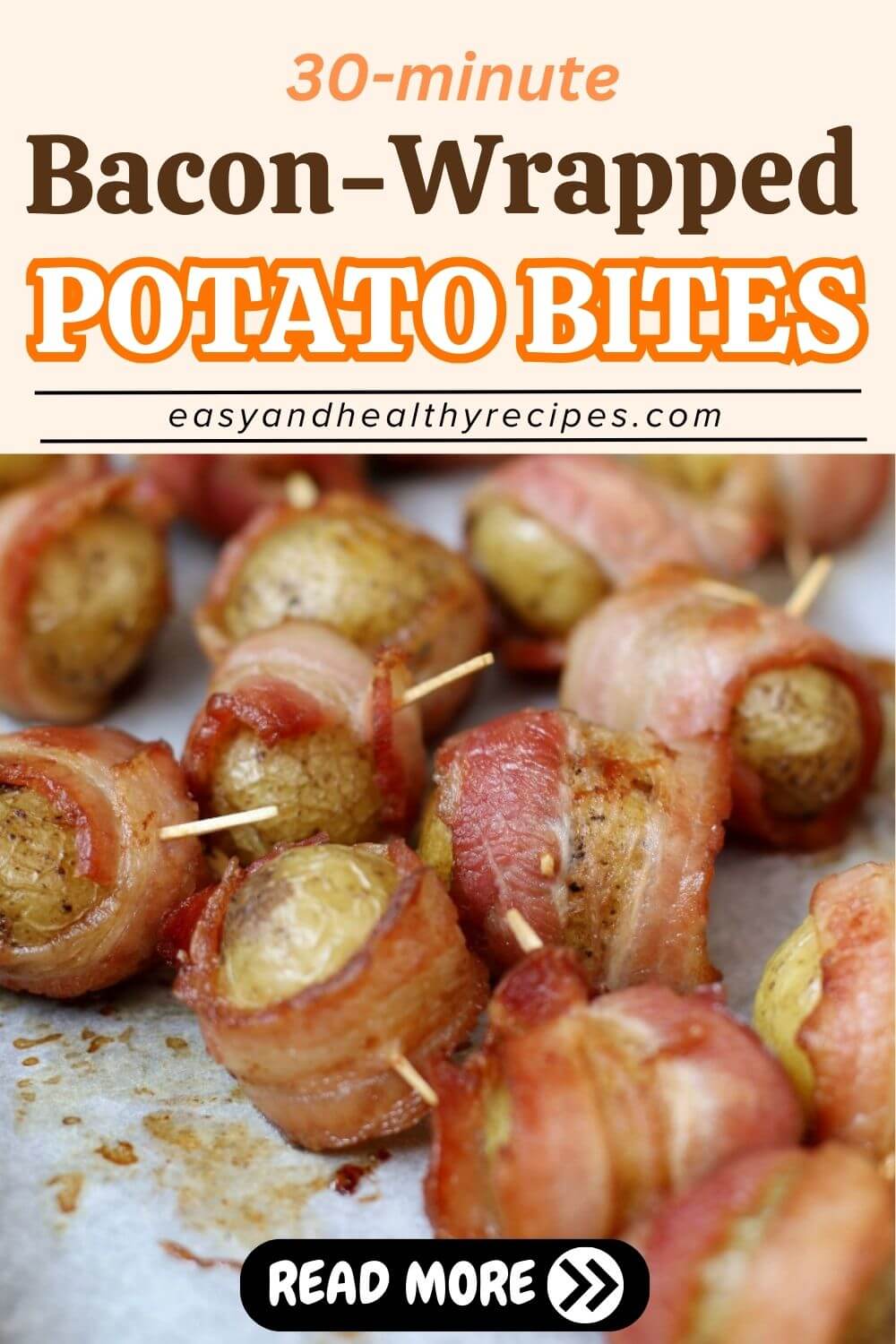 And there you have it – these easy, yummy Bacon-Wrapped Potato Bites is ready to take their place on your table. If you decide to give it a shot, make sure to snap a photo and share it with us on Facebook and Pinterest.
Be sure to follow us for more yummy recipes in the future. Until next time, happy cooking!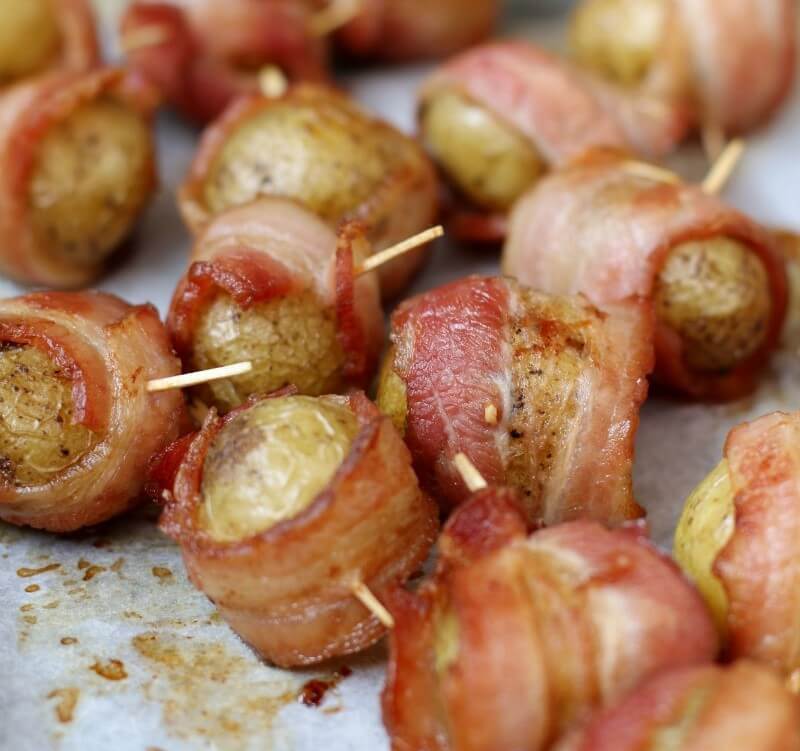 Ingredients
20 marble potatoes (or 2 large potatoes cut into large cubes)

1 tsp of fresh or dried Rosemary

1 tsp of olive oil

salt and pepper

10 long slices of bacon (cut them in half, crosswise)

½ cup of plain sour cream

2 tablespoons of chopped spring onion
Instructions
Step 1: Boil the potatoes for 15 minutes or until you can poke the potatoes with a fork without much resistance.
Step 2: Remove the potatoes from the water and season with salt, pepper, rosemary, and olive oil.
Step 3: Wrap each potato in bacon. Secure the bacon using a toothpick.
Step 4: Bake* in the oven at 350 degrees for 30 minutes. Make sure to turn them around after the first Ste15 minutes.
Step 5: In a small bowl, add pinches of salt and chopped spring onion to ½ cup of sour cream.
Step 6: Serve the potatoes while they're still hot. Dip them in cream and enjoy!
Notes
*If an oven isn't available, you may fry the bacon-wrapped potato bites on a non-stick pan for 8-10 minutes or until the bacon is cooked. Make sure not to add oil because the bacon already has fat.