No need to look so puzzled, Buttermilk Pie doesn't actually taste like buttermilk. That's a common question people ask when they first hear about this pie, so don't worry if you've been wondering the same thing.
In my take on this old-fashioned pie, I add a hint of nutmeg and a touch of vanilla extract. This recipe came from a handwritten treasure I stumbled upon, and I'm sure you'll love it if you decide to give it a go.
Ready to give our Buttermilk Pie a shot? Alright, then let's roll up our sleeves, get a little flour on our faces, and dive into some good old-fashioned baking!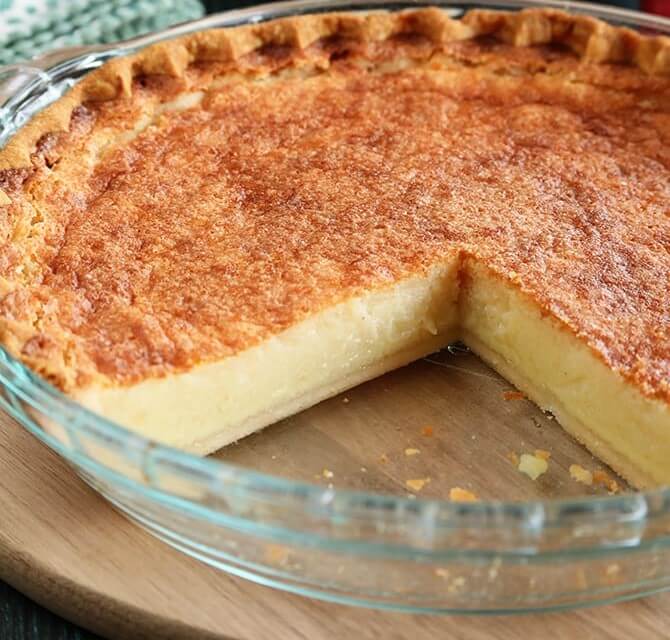 TO MAKE THIS SOUTHERN BUTTERMILK PIE, YOU WILL NEED
Butter: Go for a good-quality unsalted butter. Room temperature butter is easier to cream with sugar and creates a smoother pie filling.
Sugar: You can use granulated white sugar. Make sure it's fresh and not clumpy.
Eggs: Choose fresh, large eggs. They will provide structure and richness to your pie.
Buttermilk: Opt for real buttermilk, not a substitute. It's the star of this pie, so quality matters. If you can find a local or organic buttermilk, that's even better.
All-Purpose Flour: Regular all-purpose flour works perfectly for this recipe. No need for any special flour.
Vanilla: Use pure vanilla extract for the best flavor. Imitation vanilla can taste artificial.
Salt: Any fine table salt or kosher salt works for adding a little balance to the sweetness.
Nutmeg: Freshly grated nutmeg is fantastic, but ground nutmeg from a spice jar is perfectly fine if you don't have the whole nutmeg.
Unbaked Deep Dish Pie Crust: You can use a store-bought pie crust for convenience, or make your own if you prefer. If you go the store-bought route, pick one that's good quality and fits a deep dish pie.
See the recipe card for full information on ingredients and quantities.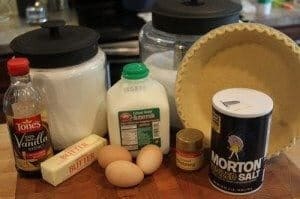 HOW DO YOU MAKE
BUTTERMILK PIE
?
To start, cream together butter and sugar using a hand mixer. Then, add in eggs and mix until it's well blended. Next, pour in the star ingredient, buttermilk, and combine it with flour, vanilla, a pinch of salt, and a dash of nutmeg. Mix everything thoroughly until you have a smooth, creamy filling.
Now, it's time to pour this delightful mixture into an unbaked pie crust. Pop it into a preheated 350°F oven and let it bake for around 55 minutes to an hour, or until it's set and has a beautiful golden hue.
After baking, give your pie some time to cool down completely before slicing. This allows all those wonderful flavors to settle, ensuring every bite is just as scrumptious as the last. So, get ready to enjoy a slice of your freshly bake Southern Buttermilk Pie.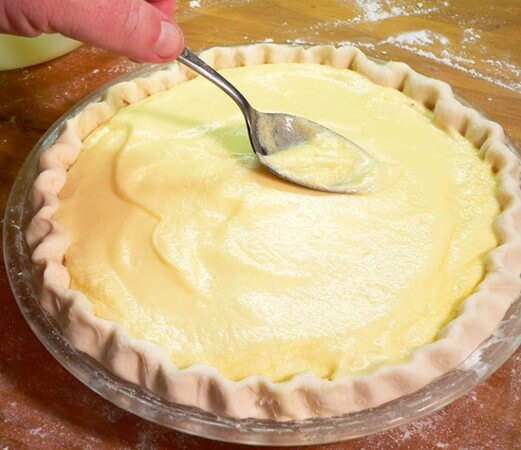 RECIPE NOTES AND HELPFUL TIPS:
Room Temperature Ingredients: Allow the butter to come to room temperature before creaming it with sugar. This makes for a smoother filling.
High-Quality Buttermilk: Choose a good-quality buttermilk. Local or organic buttermilk can provide a richer flavor.
Flour Sifting: For a smoother pie, sift the flour before adding it to the mixture.
Nutmeg Freshness: If using whole nutmeg, grate it fresh for the best flavor. Ground nutmeg from a spice jar works as well.
Preventing Cracks: To prevent cracks on the surface of your pie, avoid overmixing the filling. Mix until just combined.
Pie Crust: Use a deep dish pie crust for this recipe. You can opt for a store-bought crust or make your own.
ESTIMATE NUTRITIONAL INFORMATION:
Yield: 8 | Serving size: 1 slice
Calories: 450kcal | Total Fat: 21g | Cholesterol: 55mg | Sodium: 350mg | Total Carbohydrates: 61g | Sugar: 43g | Protein: 6g |  Calcium: 109mg | Iron: 1.3mg | Potassium: 106mg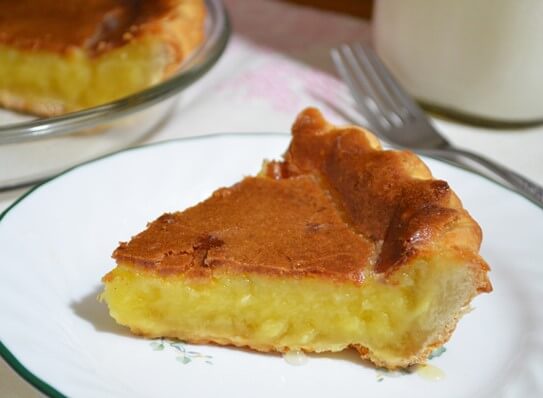 FREQUENTLY ASKED QUESTIONS (FQAs):
1. What Does Buttermilk Pie Taste Like?
Buttermilk Pie has a creamy, tangy, and slightly sweet flavor with a hint of nutmeg. It's not overly sweet and has a custard-like consistency.
2. Can I Make Buttermilk Pie in Advance?
Yes, you can make Buttermilk Pie a day ahead of serving. It actually allows the flavors to meld and develop even more.
3. How Do I Store Leftover Buttermilk Pie?
Store any leftover pie in the refrigerator. Cover it well to prevent it from drying out or absorbing other odors in the fridge.
4. Can I Freeze Buttermilk Pie?
Yes, you can freeze it. Wrap it tightly in plastic wrap and aluminum foil, or use an airtight container. Thaw in the refrigerator before serving.
5. What's the Difference Between Buttermilk Pie and Chess Pie?
While both pies are similar, the key difference is that Chess Pie typically contains cornmeal, which Buttermilk Pie does not. Buttermilk Pie is often considered a subset of Chess Pie.
6. Can I Substitute Evaporated Milk for Buttermilk?
While buttermilk is the traditional choice for this pie, you can substitute evaporated milk in a pinch. The flavor and texture will be slightly different, but it can work.
Let's Bake The Best Sourthen Buttermilk Pie!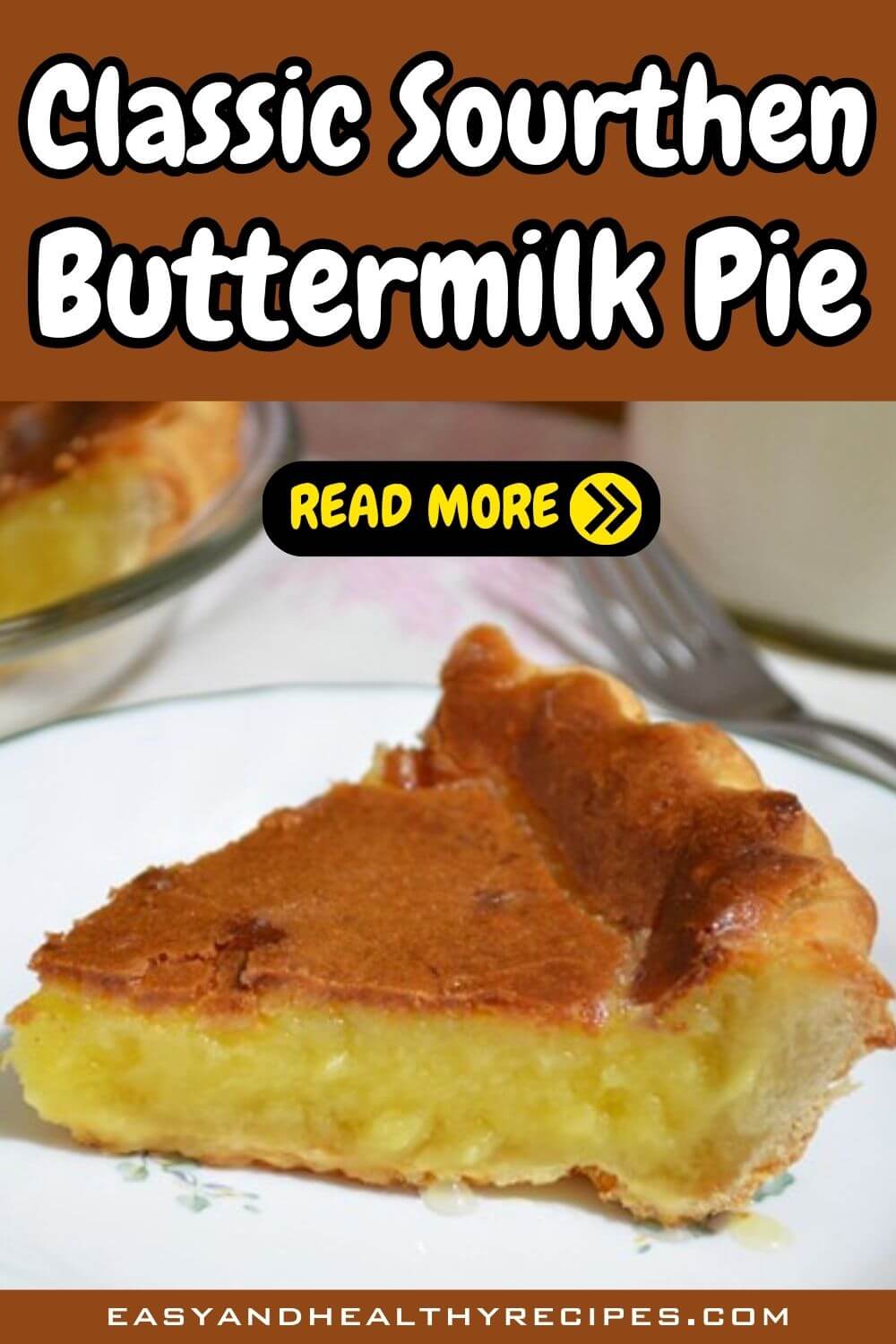 And there you have it – this easy, yummy Buttermilk Pie is ready to take its place on your table. If you decide to give it a shot, make sure to snap a photo and share it with us on Facebook and Pinterest.
Be sure to follow us for more yummy recipes in the future. Until next time, happy cooking!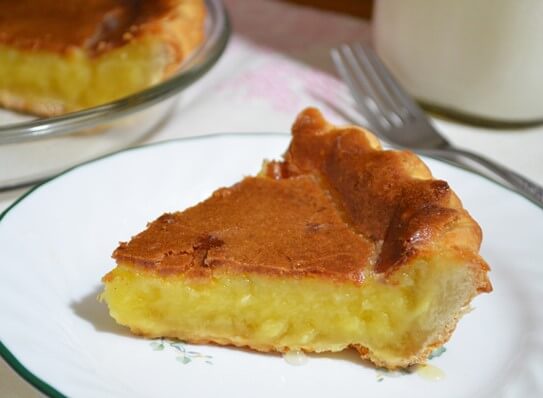 Ingredients
½ cup butter, room temperature

2 cups sugar

3 large eggs

1 cup buttermilk

3 heaping tbsp all-purpose flour

2 tsp vanilla extract

pinch of salt

dash of nutmeg

1 prepared deep dish pie crust, unbaked
Instructions
Step 1: Preheat the oven to 350°F.
Step 2: Cream butter and sugar together with a hand mixer. Add eggs; mix well.
Step 3: Add buttermilk, flour, vanilla, salt and nutmeg; mix well.
Step 4: Pour into unbaked pie crust and bake for 55 minutes to 1 hour, or until set. The middle may be slightly jiggly but should not be liquidy.
Step 5: Allow to cool completely before slicing. Serve and enjoy!