This summer Pasta Salad is a real crowd-pleaser!
It's a colorful pasta salad tossed with zesty Italian dressing and packed with a delicious mix of veggies and cured meats. It's perfect for large gatherings like graduations, weddings, family reunions, church events, or potlucks.
And here's the best part – it's a hit with both kids and picky eaters, so you can please every palate. Plus, when you're feeding a large group, pasta is your budget-friendly ally. Its colorful appearance adds a touch of excitement, making your dish not only delicious but also eye-catching and pretty on the table!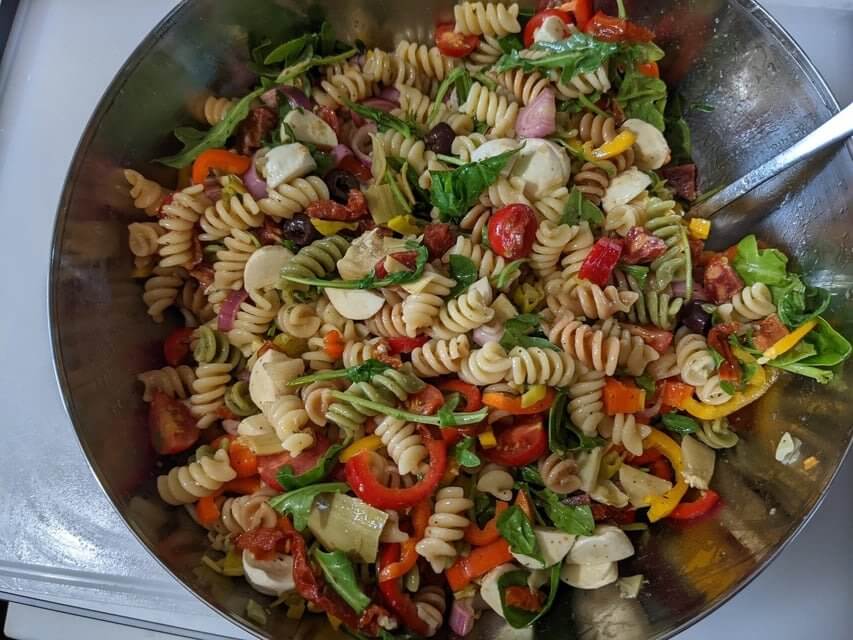 TO MAKE THIS SUMMER PASTA SALAD, YOU WILL NEED:
Bell Peppers: Look for firm, brightly colored bell peppers. Red, yellow, and green are popular choices, but you can mix and match for a variety of colors and flavors.
Arugula: Select fresh arugula with vibrant green leaves. Avoid any that appear wilted or yellow.
Tomatoes: Choose ripe and firm tomatoes, like Roma or cherry tomatoes, for a burst of juicy sweetness.
Artichoke Hearts: Opt for artichoke hearts packed in water or brine for a milder taste. Canned or jarred options work well.
Black Olives: Go for pitted black olives for convenience. You can choose from a variety of types, like Kalamata or Mediterranean.
Sun-Dried Tomatoes: Look for sun-dried tomatoes that are pliable and moist. You can find them in oil or dried form.
Pepperoncini: These are typically available in jars. Select the level of spiciness you prefer.
Salami: Pick your favorite type of salami, whether it's mild or spicy. You can also choose from different styles like Genoa or hard salami.
Bocconcini: Bocconcini are small mozzarella cheese balls. Look for fresh ones packed in water for the best flavor and texture.
Dressing: Use a high-quality olive oil and red wine vinegar. Adjust the Italian spice, pepper flakes, salt, and pepper to your taste preference. You can also add a touch of fresh herbs like basil or oregano for extra flavor.
HOW DO YOU MAKE THIS REFRESHING SUMMER PASTA SALAD?
I like to prep the vegetables and store in a covered large foil pan a day before making the pasta. When you're ready to make the salad bring water to a boil in a large pot and generously salt the water before cooking the pasta.
Cook to al dente and be sure to test for doneness before draining. Getting the pasta to the perfect doneness and then stopping the cooking immediately by running under cold water in a strainer is key to making a great pasta salad.
I typically cook pasta in 3 to 4 batches to take care not to cause the pot to boil over. This also makes draining and rinsing immediately with cold water to stop the pasta from cooking and sticking together easier.
Once pasta is cooked, rinsed and drained pour 1/3 to 1/2 of the batch in a very large mixing bowl and add appropriate amount of Italian spice, salt and pepper.
Stir the dressing into the pasta.
Pour chopped vegetables and cheese over top of the pasta and dressing mixture. Gently mix the salad, then serve and enjoy your freshly made batch of summer Pasta Salad.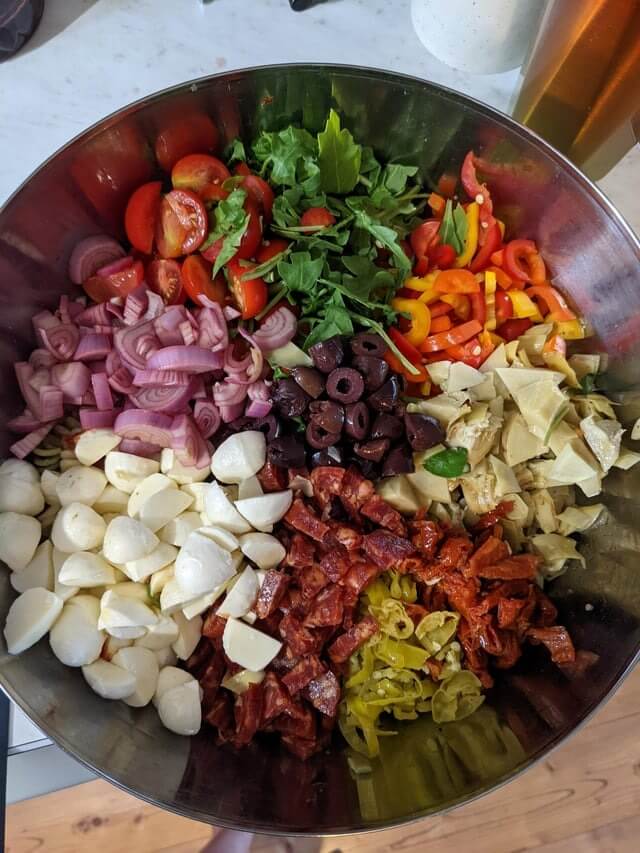 RECIPE NOTES AND HELPFUL TIPS:
Mixing half a batch at a time makes in a very large bowl makes this recipe easier to mix up.
For best results make 24 hours ahead of time so pasta can absorb some of the dressing.
Have an extra bottle of dressing available to add to the salad if dry when serving.
Plan to have plenty of room in the refrigerator for the pasta salad and any other food you may have.
Rotini and rotelle pasta are similar, but we prefer rotini for pasta salad as it is a bit smaller and smoother.
You'll need 2 – 3 large foil pans, depending on depth to serve the pasta. We prefer more shallow pans for ease of chilling and transport.
Plan to make multiple pots of pasta with 3 to 4 batches and allow pasta to cool down in the strainer as the cold water runs off
A long handled wooden spoon with a stiff and sturdy handle will be critical to getting this recipe mixed up well
We find that the rectangular pans covered in heavy duty aluminum foil are easier to store in the refrigerator efficiently than round bowls. Heavy duty foil is wider than the foil pans and will hold up better during storage and travel than plastic wrap.
The key is to get the "dressing" on the noodles while they are still hot. Then they absorb all that flavor in.
ESTIMATE NUTRITIONAL INFORMATION:
Yield: 6  | Serving size: 1
Calories: 157kcal | Carbohydrates: 17g | Protein: 5g | Fat: 8g | Saturated Fat: 2g | Polyunsaturated Fat: 2g | Monounsaturated Fat: 3g | Trans Fat: 0.01g | Cholesterol: 7mg | Sodium: 445mg | Potassium: 106mg | Fiber: 1g | Sugar: 3g | Vitamin A: 289IU | Vitamin C: 10mg | Calcium: 59mg | Iron: 0.5mg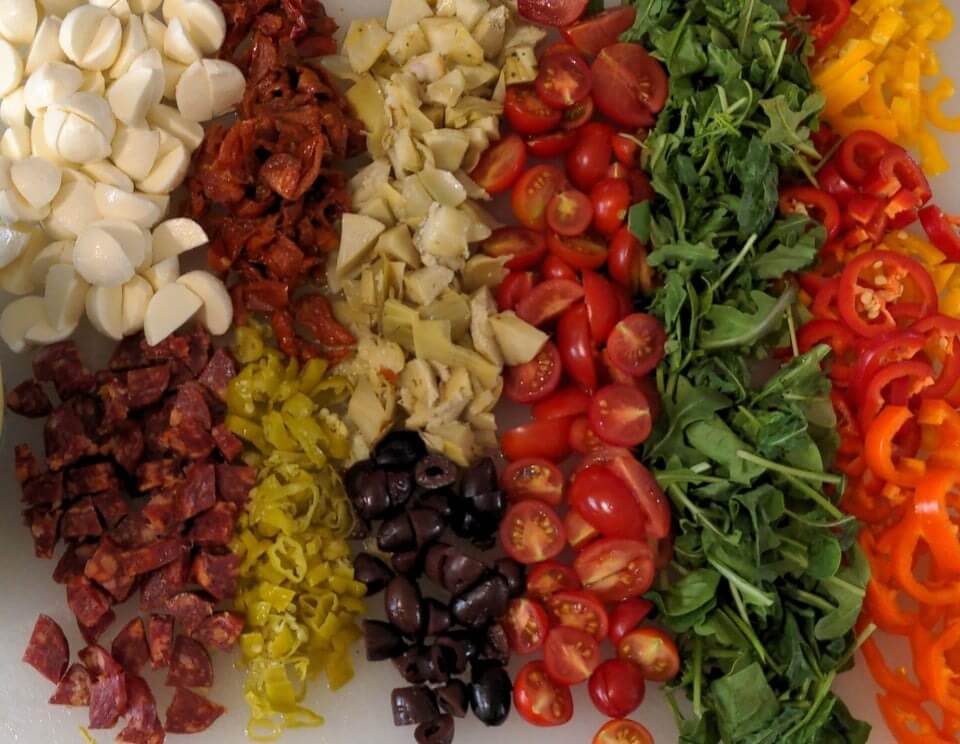 FREQUENTLY ASKED QUESTIONS (FQAs):
1. The pasta should be hot or cold in order to prepare this?
I use cold pasta so nothing wilts, but if you aren't adding greens you could probably prepare it with warm noodles.
2. Can I make pasta salad in advance?
Yes, pasta salad is a great make-ahead dish. You can prepare it a day or two before serving, which can be convenient for parties and gatherings.
3. How do I keep pasta salad from drying out?
To prevent pasta salad from drying out, store it in an airtight container in the refrigerator. If it becomes dry after refrigeration, you can add a bit more dressing before serving.
4. Can I customize the ingredients in pasta salad?
Absolutely! Pasta salad is highly customizable. You can add a variety of vegetables, proteins (like chicken, shrimp, or tofu), cheeses, and dressings to suit your taste.
5. Can pasta salad be served warm or cold?
Pasta salad is versatile and can be served either warm or cold. It's often served cold, but you can enjoy it slightly warm if you prefer.
6. How long can I store pasta salad in the fridge?
Pasta salad can typically be stored in the fridge for 3-5 days. However, the exact duration may vary depending on the ingredients used.
7. Can I make a vegetarian or vegan pasta salad?
Yes, you can make vegetarian or vegan pasta salad by using plant-based ingredients and dressings. Options include veggies, tofu, or vegan cheese.
8. What occasions are ideal for serving pasta salad?
Pasta salad is perfect for picnics, barbecues, potlucks, family gatherings, and as a side dish for a variety of meals. It's a versatile and crowd-pleasing option.
Let's Make This Delightful Summer Pasta Salad!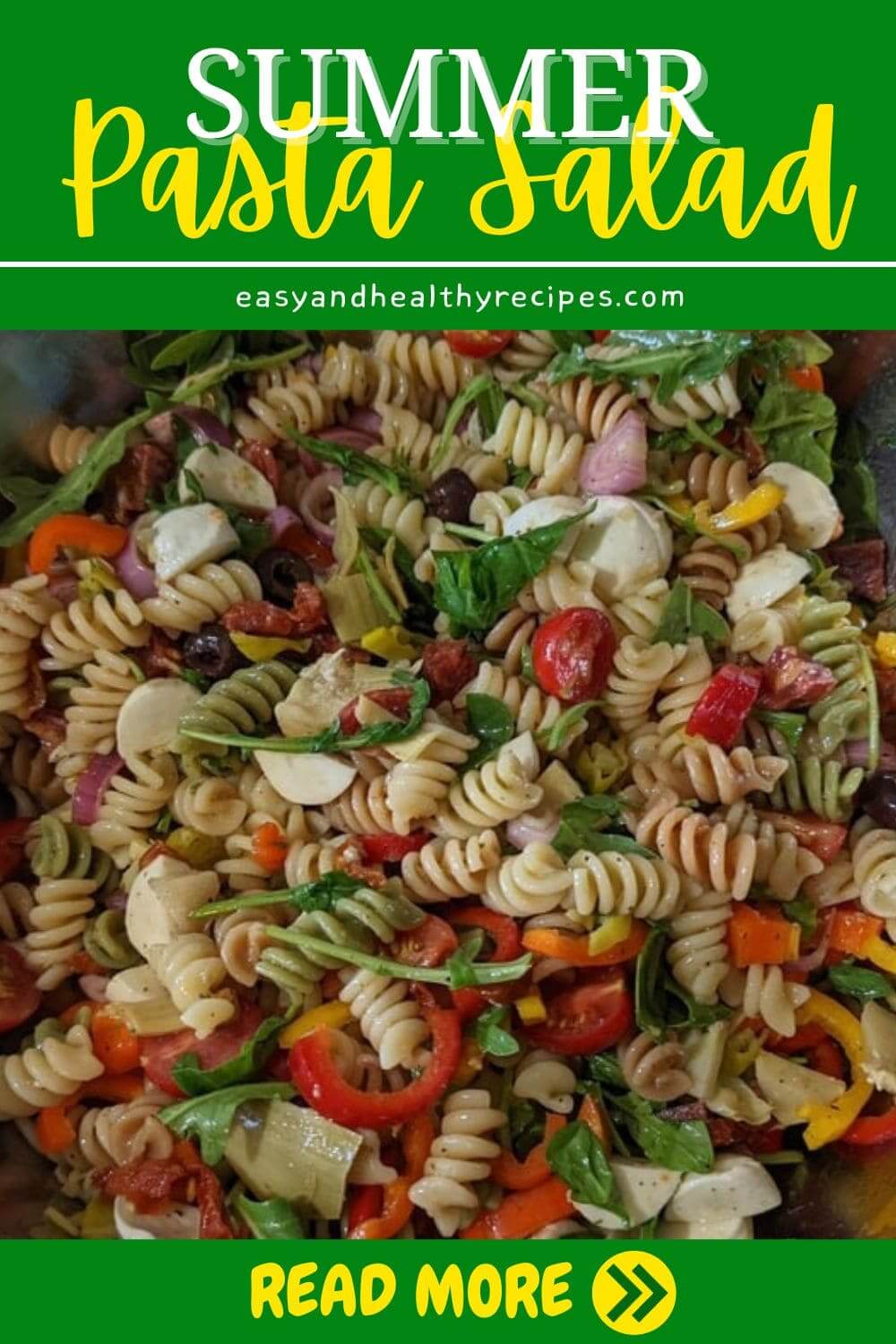 And there you have it – this easy, yummy summer Pasta Salad is ready to take its place on your table. If you decide to give it a shot, make sure to snap a photo and share it with us on Facebook and Pinterest.
Be sure to follow us for more yummy recipes in the future. Until next time, happy cooking!

Ingredients
4 pounds multi-colored rotini pasta

64 ounces Italian dressing

2 teaspoons Kosher salt

1 teaspoon black pepper

32 ounces mozzarella cheese cut in small cubes

40 ounces cherry tomatoes cut in half

3 green bell peppers

3 red bell peppers

36 ounces sliced black olives drained
Instructions
Step 1: Cook the pasta, drain and rinse quickly with cold water.
Step 2: Use a very large bowl to put the pasta in. Pour Italian seasoning over the pasta. Sprinkle salt and pepper on top and use a long handled spoon to stir well.
Step 3: Add remaining ingredients and stir well.
Step 4: Pour into large foil pans. Cover with foil or plastic wrap and store in the refrigerator until ready to serve.