Say goodbye to those bland pasta salad recipes and try this 6-ingredient Chicken Caesar Pasta Salad today! Experience all the delightful flavors of a Caesar salad in a simple pasta dish!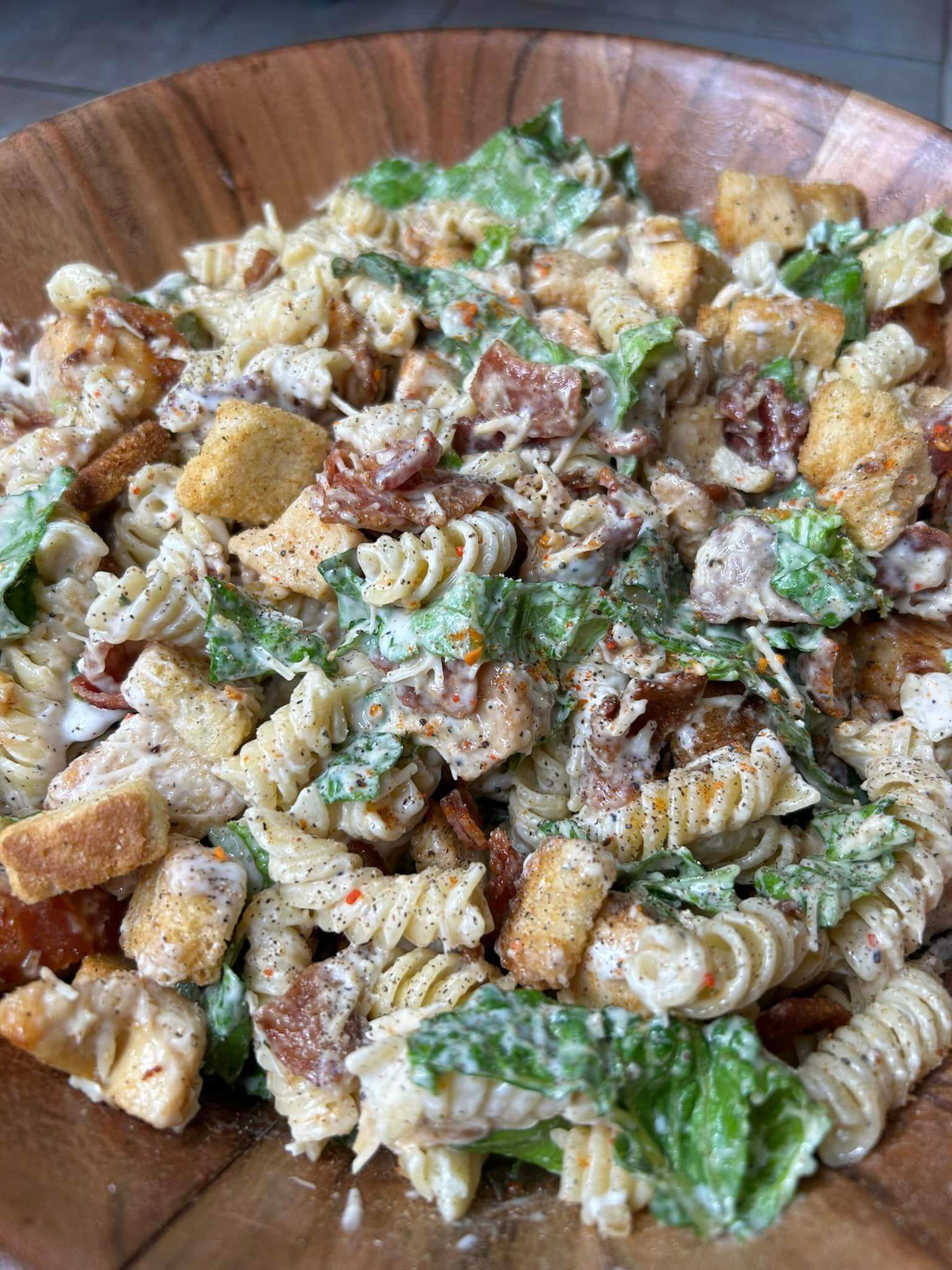 Pasta salad sometimes gets a bad rap for being bland or mushy, but it can also be vibrant, fresh, and bursting with flavor.
The best part? It's basically a Caesar salad in pasta form! If you're a fan of those timeless Caesar flavors, this pasta version is sure to win you over. Go ahead, give it a shot, and see it become a regular star on your family's menu. Now let's dive into some delicious cooking!
TO MAKE THIS CHICKEN CAESAR PASTA SALAD, YOU WILL NEED
Rotini pasta – I like rotini pasta as I think it holds the dressing really well but you can certainly use your favorite pasta shape (same amount).
Diced grilled chicken – you can use turkey if you prefer as well
Bacon – you can use store-bought bacon pieces if you don't want to make fresh cooked bacon
Romaine lettuce – romaine lettuce is typical for Caesar salads but if there is a lettuce type that you prefer more, then don't be afraid to change it up.
Shredded parmesan cheese – I used the store-bought finely shredded Parmesan (see ingredient photo below) but you can shred it fresh as well.
Caesar salad dressing – use your favorite store-bought dressing or you can make it homemade (see my FAQ above for a link).
See the recipe card for full information on ingredients and quantities.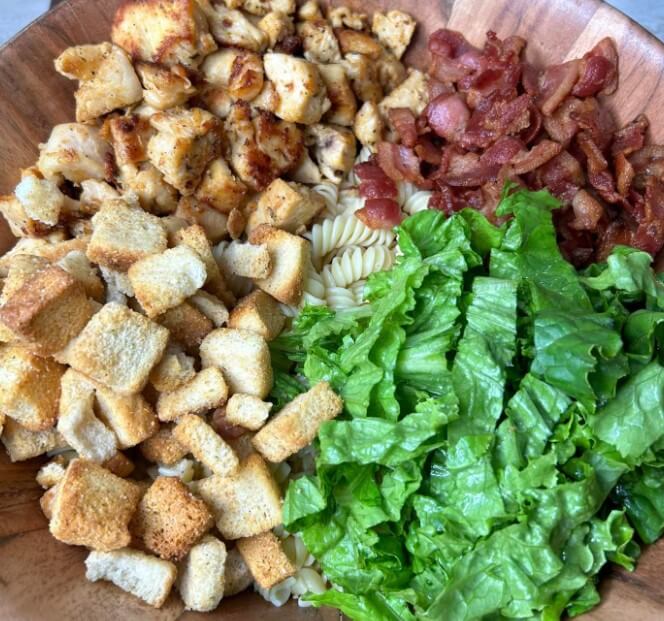 HOW DO YOU MAKE THE BEST CHICKEN CAESAR PASTA SALAD?
First off, cook the pasta until al dente, then set it aside.
Next, cook your bacon. Once it's done, drain it on a paper towel and chop it into bite-sized pieces.
In a pan, add half a stick of butter, melt it, and then add your chicken to the buttery goodness. Sear it and lightly season with your favorite seasonings.
Now, chop up your lettuce and add it to a big bowl. Mix in the cooked pasta, grilled chicken, bacon bits, croutons, and some shredded Parmesan cheese. Top it all off with your favorite Caesar dressing and a drizzle of ranch to jazz it up. Sprinkle some salad supreme seasoning and black pepper for that extra flavor.
Finally, mix everything together, serve, and enjoy your freshly made Chicken Caesar Pasta Salad!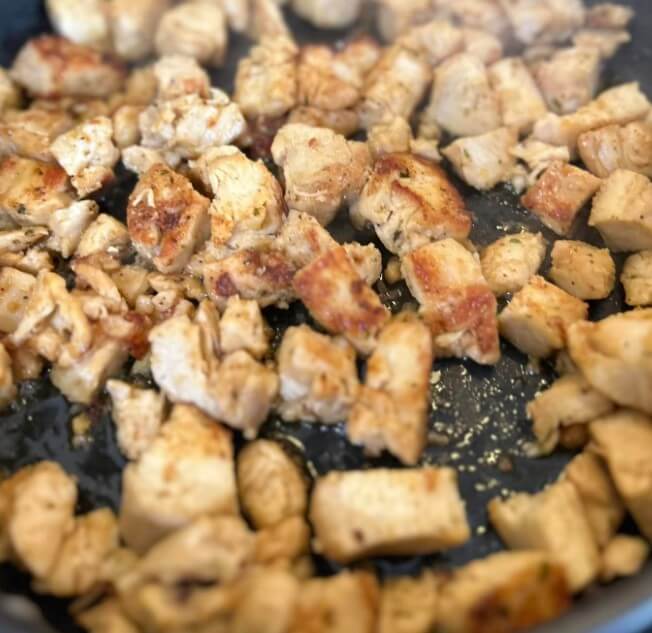 RECIPE NOTES AND HELPFUL TIPS:
Since this pasta salad has lettuce in it, it needs to be served immediately. However, if you wish to make it in advance, you can prepare it the same way but just leave the lettuce out. Right before serving, add the lettuce and toss everything together then serve.
A very hearty dish! It can be served as a main course or side salad. This is why I say 4-8 servings. However, this recipe card won't let me say 4-8 servings, I can only have one quantity, so I said 8 servings.
This is not the ideal pasta salad to eat leftovers just because the lettuce will eventually get soggy. But, it is still delicious and will keep in the fridge for up to 3 days.
I do not suggest freezing.
ESTIMATE NUTRITIONAL INFORMATION:
Yield: 8 | Estimate the nutritional information for each serving:
Calories: 428kcal | Carbohydrates: 23g | Protein: 18g | Fat: 28g | Saturated Fat: 7g | Polyunsaturated Fat: 10g | Monounsaturated Fat: 9g | Trans Fat: 0.04g | Cholesterol: 59mg | Sodium: 592mg | Potassium: 226mg | Fiber: 1g | Sugar: 1g | Vitamin A: 391IU | Vitamin C: 0.2mg | Calcium: 79mg | Iron: 1mg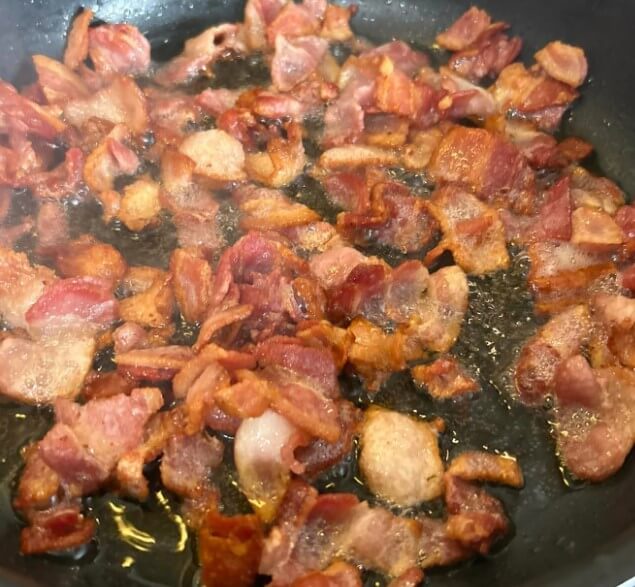 FREQUENTLY ASKED QUESTIONS (FQAs):
1. Can I use homemade Caesar salad dressing?
Yes of course! If you need a good recipe, try my homemade Caesar dressing – it doesn't have anchovies (but you could certainly add them).
2. Can I use different chicken?
Sure, if you like a different cut of chicken, you can use any cut, just make sure to cook it and dice it into bite sized pieces.
Typically I suggest the grilled chicken in the lunch meat section or rotisserie chicken to make this faster, but you can use leftover chicken from other recipes. And it can be chicken breast, tenders, thighs, etc.
3. Can I make fresh grilled chicken?
Certainly! I think my grilled Italian lemon garlic chicken would work perfectly mixed in this. It has a wonderful flavor that would compliment this pasta salad nicely.
4. Can I make this Chicken Caesar Pasta Salad in advance?
Yes and no. For optimal freshness, serve this pasta salad immediately because of the lettuce.
If you'd like to make it ahead of time, prepare it the same way without adding the lettuce.
When you're ready to serve, toss everything together and add the lettuce for a delightful crunch.
5. How many servings is this Chicken Caesar Pasta Salad?
This dish is delightfully hearty and versatile – perfect as a satisfying main course or refreshing side salad. If you use it as a main meal, it will serve 4 but if you're just serving it as a side dish, it will serve 8.
6. What else can I add in the Chicken Caesar Pasta Salad?
There are other delicious items that you can add to your dish, such as cherry tomatoes, crunchy croutons, and mozzarella cheese.
7. How do I store leftovers Chicken Caesar Pasta Salad?
Although the pasta salad is not ideal for storing leftovers due to the risk of soggy lettuce, it's still a delectable dish that can be stored in the fridge for up to 3 days. I definitely wouldn't freeze this.
Let's Make The Quick And Easy Chicken Caesar Pasta Salad!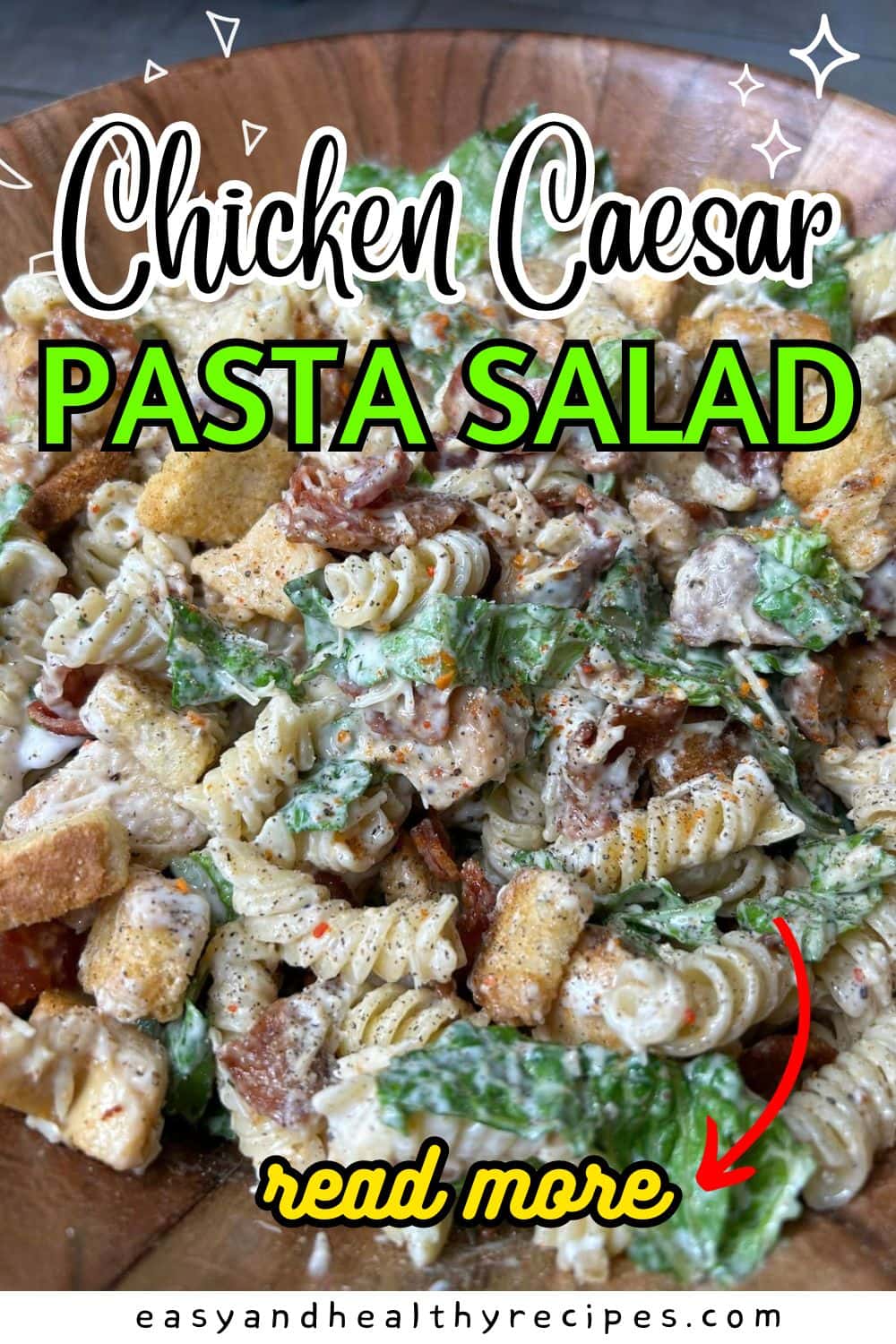 And there you have it – this easy, yummy Chicken Caesar Pasta Salad is ready to take its place on your table. If you decide to give it a shot, make sure to snap a photo and share it with us on Facebook and Pinterest.
Be sure to follow us for more yummy recipes in the future. Until next time, happy cooking!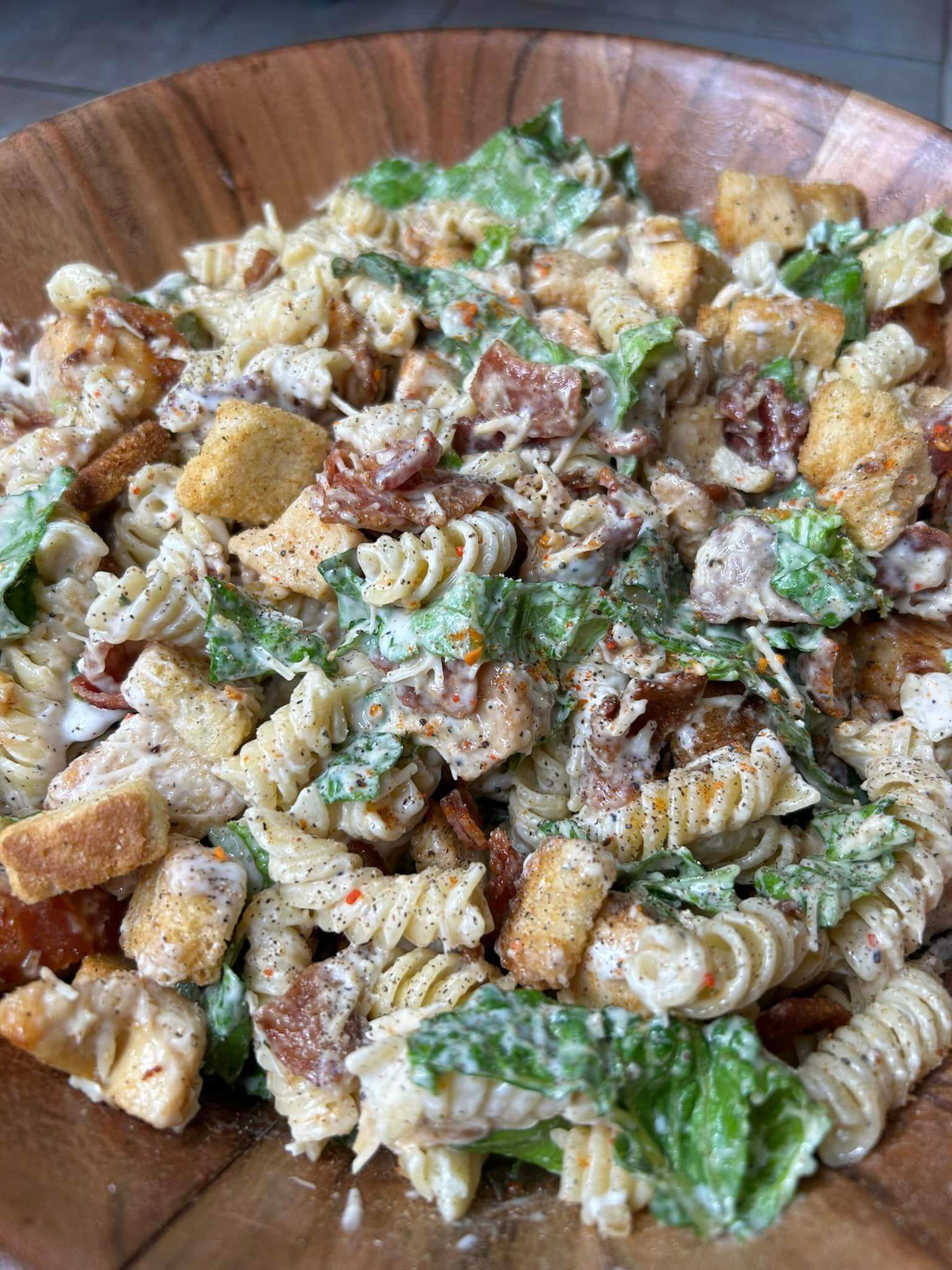 Ingredients
8 ounces (½ box) rotini pasta

2 cups diced grilled chicken

8 ounces bacon, cooked and crumbled

1 heart romaine lettuce, chopped

½ cup shredded parmesan cheese

¾ cup Caesar salad dressing
Instructions
Step 1: Cook pasta according to box directions. Drain it well then rinse it with cold water to stop the cooking process.
Step 2: Place the pasta, chicken, bacon, romaine, and cheese in a large bowl. Add the dressing and toss to combine (add more dressing if desired).
Step 3: Serve immediately.