Although this Minced Beef And Onion Pie is a simple recipe, it's extremely delicious. Try it and I feel sure you and the family will make it a favorite for the future.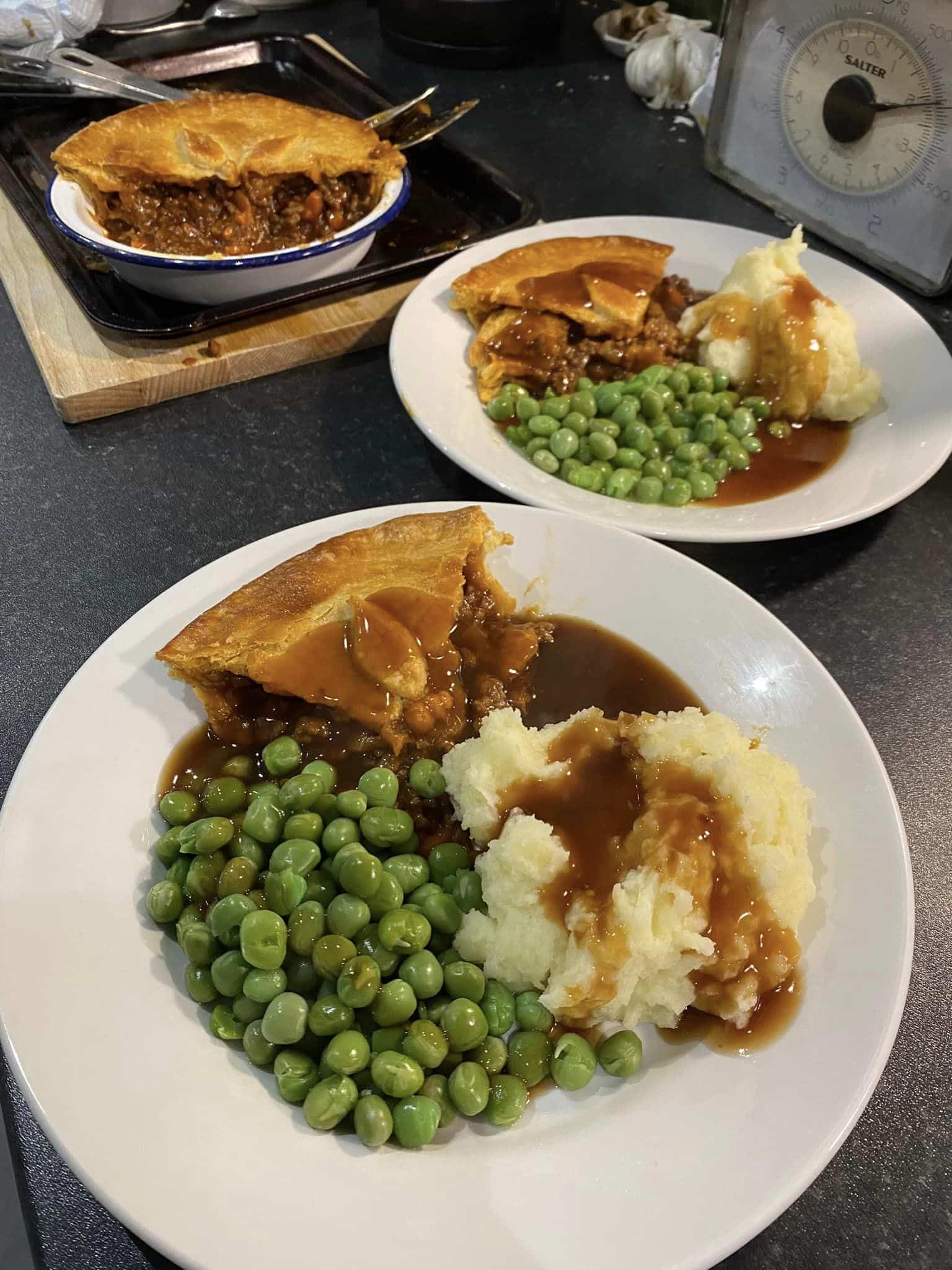 Now, imagine these pies paired with mushy peas and creamy mashed potatoes. It's like a warm hug on a plate!
This British classic is all about ground beef mingling with onions, and a medley of tasty flavors, all snugly wrapped in a flaky pastry.
So, what are you waiting for? Let's dive into this cozy baking adventure together!
TO MAKE MINCED BEEF AND ONION PIE, YOU WILL NEED
Short Crust Pastry: Opt for a high-quality store-bought pastry or consider making your own using a reliable recipe.
Minced Beef: Lean to Fat Ratio: Aim for a good balance of lean meat and fat (around 10% fat) for flavor and juiciness.
Onion: Yellow onions are a versatile choice for this recipe, offering a sweet and mild flavor.
Plain Flour: Use a good-quality all-purpose flour for the recipe.
Mixed Herbs: If not using a pre-mixed blend, consider a combination of dried herbs like thyme, rosemary, and oregano.
Beef Stock: Fresh or carton beef stock is preferable for a richer flavor. Ensure it's not too salty.
Worcestershire Sauce: Choose a well-known Worcestershire sauce brand for authentic flavor.
Vegetarian Option: There are vegetarian Worcestershire sauce alternatives if needed.
Salt and Black Pepper 
See the recipe card for full information on ingredients and quantities.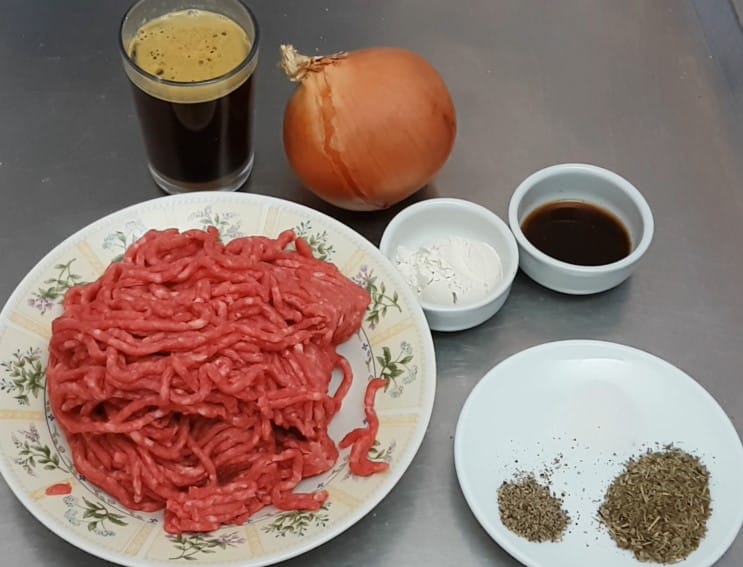 HOW DO YOU MAKE MINCED BEEF AND ONION PIE?
Heat oil and butter, add onions, and gently sauté until soft. The lid creates a symphony of flavors, taking approximately 5-6 minutes.
Add minced beef, orchestrating a no-lid performance until the red meat's hues fade – a visual crescendo taking 5-7 minutes.
Sprinkle these notes into the composition, stirring and cooking for an additional 3 minutes.
Cover and simmer gently for around 30 minutes. Adjust with water if a parched scene unfolds.
Allow the filling to cool, then pour into the crust. Give it an egg wash then bake at 180ºC for 35 – 40 minutes.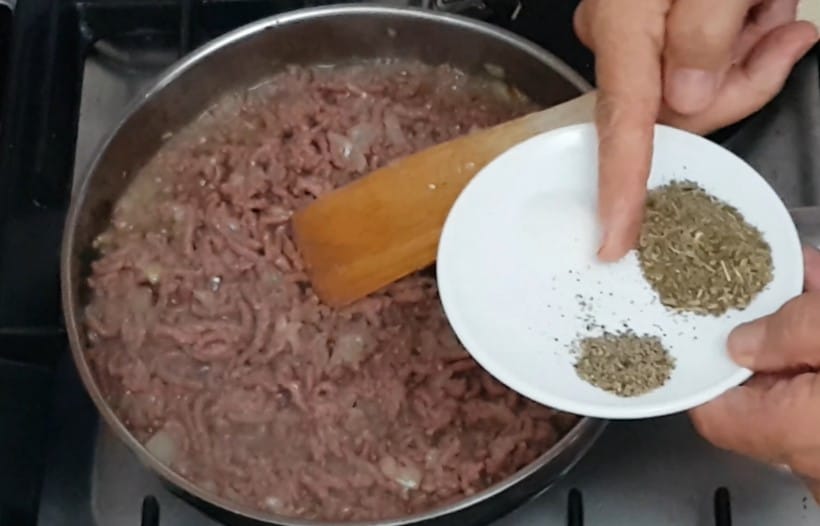 RECIPE NOTES AND HELPFUL TIPS:
Avoiding a soggy bottom by dust the pastry base with a light layer of breadcrumbs/flour. Or consider blind-baking the base for a few minutes before introducing the filling.
Allow the filling to cool before assembling the pie. This patient interlude ensures a seamless transition from preparation to pastry perfection.
NUTRITIONAL INFORMATION:
Yield: 8 | Estimate the nutritional information for each serving:
Calories: 450kcal | Total Fat: 21g | Cholesterol: 55mg | Sodium: 350mg | Total Carbohydrates: 61g | Sugar: 43g | Protein: 6g | Calcium: 109mg | Iron: 1.3mg | Potassium: 106mg | Fiber: 1g | Vitamin A: 289IU | Vitamin C: 10mg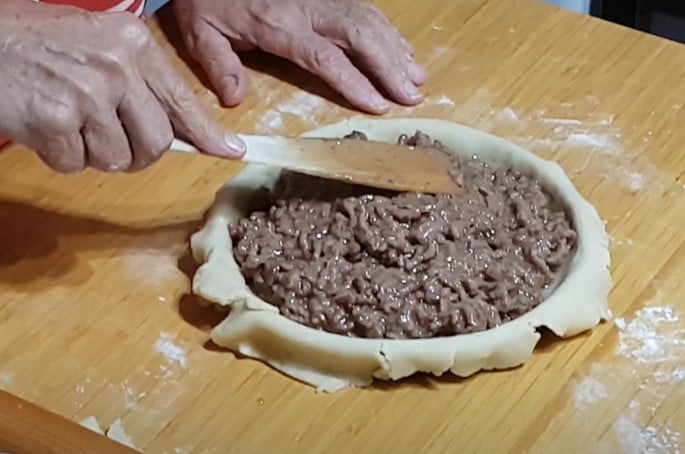 FREQUENTLY ASKED QUESTIONS (FQAs):
1. What is a Minced Beef And Onion Pie?
A Minced Beef and Onion Pie is a classic English/British savory pastry dish. It features a flavorful filling of minced beef, cooked with onions, and a blend of delicious seasonings, all enveloped in a flaky pastry crust.
2. How to freeze Minced Beef And Onion Pies?
Wrap the unbaked pies well in aluminum foil or plastic wrap and then into ziptop bags. Defrost in the fridge overnight and cook as instructed in the recipe. Serve with a side of mashed potato and mushy peas, it doesn't get anymore British than this.
3. How to store leftover Minced Beef And Onion Pies?
These pies keep so well refrigerated for about 3 days. Keep any leftover pies in the tin, that way you can re-heat at 350°F/177°F for about 20-25 minutes. The pastry will stay flaky and light and will be as if you had just made it.
Let's Make This Hearty Minced Beef And Onion Pie!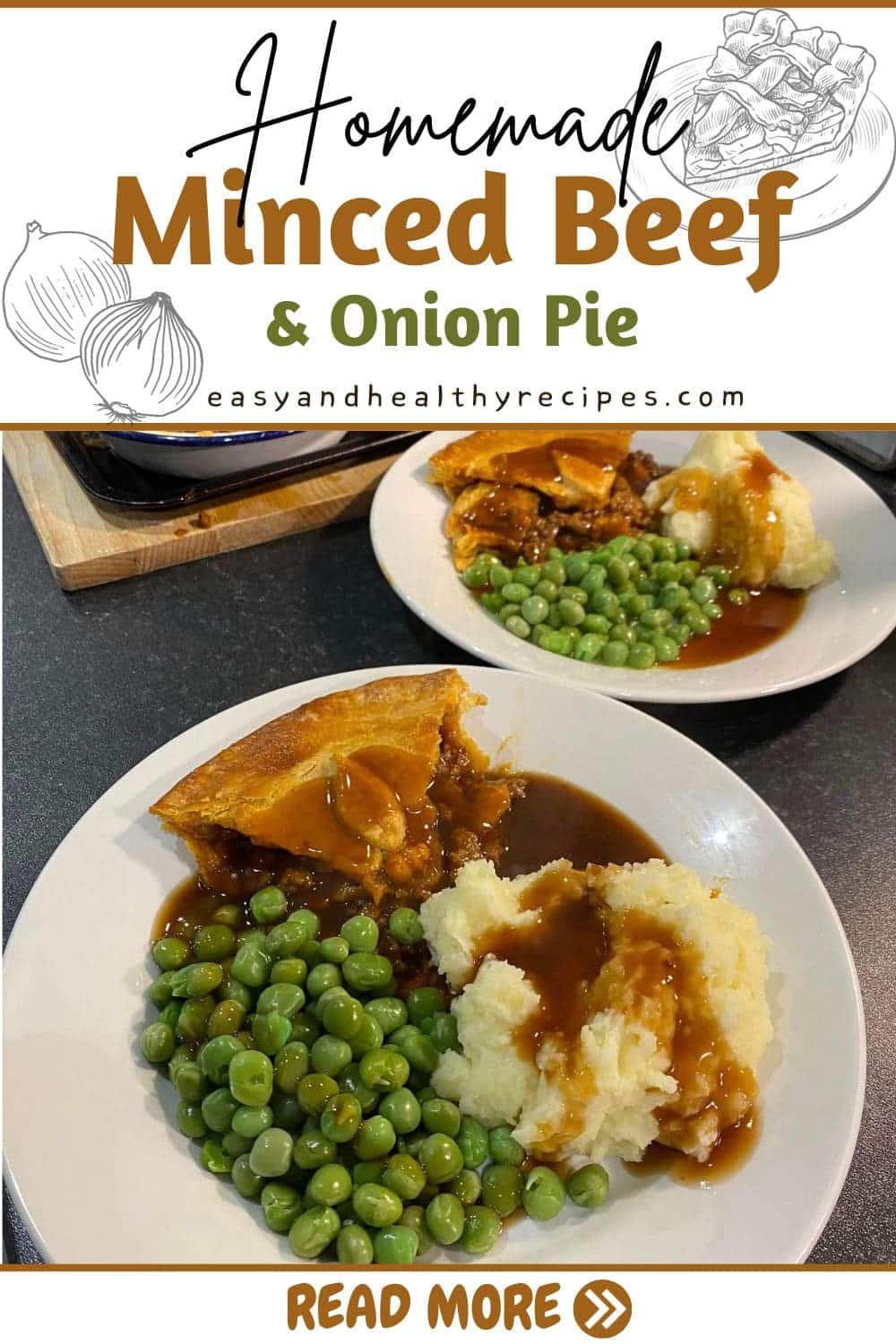 And there you have it – this easy, yummy Minced Beef And Onion Pie is ready to take its place on your table. If you decide to give it a shot, make sure to snap a photo and share it with us on Facebook and Pinterest.
Be sure to follow us for more yummy recipes in the future. Until next time, happy cooking!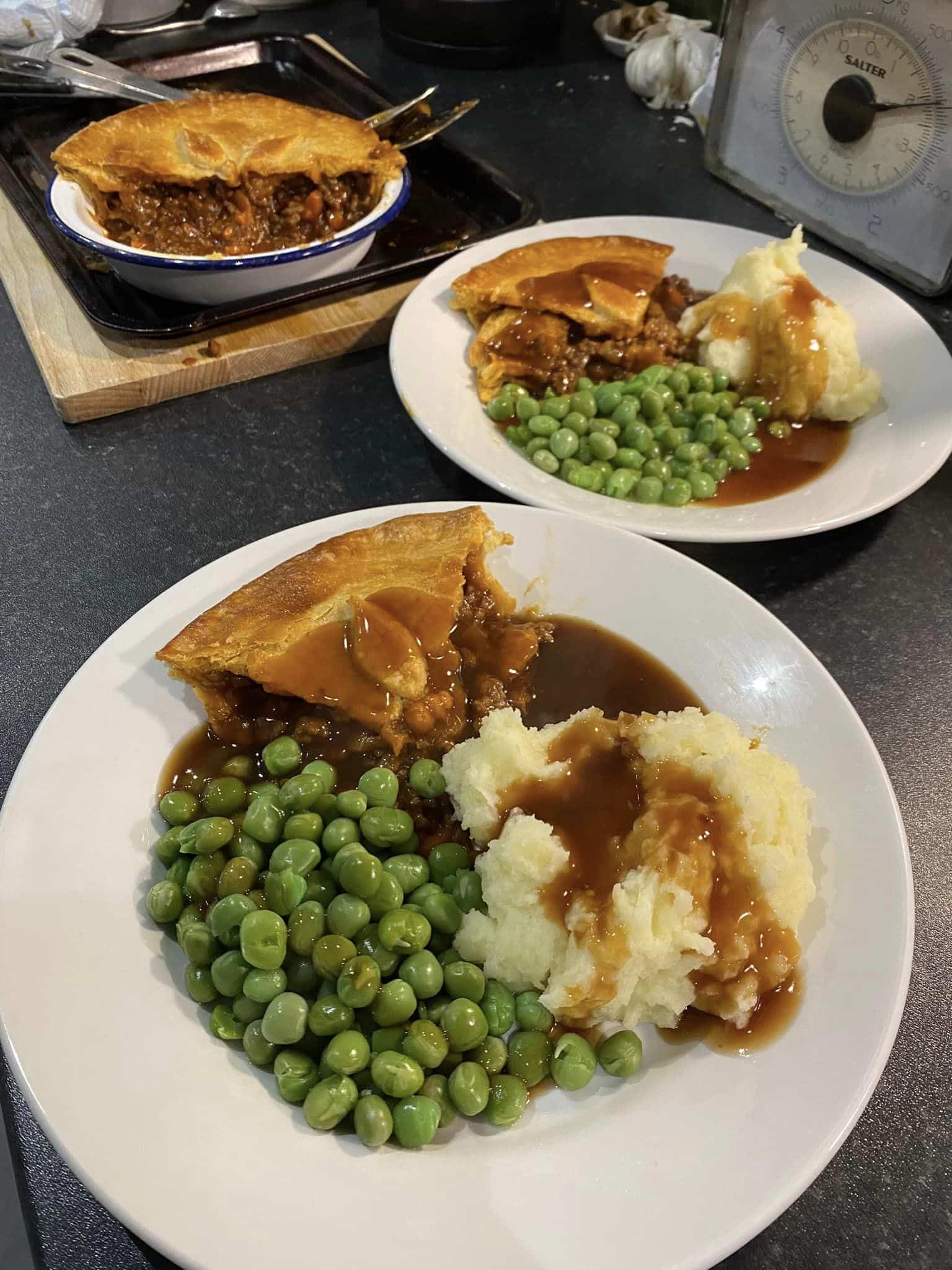 Ingredients
400g short crust pastry

500g 10% fat minced beef

300g onion, chopped

1 tbsp flour

1 ½ tsp mixed herbs

150g beef stock (homemade, boxed or cube)

1 ½ tsp Worcestershire sauce

½ tsp salt

½ tsp black pepper

butter
Instructions
Step 1: Add 2 tbsp of vegetable oil and knob of butter to a large frying pan on medium heat. Then add the chopped onions and fry gently until soft but not brown, lid on (5 – 6 minutes)
(if they are browning add a couple tablespoons of water, this will slow down the browning and help soften the onions)
Step 2: Next add the minced beef, mix well and with no lid, cook for (5 – 7 minutes)
Step 3: Now you can add the salt, pepper and mixed herbs, stir in and cook for 3 more minutes. Before adding the beef stock. stir well and add the Worcestershire sauce.
Step 4: Cover and cook gently for around 30 minutes, adding small amounts of water if it looks dry.
(When you pull your spatula across the base of the pan, the gap should close up slowly, that means it's the correct consistency.)
Step 5: Remove from the heat and allow to cool before making the pie.
Step 6: Once the filling is cool, roll half the pastry and line your pie tin, making sure no air is trapped under the pastry. Fill the pie and wet round the edge of the pastry before placing on the lid. Now press round the edge and crimp to make a good seal.
Step 7: Egg wash the top, cut a small vent in the lid and bake at 180ºC for 35 – 40 minutes.
Step 8: Serve and enjoy with your favorite side dishes!