Simple 5-Minute Keto Oatmeal Recipe You Will Absolutely Love
Oatmeal is always the first choice when we think of breakfast. The thick, milky, sweet and filling oat might be cooked in several ways with several choices of toppings which everyone loves. However, oat is never ketogenic. If you are looking for keto oatmeal recipes, this post is definitely for you. 
Keto oatmeal is also called noatmeal (because there's no oat at all). Instead, other low-carb, high-protein, high-fat ingredients are recommended to replace it.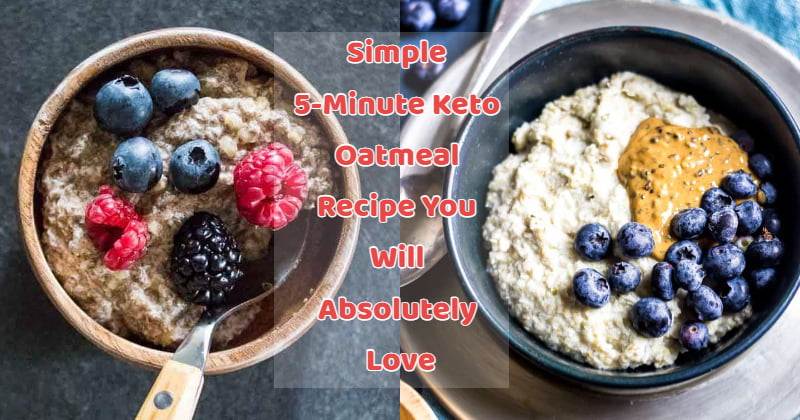 1. What Would Make A Perfect Keto Oatmeal Recipe? 
Source: The Diet Chef
 While speaking of keto-friendly ingredients that are perfect to replace carbohydrates such as flour and oat, almond flour or almond meal is the answer. You can use it in waffle recipes, pancake recipes and also, in an oatmeal recipe. Almond flour contains mostly non-starchy and is high in protein and healthy fats. Also, this ingredient is filling which is exactly what you want your breakfast to be. Other than that, organic seeds and nuts such as chia seeds, flax seeds and hemp hearts are the main elements that create this dish. When you have all these keto oatmeal substitute ingredients, we are ready to go. 
2. Ingredients (2 servings):  
Source: The Diet Chef
30 grams hemp hearts

20 grams golden flaxseed meal

1 teaspoon chia seeds

2 tablespoons almond flour (or almond meal, or coconut flour for a nutty flavor)

150 ml unsweetened almond milk (or coconut milk and cashew milk, they are both keto-friendly)

2 tablespoons brown sugar substitute (optional, it makes it more tasty) 

¼ teaspoon salt

Fruits (strawberry, blueberry, raspberry, grapes,…)
3. Instructions: 
Source: The Diet Chef
Use a small saucepan and put every ingredient together. Mix well. 

Turn your stove over medium-high heat.

Cook it in the saucepan for about 5 minutes. 

Taste and then adjust the seasoning and wellness as your own preference. If it's too thick you might add more water or milk. 

Transfer to a bowl then place all the cut fruits. The dish is supposed to be served hot or cold as you like. 
4. Can You Keep It In The Fridge? 
This oatmeal recipe can totally be kept in a fridge for later use. Once they are cooked, you might store up to 2 days in the fridge. It might also be eaten as overnight oats when cold. This dish has a crunchy texture and nutty, creamy flavors thanks to the almond milk and the seeds. 
If you still need more breakfast recipes and ideas, don't forget to visit this category for more amazing suggestions that are helpful for your diet plan.