Garlic Bread Steak Bites – a classy appetizer that's incredibly simple to whip up!
We're talking sirloin steak, Italian bread, butter, and some everyday seasonings you probably already have in your kitchen.
This appetizer is the answer to your holiday party needs – it's a little something special that won't hurt your wallet. I'll walk you through the tips before we dive into the full, printable recipe. Let's get started!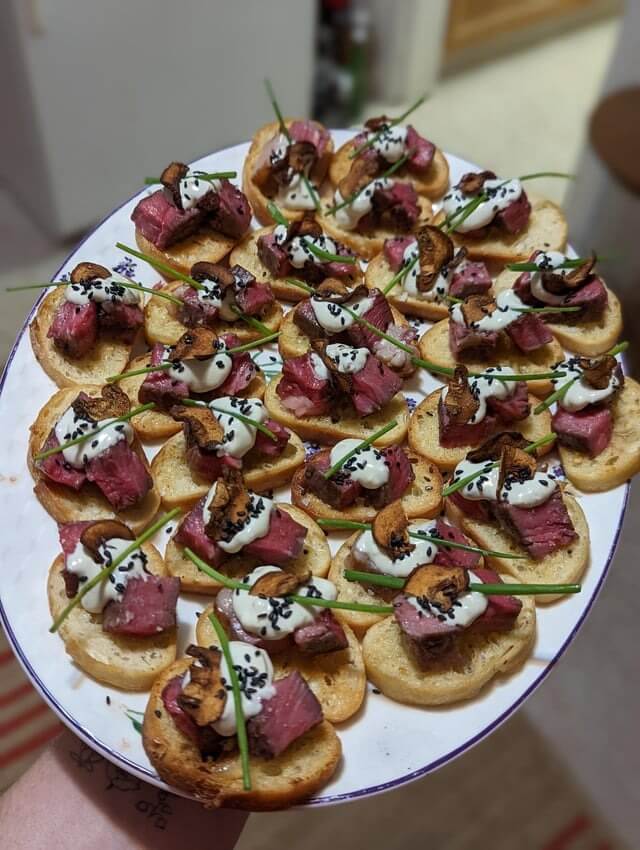 TO MAKE THESE GARLIC BREAD STEAK BITES, YOU WILL NEED
Tahini: Look for pure tahini without added ingredients. It should have a smooth, creamy texture and a rich sesame flavor.
Mushrooms: Opt for fresh mushrooms, such as cremini or button mushrooms. Ensure they are firm, free from blemishes, and have a pleasant earthy aroma.
Za'atar: If you're not making your own za'atar blend, choose a high-quality commercial blend that includes thyme, sesame seeds, sumac, and salt. Check for freshness and flavor.
Chive: Fresh chives are ideal. Look for bright green chives without any wilting or discoloration.
Sesame Seeds: Select untoasted sesame seeds for a lighter color or toasted sesame seeds for a nuttier flavor. Make sure they're fresh and not rancid.
Garlic Crostini: You can make your own by toasting slices of baguette with garlic and olive oil, or you can purchase pre-made garlic crostini. Ensure they are crispy and flavorful.
See the recipe card for full information on ingredients and quantities.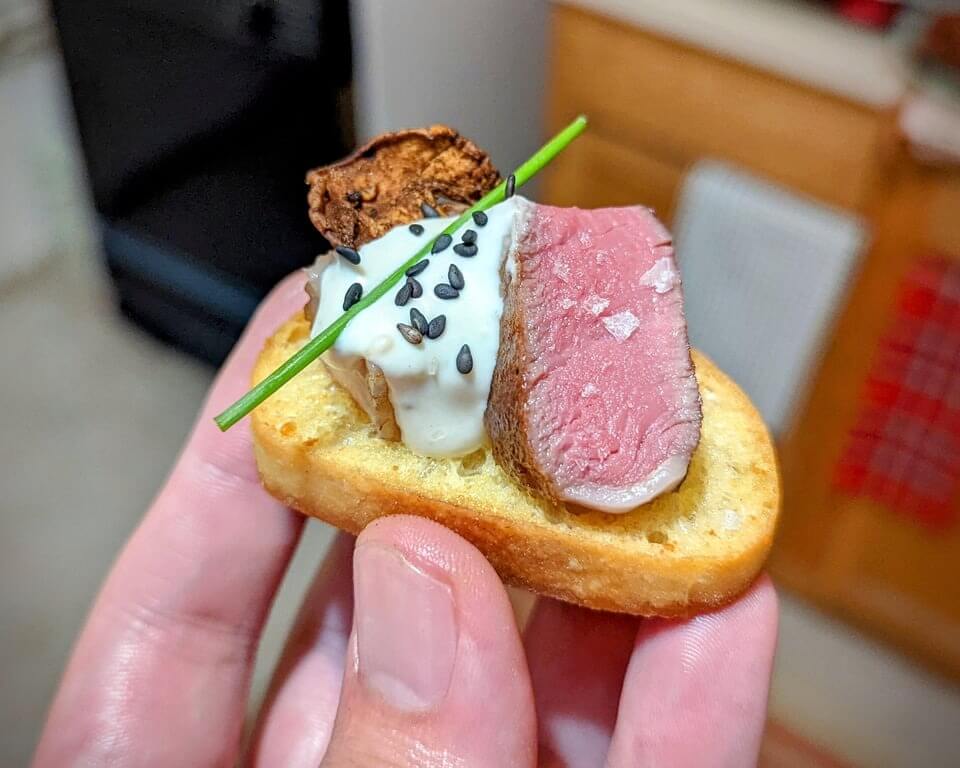 HOW DO YOU MAKE THESE
GARLIC BREAD STEAK BITES
?
Start with sous vide-cooked steak, this method ensures that your steak reaches a precise 130°F, guaranteeing a mouthwatering result. Then seared them to perfection with butter, garlic, and rosemary.
Then prepare crispy za'atar mushroom chips by fry them off in canola oil until they turn into crispy, flavorful chips. Dust a generous amount of za'atar to elevates the mushrooms to a whole new level.
For the cream sauce, you'll want to use top-notch olive oil and Greek yogurt. Consider adding a squeeze of zesty lemon juice to enhance the sauce's delightful creaminess.
Lastly make the garlicky crostini to tie it all together. Plating and enjoy your Garlic Bread Steak Bites!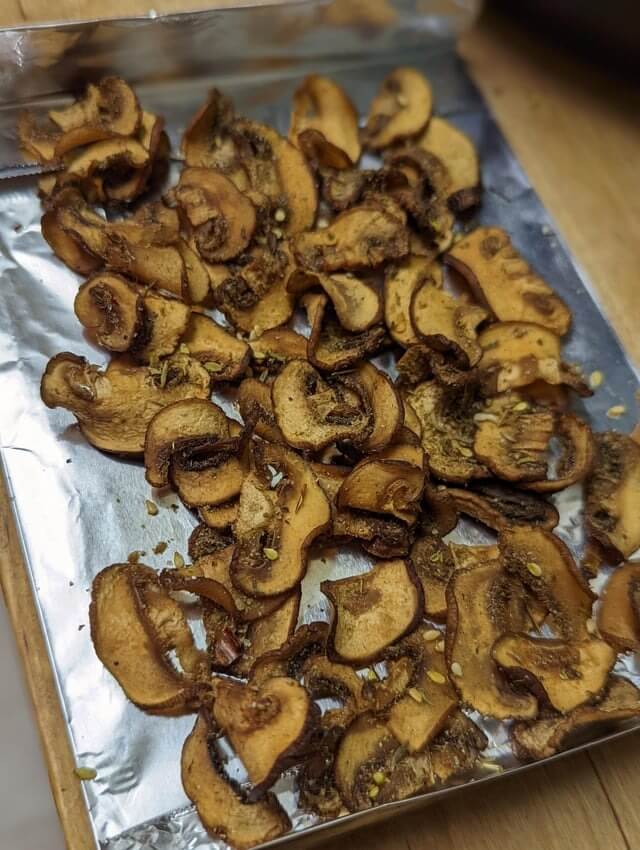 RECIPE NOTES AND HELPFUL TIPS:
Choose the Right Cut: Go for a tender cut of steak like sirloin, ribeye, or filet for the best results. These cuts are known for their tenderness and rich flavor.
Sous Vide Precision: Cooking the steak sous vide ensures perfect doneness. Set your sous vide machine to 130°F and let the steak cook for about 2 hours. This method allows you to achieve an ideal medium-rare temperature throughout the steak.
Searing Technique: After the sous vide bath, sear the steak bites in a hot skillet with butter, garlic, and rosemary. The high heat will give the steak a beautiful crust while infusing it with rich flavors.
Rest and Slice: Let the seared steak rest for a few minutes before slicing it into bite-sized pieces. This step ensures the juices redistribute throughout the meat, keeping it juicy and tender.
Za'atar Mushroom Chips: Create crispy mushroom chips by frying them in canola oil and seasoning with za'atar. Keep an eye on them as they fry to prevent overcooking.
Garlic Crostini: For the perfect base, slice your crostini about an inch thick, drizzle with butter and garlic, then toast until golden brown. This adds a wonderful crunch and garlicky flavor to your dish.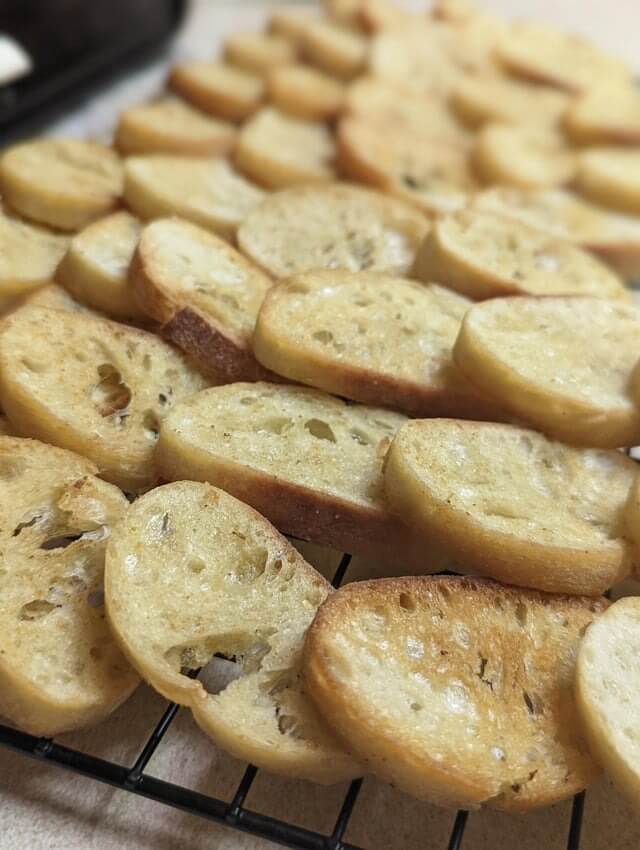 ESTIMATE NUTRITIONAL INFORMATION:
Yield: 6 | Serving size: 4 bites
Calories: 450kcal | Total Fat: 21g | Cholesterol: 55mg | Sodium: 350mg | Total Carbohydrates: 61g | Sugar: 43g | Protein: 6g | Calcium: 109mg | Iron: 1.3mg | Potassium: 106mg | Fiber: 1g | Vitamin A: 289IU | Vitamin C: 10mg
FREQUENTLY ASKED QUESTIONS (FQAs):
1. Can I use a different cooking method for the steak?
While sous vide cooking provides exceptional results, you can also grill or pan-sear the steak to your desired doneness.
2. What is za'atar, and where can I find it?
Za'atar is a Middle Eastern spice blend typically made from thyme, sumac, sesame seeds, and other herbs. You can find it in well-stocked grocery stores or online.
3. What can I substitute for Greek yogurt in the sauce?
If you don't have Greek yogurt, you can use sour cream or regular yogurt as alternatives.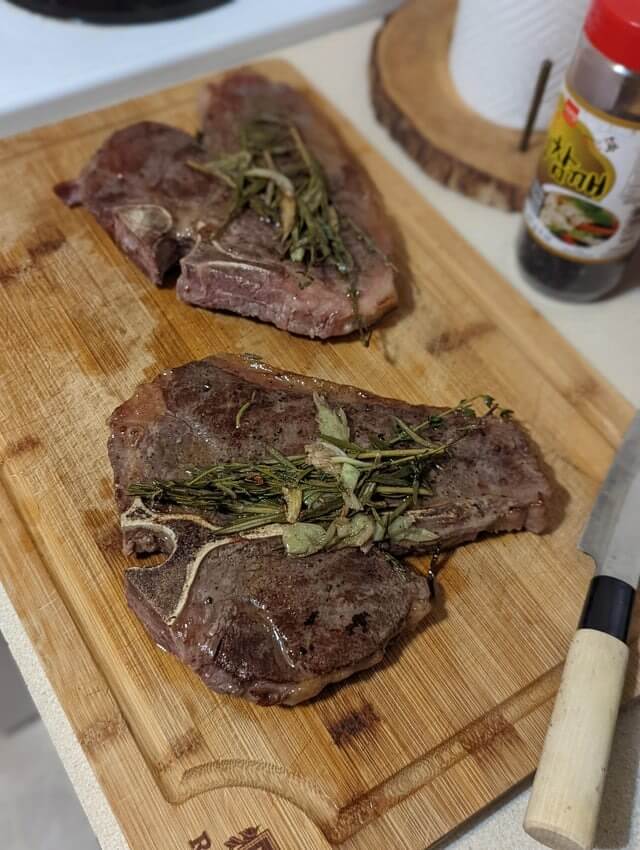 4. Can I prepare the components of this Garlic Bread Steak Bites ahead of time?
Yes, you can. Cook the steak sous vide, make the mushroom chips, and prepare the yogurt sauce in advance. When you're ready to serve, sear the steak and toast the crostini for a quick assembly.
5. What side dishes pair well with these Garlic Bread Steak Bites?
These garlic bread steak bites go wonderfully with a simple green salad, roasted vegetables, or a fresh fruit platter. You can also serve them as part of a larger charcuterie board for a complete spread.
Let's Make These Garlic Bread Steak Bites!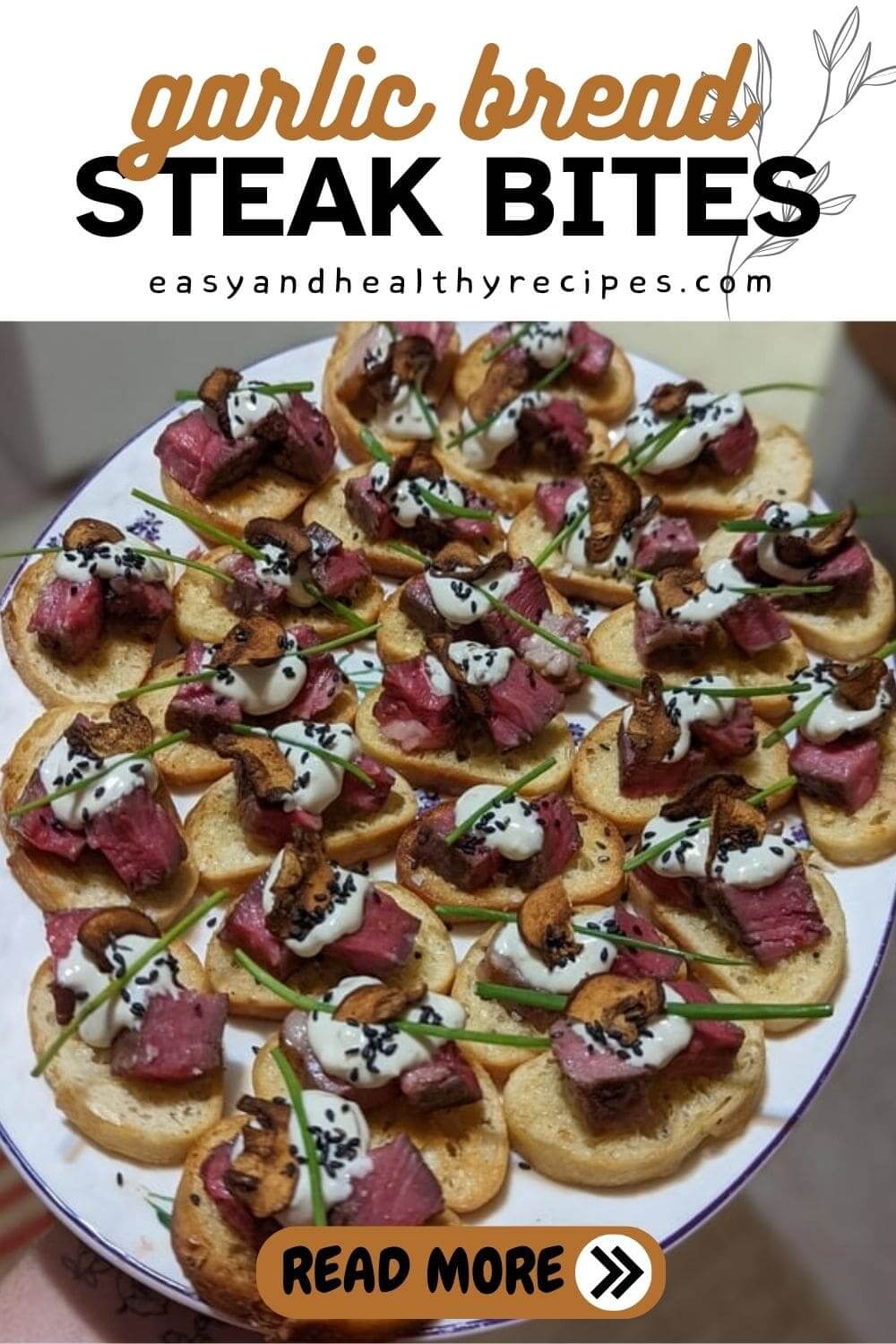 And there you have it – these easy, yummy Garlic Bread Steak Bites are ready to take their place on your table. If you decide to give it a shot, make sure to snap a photo and share it with us on Facebook and Pinterest.
Be sure to follow us for more yummy recipes in the future. Until next time, happy cooking!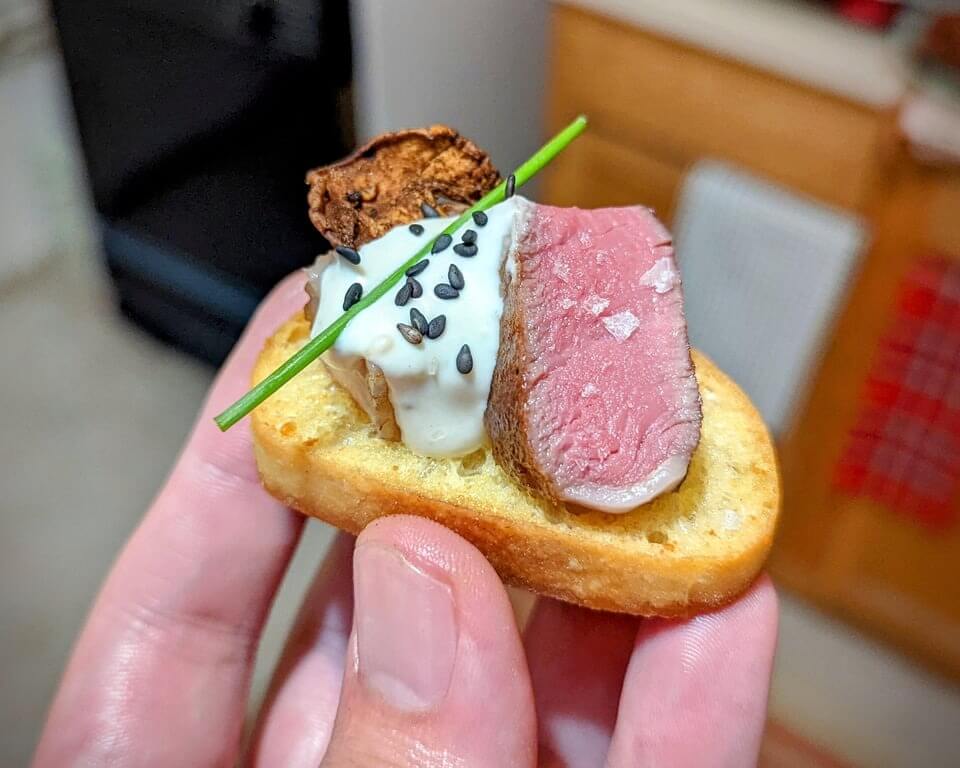 Ingredients
>>>Steak Bites:

1 lbsof tender steak, such as sirloin, ribeye, or filet (adjust based on desired portion size)

Salt and pepper for seasoning

Olive oil for searing

>>>Bleu Cheese Tahini Sauce:

1/2 cup of bleu cheese crumbles

1/2 cup of tahini

2-3 tablespoons of Greek yogurt or sour cream

A drizzle of honey for sweetness (adjust to taste)

Salt and pepper to season

Lemon juice for a tangy kick (adjust to taste)

>>>Za'atar Mushroom Chips:

8-10 ounces of mushrooms (such as cremini or button mushrooms)

2-3 tablespoons of canola or vegetable oil for frying

1-2 tablespoons of za'atar seasoning

>>>Garlic Crostini:

1 French baguette or a similar bread, sliced into approximately 16 pieces

2-3 cloves of garlic, minced

2-3 tablespoons of melted butter

Salt and pepper to season

>>>Garnishes:

Fresh chives, chopped, for a pop of freshness

Sesame seeds for a delightful crunch
Instructions
Steak Sous Vide:
Preheat your sous vide water bath to 130°F (54°C).
Season your steak generously with salt and pepper.
Place the seasoned steak in a vacuum-sealed bag or a resealable zip-top bag.
Immerse the bag in the preheated water bath for 2 hours.
After sous vide cooking, remove the steak from the bag and pat it dry with paper towels.
In a hot skillet or grill, sear the steak for a minute on each side to achieve a delicious crust.
While searing, baste the steak with melted butter infused with garlic and rosemary.
Let the steak rest for a few minutes before slicing it into bite-sized pieces.
Za'atar Mushroom Chips:
Slice the mushrooms into thin, chip-sized pieces.
Heat canola or vegetable oil in a pan over medium heat.
Fry the mushroom slices until they become crispy, similar to potato chips.
Season the fried mushrooms with za'atar seasoning.
Cream Sauce:
Prepare a creamy sauce by combining sesame oil and yogurt (adjust the quantities to reach your desired consistency).
Garlic Crostini:
Slice the French baguette into 1-inch thick pieces.
Combine melted butter and minced garlic.
Brush the bread slices with the garlic butter mixture.
Toast the slices until they turn golden brown.
Plating:
Stack the cooked beef and za'atar mushroom chips on top of the garlic crostini.
Add a dollop of the creamy sesame yogurt sauce to each serving.
Garnish with a small stack of fresh chives and sprinkle with toasted black sesame seeds.