In weekdays, breakfast is so often poor with a cup of coffee or a buttered toast in a paper tower wrap. But why don't you treat someone special a breakfast in bed to make them feel like royalty? Having a tray of delicious food and beverages waiting for you when you get up. No need to get out of your bed, simply tuck a napkin into your pajamas and enjoy your meal.
We decided to bring you a series of helpful tips of making breakfast in bed that you wish you knew earlier. You can make an easy but luxurious breakfast in bed for your cozy, lazy morning in.
Keep reading to discover how to prepare special breakfast in bed!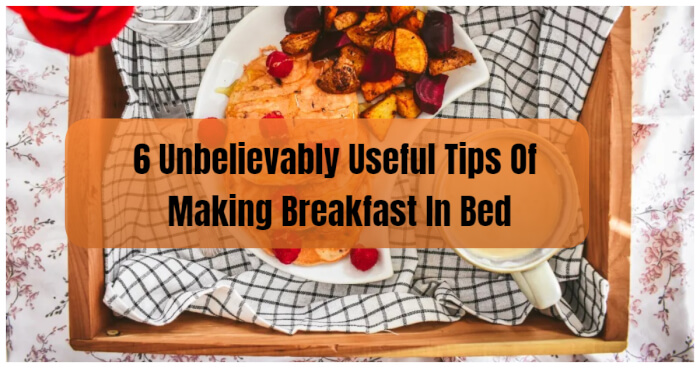 Source:
1. Preparation in advance is the secret for breakfast in bed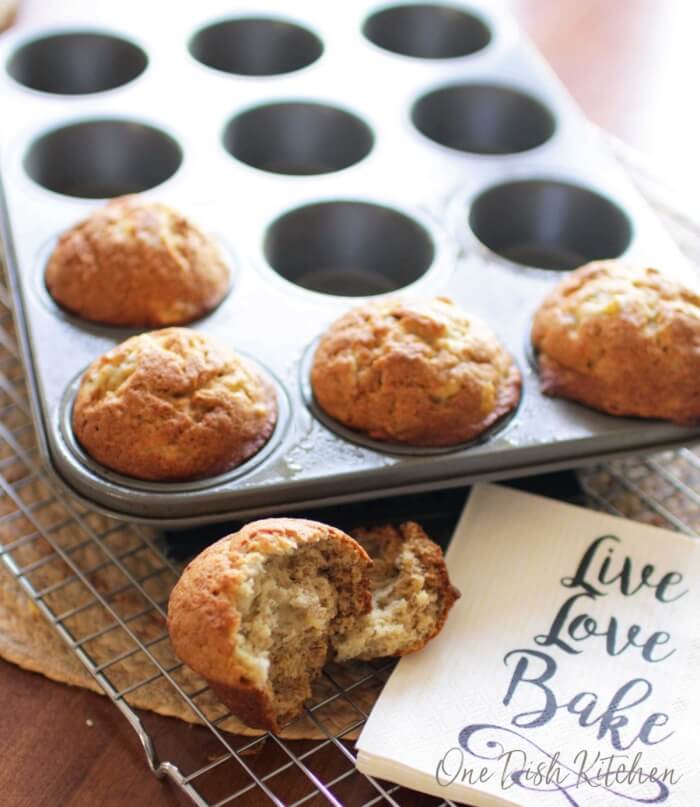 Source: onedishkitchen
You don't want to start cooking and realize you're out of baking powder halfway through preparing your waffle batter, nor do you want to get up early to get everything ready. Focus on doing something pleasant and spending time with your loved ones. Prepare everything you can in advance and finish your shopping as early as possible.
For example, bake a batch of muffins or granola during the week or prepare the vegetables for a frittata the night before. Alternatively, you can speed up the morning by choosing a food that you can prepare the night before, such as these yeasted waffles or this hot oat and quinoa cereal.
2. Simple is the best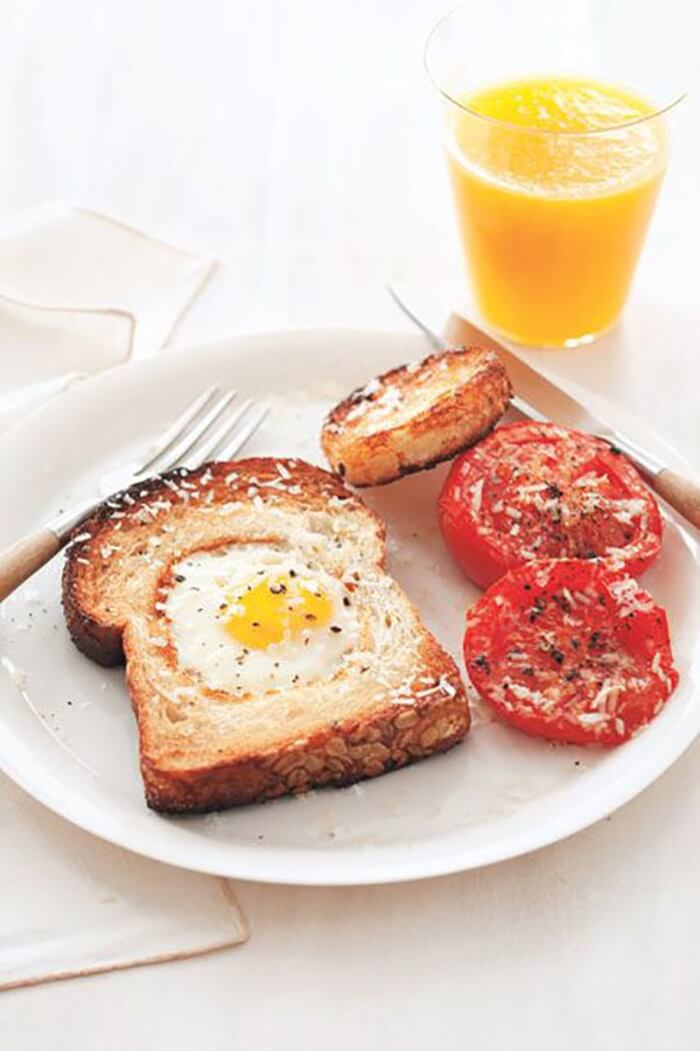 Source: hearstapps
There are appropriate times and locations for spectacular room service breakfast. However, no one will make fun of you for omitting the hollandaise sauce and Danish pastries when you're at home. Avoid Dutch babies, soufflés, and other foods that won't hold up well after being exposed to room temperature for a while. Choose one hot meal that will cook pretty quickly, such as French toast, or one that will be hot that you can keep warm in a low oven, such as scrambled eggs. The remaining items on your platter should be cold or room temperature foods that are simple to assemble, such as a yogurt parfait with fruit or a fast toast.
3. Buy superior products
Source: jamieoliver
One place where you may quickly increase the level of luxury and also save some time is here. You don't have to make everything yourself.  Spend the extra money if you can find a special item that is superior to what you can make at home, such as bagels, smoked fish, or doughnuts, which are perfect for breakfast in bed.
4. Plate expertly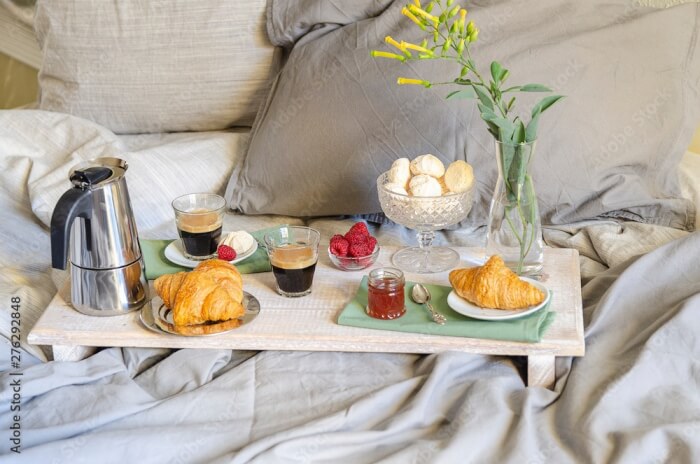 Source: ftcdn
The simplest way to make breakfast in bed feel even more special is with a well-designed tray. Start with a full set of cutlery, large-sized plates that can accommodate crumbs, and glasses and bowls with wide bottoms. Add a few tastefully chosen finishing touches, such as a classy cloth napkin, a single flower in a water glass, and little spoons or knives for butter and jam. Make individual servings of a meal like baked eggs in ramekins or little cocottes if you intend to serve it.
5. Understand your audience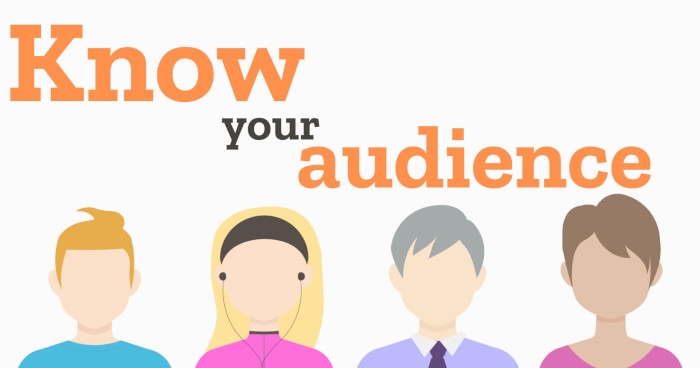 Source: scarpettagroup
Everything will work out if you give your loved one the breakfast you know they want. Don't serve them a cinnamon bun and eggs, if they usually prefer yogurt and muesli. Make a mobile breakfast taco station with warm tortillas and various fillings in tiny bowls if they enjoy Mexican food. It won't be difficult to make a mistake as long as you remember that you're doing breakfast in bed for others, not for yourself.
6. Suggested dishes for breakfast in bed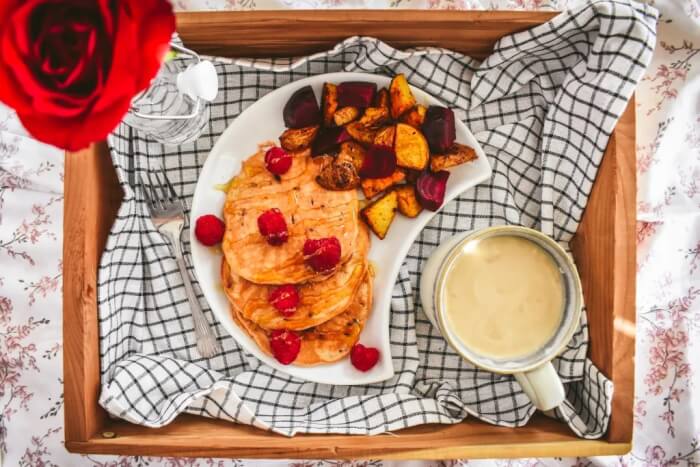 Source: humbly-homemade
Eggs
Fresh Ricotta and Chives with Soft Scrambled Eggs
Baked Portuguese eggs
Frittata with mushrooms, leeks, and fontina
Soft omelets
Grains
5-Grain Porridge with Apples, Coconut, and Bee Pollen
Hot Quinoa and Oatmeal Cereal
Porridge with almonds and barley and fruit compote
Porridge for breakfast with soft eggs and pea shoots
Healthy
Better Granola
Chia Pudding with Pineapple and Dried Apricots
Pomegranate and almond-topped cereal
Sweet
Pancakes with lemon ricotta
Conventional French toast
Brown-Butter Waffles with Yeast
Cake with black sesame and pears
Savory
Breakfast tacos with chorizo and sweet potatoes
Salad of Smoked Trout
Drinks
Old Fashioned with espresso
Lime juice with carrot, ginger
Now, I wish you are confident and excited enough to start making your own breakfast in bed to surprise your loved one. Don't forget to visit our website to figure out more interesting breakfast recipes!