Minced beef is a simple ingredient that can be used to create a variety of delicious dishes that everyone, from children to adults, enjoys. Beef also contains a lot of protein, making it very nutritious for health. Don't skip this article if you still don't know what to do with minced beef. The article below shows you the quickest ways to prepare dinners with mince that the whole family will love!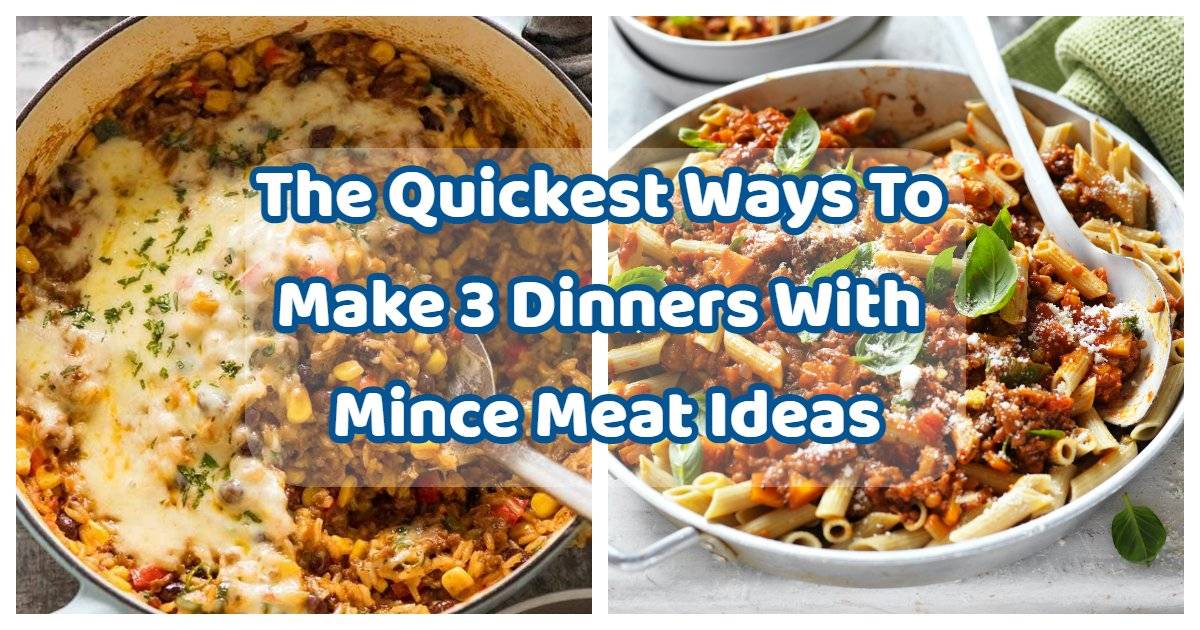 1. Beef ball with tomato sauce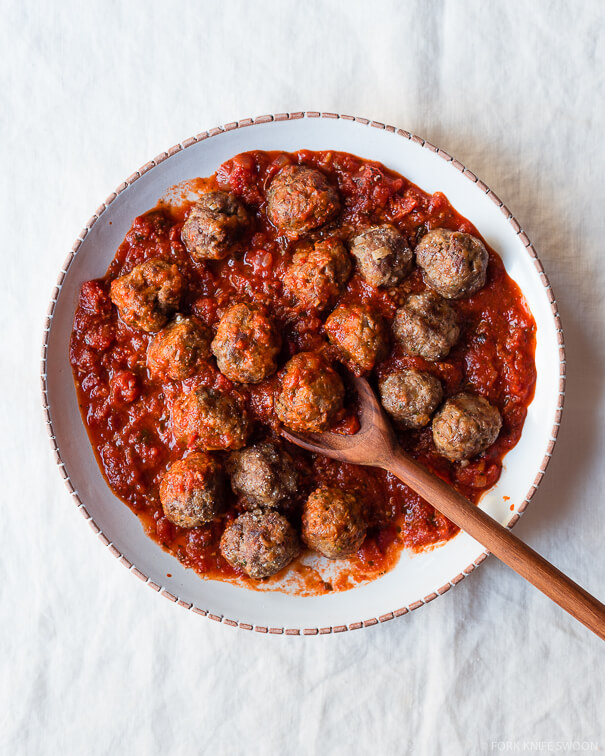 Source: fork knife swoon
A beef ball with tomato sauce is a simple dish that is also very simple to prepare. The rich sauce of fish sauce, spices, and the mild sour taste of tomatoes served with white rice is a good idea.
Ingredients
300g ground beef
30 grams of shiitake mushrooms
2 pieces of wood ear
2 purple onions
2 sprigs of scallions
2 medium tomatoes
1 teaspoon ground pepper
Spices: fish sauce, monosodium glutamate
Directions
Step 1: 1 tbsp oil in a pan, add the spring onion and cook for 5 minutes, or until soft. Take the pan off the heat and set it aside to cool.
Step 2: In a large mixing bowl, combine the beef mince and half of the onion. Lightly whisk the egg with a fork in a small bowl, then add to the meat and onion. Season and combine everything with your hands – you can use a fork, but it's more fun to use your hands.
Step 3: Make 8 equal-sized balls out of the mixture. Sprinkle flour on a plate, then roll each meatball in it. Allow for a 10-minute chilling period.
Step 4: In a frying pan, heat the remaining oil and cook the meatballs for 5 minutes without moving them. Turn them over with tongs and cook for another 5 minutes.
Step 5: Combine the tomatoes, cumin, tomato purée, and remaining spring onion in a mixing bowl, then add to the pan. Cook, covered, for 25 minutes, or until the meatballs are done.
2. Classic cottage pie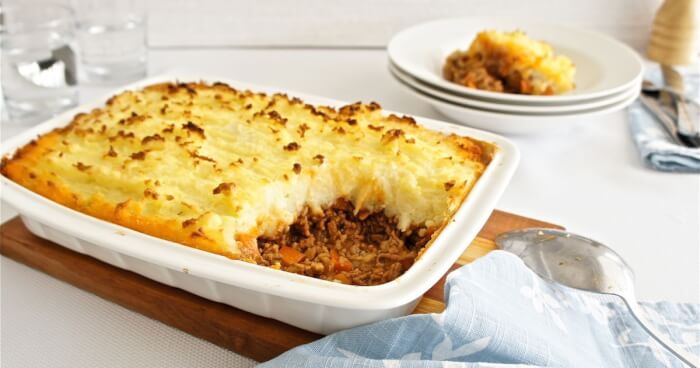 Source: Australia's bes recipes
It's a long-standing family favorite with rich minced beef and creamy mash, and it's great to keep in the freezer for emergencies!
Ingredients
750g beef mince
1 clove garlic, crushed
2 leeks, finely chopped
2 onions, chopped
2 carrots, peeled and grated
2 stalks celery, finely chopped
2 tbsp plain flour
250ml red wine
3 tbsp Worcestershire sauce
750ml beef stock
2 tbsp tomato purée
a few sprigs thyme
1.75 kg floury potatoes, peeled and cut into chunks
75g butter
milk, for the mash
2 egg yolks
Directions:
Heat a large nonstick skillet over medium heat, then add the mince and brown it all over. There should be enough fat in the mince to avoid adding oil, but if necessary, add a tiny splash.
Cook for another 10 minutes, or until the garlic, leek, onion, carrot, and celery are soft, sprinkle in the flour and mix well.
Simmer the wine for a minute before adding the Worcestershire sauce, stock, tomato purée, and thyme. Cook until the sauce has thickened and reduced.
Cook the potatoes in salted water until tender, then drain thoroughly and mash with the butter, a splash of milk, and plenty of seasoning incorporate the egg yolks.
Place the beef mixture in a large ovenproof dish and top with the mashed potatoes. Cool, then wrap in clingfilm and place in the freezer until needed.
Before cooking, defrost completely in the refrigerator overnight. Preheat the oven to 200 degrees Celsius/fan 180 degrees Celsius/gas 6. Bake for 30-35 minutes, or until the mashed potatoes are golden and the filling is hot.
3. Chilli cornbread pie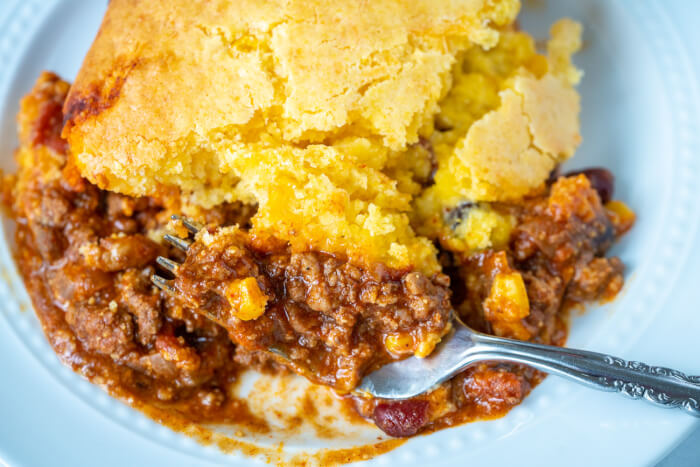 Source: 12 Tomatoes
Beef chili pie with cornbread topping will give your dinner a kick. Serve with extra jalapeos and a dollop of soured cream, and your standard chilli con carne is instantly elevated.
Ingredients:
1 pound ground turkey or lean ground beef

1 packet (1.4 ounces) chili seasoning or taco seasoning mix

2 cans (8 ounces each) tomato sauce

1 can (15 1/4 ounces) no-salt added whole-kernel corn, drained

1 can (15 ounces) black beans, rinsed and drained

1 can (4 ounces) diced green chilies, drained (optional)

2 boxes (8.5 ounces each) dry corn muffin mix

Sliced avocado, salsa and/or sour cream (optional)
Directions:
Preheat the oven to 400 degrees Fahrenheit. Grease a 13 x 9-inch baking dish with cooking spray.
Brown the turkey in a large skillet over medium-high heat until no longer pink; drain. Combine chili seasoning, tomato sauce, corn, beans, 3/4 cup evaporated milk, and chilies in a mixing bowl. Bring to a boil, then turn off the heat. Simmer, stirring occasionally, for 5 minutes. Fill prepared baking dish halfway with the mixture.
In a medium mixing bowl, combine corn muffin mix, remaining 3/4 cup evaporated milk, and eggs; stir until just moistened. Spread the mixture on top of the meat filling.
Bake for 15 to 20 minutes, or until the top is lightly browned. Allow for a 10-minute rest before serving.
There is no need to look far, minced meat is sold everywhere, making it simple for you to purchase and process it. With these ways to make 3 dinners with mince meat ideas, I hope you and your family have delicious and warm meals with minced meat dishes!