How To Make Romantic Keto-Friendly Dinners For Two?
Have you ever found it difficult to prepare romantic dinners for two during Valentine's Day, Christmas or any anniversary with your partner? This post will help you solve this problem. 
A romantic date night is not sufficient without delicious foods with some glasses of wine. In this post, we introduce a full course meal including an appetizer, a main course and lastly, a dessert. You might give it a try in your upcoming special occasion.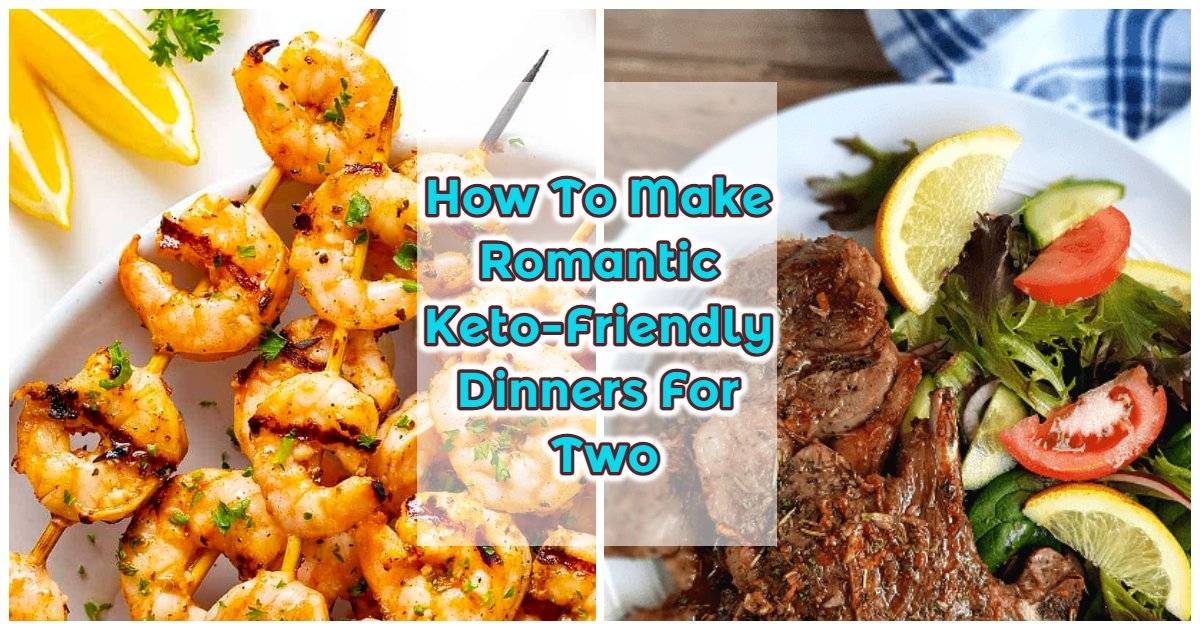 1. Appetizer: Shrimp Skewers 
Source: Well Plated
Shrimp skewers that are cooked in an air fryer with no oil and seasoned with cilantro, lime juice, some paprika, garlic, cumin… will be a great starter for your evening. This recipe will be absolutely perfect for dinners for two because it's light, flavorful, easy to make and super healthy also. Shrimp is one of the most common yet ketogenic ingredients that you can easily find all year round. 
If you want it to be fancier and more expensive, lobster is also a great choice. Moreover, you might also use other seafood such as squid, fish or scallop. It's also optional to add some vegetables to this recipe consisting of bell peppers, zucchinis, eggplants, etc. This is an Asian style dish with a little savory, sweetness, sourness and spiciness to boost your appetite for the whole meal. 
For the full recipe, click here.
2. Main Course: Lamb Chops With Summer Vegetables 
Source: Ketogenic
Lamb is always one of the best choices for dinners for two. It's rich in protein, vitamins and minerals while being easy and quick to cook. When combined with summer vegetables, this dish is full of flavors and nutrients that you could've ever asked for. There is a note while cooking red meats such as lamb, beef or pork is to not overcook. Otherwise, they would get too dry and too hard to eat. It's important to maintain the moisture within the meat. 
For the vegetables, you might use a side salad instead if you're not fond of roasted vegetables. It's okay to adjust the recipe to your own preference. Many people hesitate while choosing lamb for dinners for two ideas, however, rosemary will solve its distinct aroma. You might either bake, sear or pan fry it. This recipe is for 4 servings therefore you might adjust it to be a recipe for 2 people only. It means reducing half of all the ingredients.
For the full recipe, click here.
3. Dessert: Strawberry Sorbet 
Source: Maria Mind Body Health
After a starter and a main course full of flavors and spices, we choose a lighter dessert which is strawberry sorbet to finish dinners for two. In this case, sorbet is great because it's low car, sugar-free, easy to digest and also, tasty. You can prepare this beforehands and keep it in the freezer and serve it at the end of the meal. This recipe is made of almond milk and fresh strawberries therefore it's definitely ketogenic and healthy. It taste a little sweet, a little sour and completely perfect for a sweet dessert. 
For the full recipe, click here. 
We hope you will enjoy these dinners for two. For more appealing and healthy recipes, bookmark this category.