2 Quick And Easy Breakfast Ideas That Takes You Less Than 15 Minutes
It's the most important meal of the day. It helps you to refuel after a long sleep and boost your energy for a long working day. Instead of the usual greasy, high in calories and low in vitamins and fiber breakfast, there are options for healthy and non-fat breakfast ideas. 
Scroll down to find out these 3 stunning dishes.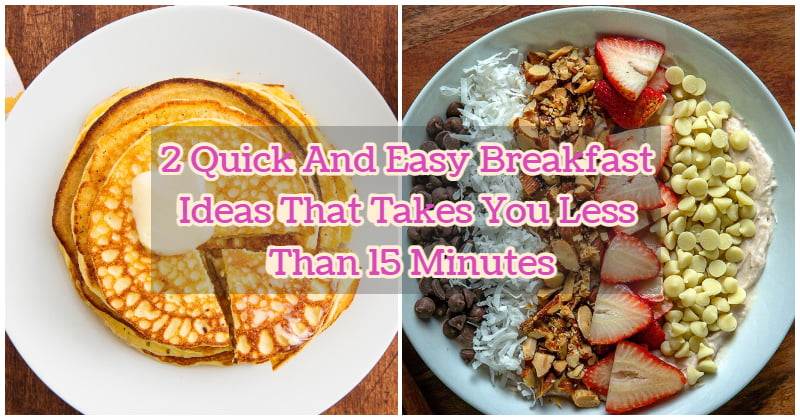 1. Keto Pancakes 
Source: Taste
There are several breakfast ideas with eggs. The pancake is also one of them. Following the Keto diet does not mean that you have to stop eating pancakes. However, you have to make a few adjustments so that it is suitable for your eating plan. This recipe might help you have the healthiest pancakes for your birthday without worrying about taking in too much sugar and carbohydrates. 
Ingredients: 
100 grams almond flour

110 grams nonfat cream cheese, softened

4 eggs

1 teaspoon lemon zest

10 grams nonfat butter

Vanilla-extract

1 or 2 bags of diet sugar
How To Make: 
Mix and whisk flour, cream cheese, eggs and the lemon zest until smooth

Turn the stove over medium-low heat. Use a nonstick pan to melt 1 tbsp butter. 

Pour into 3 tbsp batter and cook for about 2 minutes. Until a side smells good and turns light brown then flip. Cook the other side for another 2 minutes.

Place your pancakes onto a plate. Serve with butter or maple syrup or any sweetener as you want.
2. Keto Breakfast Yogurt Bowl 
Source: Julie's Lifestyle
If you are tired of high-calorie, eggy and heavy breakfasts, you might consider trying this second breakfast idea. It is also among favorite breakfast ideas for toddlers. It's light, healthy, easy to eat, easy to digest and is full of nutrients. A yogurt bowl is going to be a perfect start for your morning, especially when you cannot think of anything to eat.
Ingredients:
1 cup plain Greek yogurt (plain and low-fat type is recommended)

½ tablespoon flaxseed meal

½ tablespoon chia seeds

2 tablespoon granola (might substitute by instant oats)

1 tablespoon almond butter

1 cup or fresh fruit (bananas, apples, strawberries, blueberries might all work, chopped)

2 teaspoons honey

1 tablespoon coconut flakes
How To Make: 
Pour yogurt into a bowl

Gently place all other ingredients (fruits, seeds and almond butter) on top of the yogurt

Put honey and coconut flakes on top. It's ready to serve. You might mix it well so it tastes better. 
If you are looking for more keto breakfast ideas which are good for health, remember to bookmark this category. There are also several recipes for drinks, dinner or lunch on our website.