4 Best Recipes With Chicken Breast
Chicken breast is a familiar food source for bodybuilders. It provides a fairly high amount of protein, and at the same time low calories. Do you know how to cook delicious chicken breasts? If not, we will introduce you to 4 delicious recipes with chicken breast.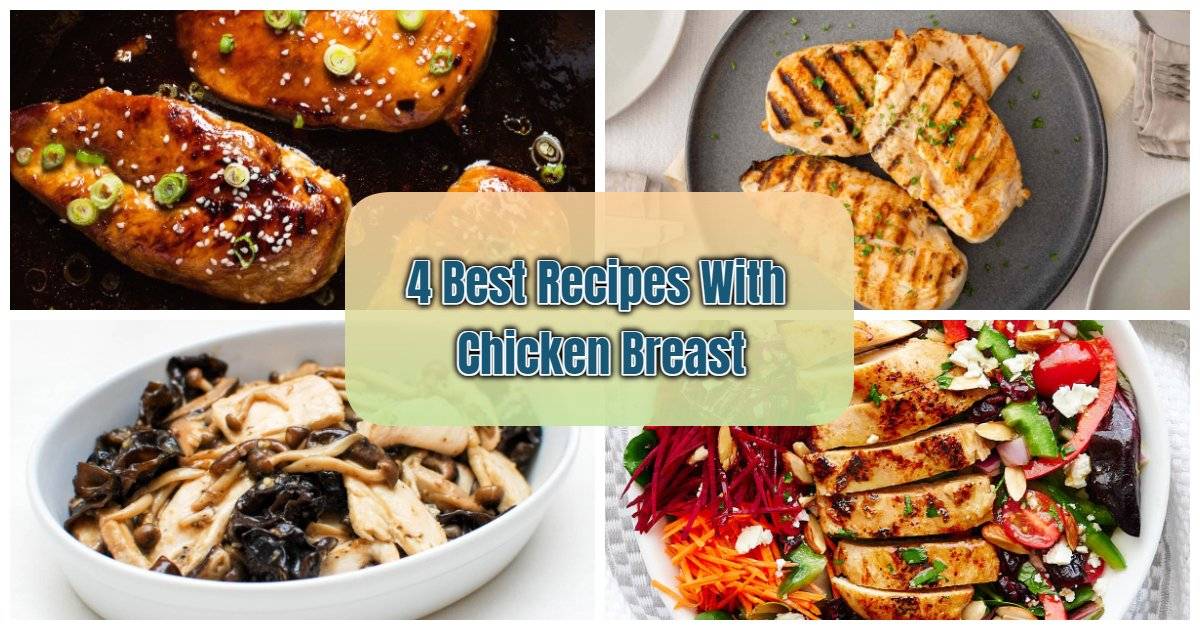 1. Recipes With Chicken Breast Salad
Source: Craving Tasty
Chicken breast salad is very easy to eat. The sauce as well as a lot of vegetables will make the chicken breast not dry but very satisfying. This salad provides you with fiber, protein, essential vitamins, and minerals. That's why you can use chicken breast salad as a main course or a snack.
How to make simple chicken breast salad:
– Boil chicken breast until cooked, then shred it
– Chicken breast salad can be eaten with ingredients such as cherry tomatoes, lettuce, cucumber, coriander, onion, boiled egg, cabbage, etc.
– Wash vegetables and soak them in salt water. Then cut them.
– Mix all the above ingredients. Add olive oil, vinegar, salt, and pepper.
2. Stir-fried Chicken Breast With Mushrooms
Source: Serious Eats
Mushrooms are a protein-rich food with extremely low-fat content. So they are often eaten for weight loss. This fried chicken breast with mushrooms is very popular with gymers. Because it is simple and easy to make.
How to make recipes with chicken breast:
– Wash chicken breast, remove the skin, and cut it into bite-sized pieces
– Pour olive oil or cooking oil into a pan.
– Put the chicken into the pan and stir-fry it. Then add mushrooms and continue to stir-fry. Add seasoning to taste. Stir-fry for about 5 minutes, then turn off the heat and sprinkle with green onions.
– Put the chicken breast and mushrooms on a plate and enjoy.
3. Recipes With Grilled Chicken Breast
Source: Simply Recipes
Grilled chicken breast is quite easy to make. The taste of this dish is very delicious.
Instruction:
– 200g chicken breast, washed, skin removed. Make a few slits on the chicken breast to infuse the seasoning.
– Make the sauce: mix crushed garlic, dried onion, 2 spoons of honey, and 1 spoon of soy sauce.
– Spread the sauce evenly over the chicken breast. Marinate for about 30 minutes.
– Turn on the oven to about 200 degrees for 5-10 minutes first. Then put the chicken in the oven.
– Every 5 minutes, flip the chicken breast once and add the sauce.
– Bake for 15 minutes.
4. Chicken Breast With Honey Sauce
Source: Delish.com
Honey is known as a valuable and nutritious natural ingredient. The amount of natural sugar that comes from honey supports many health benefits and helps you to gain weight.
Here are the recipes with chicken breast and honey sauce
– Cut the chicken breast into bite-sized.
– Put the stove on the pan and saute garlic with olive oil or other dietary oils. Then add the chicken breast and mix well. Add chili sauce, honey, soy sauce, and 1/2 cup of water.
– Keep the heat low so that the chicken can absorb the spices and stir well. Add 1/3 cup of water mixed with cornstarch for a smooth chicken dish.
– Simmer for another 3 minutes and then turn off the heat. Put the chicken into a plate and sprinkle sesame seeds on top.
Chicken breast is really good to balance nutrition as well as ensure you a better body to reduce fat, lose fat and gain muscle. The above 4 delicious recipes with chicken breast that Easy and Healthy Recipes provides hope to help you have more options to make a chicken breast.