Recipes with rotisserie chicken are the perfect combination of rotisserie, tender, and sweet roasted chicken pieces, crispy chicken skin, and a rich sauce scented with onions creating an extremely appealing and unique flavor. 3 recipes with rotisserie chicken have a beautiful golden outer layer, and when eaten with crispy skin, the meat retains the dish's sweetness and characteristic aroma. Let's head to the kitchen to make this delectable weekend dish!
 1. Chimichurri Chicken Salad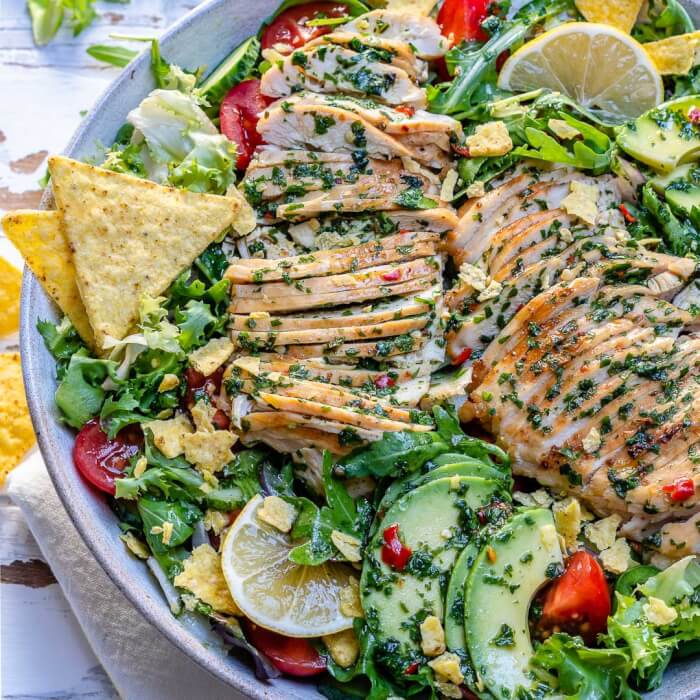 Source: Blondelish
If you enjoy roast chicken and prefer quick and simple meals. This Chimichurri Chicken Salad is a breeze to prepare. Serve with toast and a generous amount of parsley (this is inspired by our favorite condiment, Chimichurri, after all), garlic, olive oil, and vinegar.
1/2 c. freshly chopped parsley
5 cloves garlic, minced
1 tbsp. minced red chile
1/3 c. extra-virgin olive oil
2 tbsp. red wine vinegar
1 c. shredded rotisserie chicken
Kosher salt
Freshly ground black pepper
Toasted bread, for serving
Directions:
Step 1 Combine the parsley, garlic, red chile, olive oil, and vinegar in a medium mixing bowl.
Step 2 Season the shredded chicken with salt and pepper.
Step 3: Toss until evenly coated then serve with toasted bread.
2. Chicken Pot Pie Poutine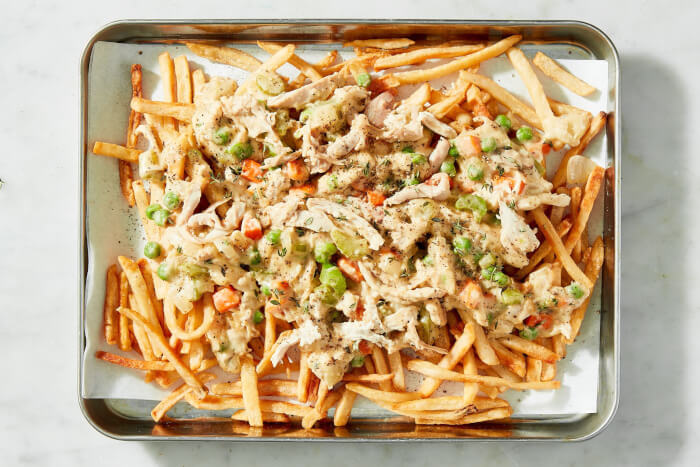 Source: Delish.com
Poutine is Canada's national dish. The dish consists of three parts: crispy fries, luscious gravy, and squeaky, salty cheese curds.
Ingredients:
1 (28-ounce) bag frozen French fries
4 tablespoons butter
1 carrot, diced
1 stalk celery, diced
1/2 large onion, diced
2 cloves garlic, minced
2 teaspoons fresh thyme, chopped
3 tablespoons all-purpose flour
1 1/2 cups low-sodium chicken broth
1/4 cup heavy cream
1 1/4 cups rotisserie chicken
1 1/4 cups frozen peas
Directions:
Step 1: Preheat the oven to 350°F and bake the fries according to package directions.
Step 2 – Melt the butter in a large skillet over medium-high heat while the fries bake.
Step 3 – Cook the carrot, celery, and onion in the melted butter for 8-10 minutes, or until soft.
Step 4 – Stir the garlic and thyme into the veggie mixture and cook for 1 minute, or until fragrant.
Step 5: Toss the vegetable mixture with the flour to coat.
Step 6: Cook the veggie mixture, stirring constantly, for about 2-3 minutes.
Step 7: Stir the chicken broth and heavy cream into the vegetable mixture until smooth.
Step 8: Bring the vegetable mixture to a simmer before adding the chicken and frozen peas.
Step 9 – Simmer the chicken mixture until it is thoroughly warmed.
Step 10: Serve the chicken mixture on top of the fries.
Step 11 is to serve.
3. Chicken Tamale Pie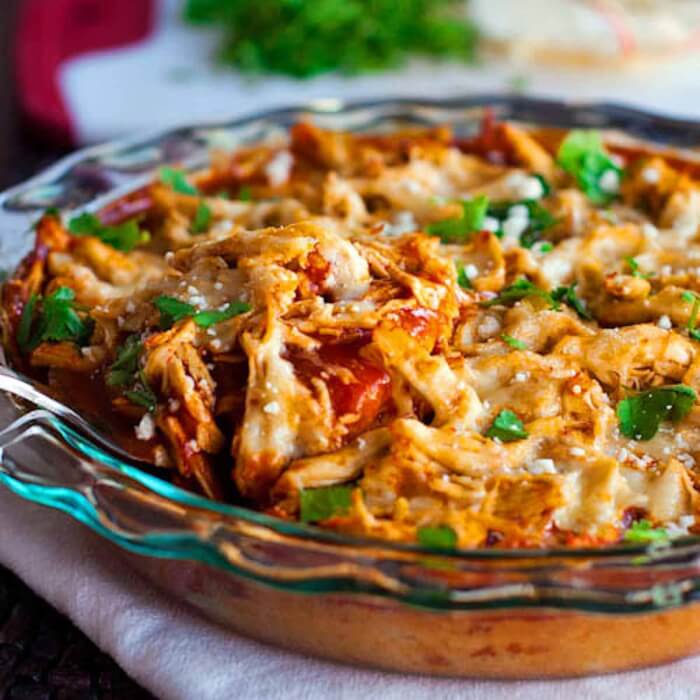 Source: Pinch for Yum
To make this recipe with rotisserie chicken, all you need are a few pantry staples.
Ingredients:
1 pound ground chicken
1 teaspoon ground cumin
1 teaspoon chili powder
1/2 teaspoon salt
1/4 teaspoon pepper
1 can or 15 ounces of black beans, rinsed and drained
1 can (14-1/2 ounces) diced tomatoes, undrained
1 can or 11 ounces whole kernel corn, drained
1 can (10 ounces) enchilada sauce
2 green onions, chopped
1/4 cup minced fresh cilantro
1 package (8-1/2 ounces) cornbread/muffin mix
2 large eggs, lightly beaten
1 cup shredded Mexican cheese blend
Optional toppings: Sour cream, salsa, and minced fresh cilantro
Directions:
Step 1: Cook the chicken in a large skillet over medium heat until no longer pink, 6-8 minutes, breaking it up into crumbles, then season to taste.
Step 2: Place in a 4-quart slow cooker. Combine the beans, tomatoes, corn, enchilada sauce, green onions, and cilantro in a mixing bowl. Cook, covered, on low heat for 6-8 hours, or until thoroughly heated.
Step 3: Combine muffin mix and eggs in a small bowl; spoon over chicken mixture. Cook, covered, on low for 1-1-1/2 hours longer, or until a toothpick inserted into the cornbread layer comes out clean.
Step 4: Sprinkle with cheese and set aside for 5 minutes, covered. Serve with desired garnishes.
The three recipes with rotisserie chicken listed above should be tried to please the entire family. Want more great family meal ideas, follow up on our weekly newsletter and you'll never miss a new post about how to make your life easier.